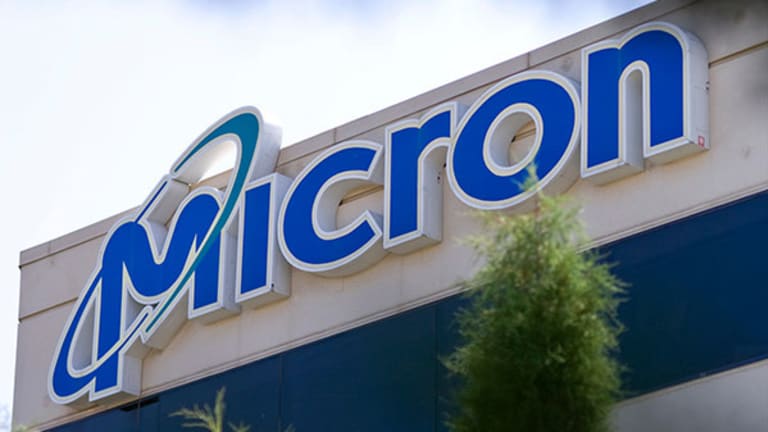 Micron Technology's Earnings Could See Boost From Memory Pricing
Analysts expect favorable supply and demand trends to continue for the chipmaker.
Chipmaker Micron Technology (MU) - Get Reportwill report results for the first quarter of fiscal 2017 after Wednesday's closing bell, and Wall Street is looking for results to climb year-over-year due to positive pricing trends in DRAM and NAND memory products.
Analysts surveyed by FactSet expect the Boise, Ind.-based company to post adjusted earnings of 26 cents per share on revenue of $3.95 billion. DRAM revenue is anticipated to be $2.37 billion, while NAND revenue is estimated to be $1.33 billion.
In the same period last year, Micron reported adjusted earnings of 24 cents per share. Revenue was $3.35 billion, with DRAM revenue of $1.94 billion and NAND revenue of $1.23 billion.
The stock was down about 0.5% to $20.55 in mid-day trading on Wednesday, but shares have climbed roughly 45% so far this year.
Loop Capital's Betsy Van Hees recently initiated coverage of Micron stock with a "buy" rating and $25 price target because she anticipates that favorable supply and demand tailwinds will continue in the upcoming months.
"We believe MU will benefit from improved pricing dynamics in both DRAM and NAND driving improvements to pro forma GM and OM," she said in a note to clients.
DRAM chips, or dynamic random access memory, are typically used in PCs and servers and allow processors to directly access all portions of its memory rather than having to go from a specific starting point. NAND flash memory is a storage technology that's used in USB flash drives, memory cards and MP3 players and provides high-capacity data storage.
Van Hees said the flash memory market is favorable at the moment, and noted that additional seasonal tailwinds could help Micron beat consensus for the first quarter. She is modeling earnings of 32 cents per share on revenue of $3.98 billion for the period.
Based on checks of buyers in the memory space, Pacific Crest analyst Weston Twigg said in a recent note that "buyers intend to continue building memory inventory even amid expected PC and phone unit declines in CQ1, supporting continued memory price increases in both DRAM and NAND into early 2017."
He called buyers' decision to keep buying "interesting," adding that rising demand could drive up prices for DRAM products in the upcoming months. Twigg, who has a "sector weight" rating on Micron stock, noted that NAND pricing will be weaker than DRAM, but he still sees a positive read-through for Micron. He is looking for earnings of 28 cents per share on revenue of $3.98 billion for the fiscal first quarter.
Van Hees has a similar outlook for the memory market. Going into the second quarter, the analyst anticipates that average selling prices for DRAM products will continue to improve up to 9% growth quarter-over-quarter. She expects Micron's DRAM shipments to remain flat quarter-over-quarter but sees NAND shipments declining 5%.