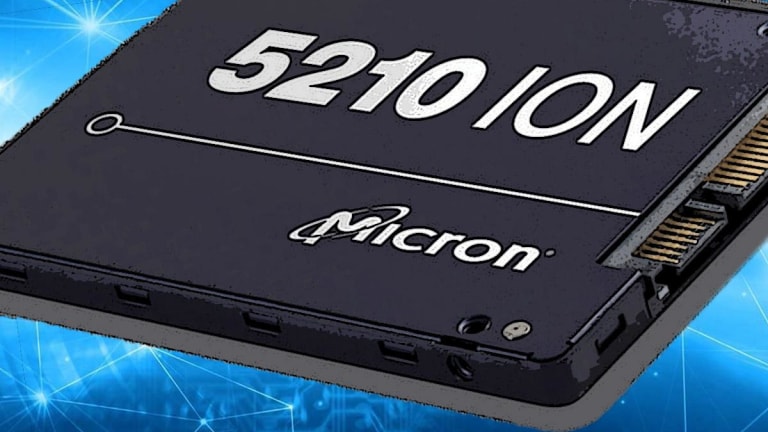 Micron Stock Remains Bargain-Priced
While investors are concerned about when memory prices will bottom, Micron is still cheap relative to its peers.
Micron Technology (MU) - Get Micron Technology Inc. Report has a lot going for it. It generates a lot of cash flow, and has a flexible balance sheet and very strong share repurchase program. However, for now, it is experiencing a challenging environment, which is why its shares are very cheap.
Q2 2019 Results Were not Great
CEO Sanjay Mehrotra used Micron's call as an opportunity to remind investors that, although Micron continues to navigate through a period of poor visibility, Micron's EBITDA margins have improved by 15% compared to rivals over the past two fiscal years. This is quite remarkable, particularly for a commodity company.
While I personally never pay up for a company's management, it always makes one feel significantly better knowing that management is both determined and competitively minded.
Micron only deployed $702 million towards share repurchases and my initial impression was that Micron had missed an opportunity to buy back more. Upon closer examination, though, Micron succeeded in repurchasing at an average price of $33.43 and looking back, this turned out to have been an outstanding win for shareholders.
Furthermore, Micron had previously stated that it would deploy at least 50% of free cash flow towards share repurchases, and in the past quarter they went far above this by using 70% of FCF, so Micron is going as far as they believe is prudent at this stage.
Moving on, from Mehrotra's comments and the overall tone of the call, we can see that DRAM pricing continues to be unstable and that the cycle has not yet reached the inflection point. There is hope that things should start to improve towards the end of calendar 2019, but for now, there is still more pain ahead of gains.
Overall, Micron's management is being cautious as they navigate through the weaker-than-expected cycle, and have been preferring to keep Micron's balance sheet strong. This again echoes the overall feeling from management that demand remains moderate for calendar 2019.
Micron finished Q2 2019 with a net cash position of $3 billion. And subsequent to the quarter end, Micron used $1.4 billion of cash to redeem the convertible notes Series G and reduced the fully diluted share count by roughly 9 million shares.
Guidance
As one would expect from a semiconductor company, more so than in most other companies, it's all about the guidance. And the truth of the matter was that guidance was weak.
Micron ended with $4.4 billion of inventory and 134 inventory days, which many in the industry believe poses a strong risk of underutilization. This number rose quickly from 107 days at the end of Q1 2019.
Moreover, Mehrotra was quick to reassure analysts that he felt comfortable with around 150 days of inventory. Having said that, CFO Dave Zinsner did concede that this figure would continue to rise in May.
Presently, management expects that Micron's reduced capex, together with some wafer idling and an improvement in market conditions, to take all the way until the end of calendar 2019 for DRAM to show an increase in average selling price (ASP). For NAND, which accounts for roughly 30% of total revenue, and consequently slightly less meaningful for Micron overall, NAND inventory will remain elevated all the way until early calendar 2020.
Nevertheless, as it stands today, many analysts and investors are seeing Micron's guidance for Q3 2019 on gross margins at around 37%-40% and EPS of at least $0.75 as positive.
Valuation
In the table above, we can see just how pessimistic the whole market is towards memory players. Objectively, a large part of the skepticism turned out to be fair, as the cycle continues to show no evidence of inflecting.
For instance, the automobile market, while not all that meaningful for Micron, has seen many companies, such as Nvidia (NVDA) - Get NVIDIA Corporation Report , extolling it as an explosive growth market. But for now, this market has failed to gain any meaningful traction. Similarly, Micron's management acknowledges that in the near-term, its automobile sales are not as strong as they had desired.
However, in my mind everything circles back to that No. 1 rule -- capital preservation. Is investing in a company with a strong balance sheet that is committed to deploying at least 50% of its free cash flow towards share repurchases a terrible decision? I truly fail to see how that can be the case.
The likelihood that at some point, maybe six months from now, possibly nine months, Micron's capex reductions alongside those of Samsung  (SSNLF) and Hynix  (HXSCL) will cause excess inventory to be worked through, and demand will once again start to outpace supply.
The Bottom Line
As value investors, we believe that the market is often right, but at times can be slightly irrational. There was nothing stunningly positive in Micron's earnings, yet shares rose approximately 10% at one point during the trading day. Why? Maybe investors are starting to come back to their senses.
Michael Wiggins De Oliveira holds a long position in Micron.