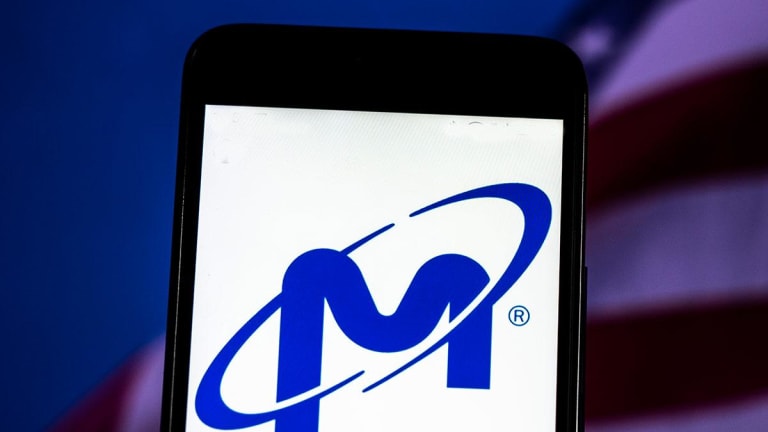 Micron Shares Fall as Analysts Cite Concerns About Memory Prices
Price weakness caused two analysts to reduce their earnings and revenue estimates for the chipmaker.
Shares of Micron (MU) - Get Micron Technology Inc. Report were falling Wednesday after two analysts reduced estimates for the chip maker due to weakness in prices for its memory chips.
The stock was down 4.45% to $38.21 in noon trading on Wednesday. 
Susquehanna Financial analyst Mehdi Hosseini wrote in a note out Wednesday morning that "recent industry checks suggest DRAM and NAND pricing in 1H19 are tracking below prior expectations."
Micron's profit margins also may not expand at a solid clip any time soon, according to Hosseini. "Even with a more moderate ASP [average selling price] decline in 2H19, margins are not expected to dramatically rebound due to excess inventory accumulated in 1H19," he wrote. Many chipmakers have seen their sales growth hurt in the past six months or so, as oversupply has led to lower prices. 
The poor margins will trickle down to Micron's bottom line, Hoasseini said. He revised his full year 2019 earnings per share estimates downward from $6.59 to $6.40 and reduced his 2020 EPS estimate to $4.45 from $4.47. 
Cleveland Research also revised down its estimates for Micron, citing memory chip pricing weakness in the first half of 2019. Cleveland Research lowered its full year 2019 revenue estimate to $24 billion from $25.5 billion. 
Micron shares are up 16% year-to-date. 
A Special Invitation:Do you want to learn more about planning for and living retirement from the nation's top experts, including Ed Slott and Robert Powell, the editor of TheStreet's Retirement Daily? Want to learn how to create tax-efficient income in retirement and how to manage and mitigate all the risks you'll face in retirement? Then sign up to attend TheStreet's Retirement Strategies Symposium on April 6 in New York City. For a limited time, you can attend this extraordinary symposium for $149 - a cost savings of $50 off the general admission price of $199.
You can see the full day's agenda, learn about the guest speakers and sign up HERE for this special event.