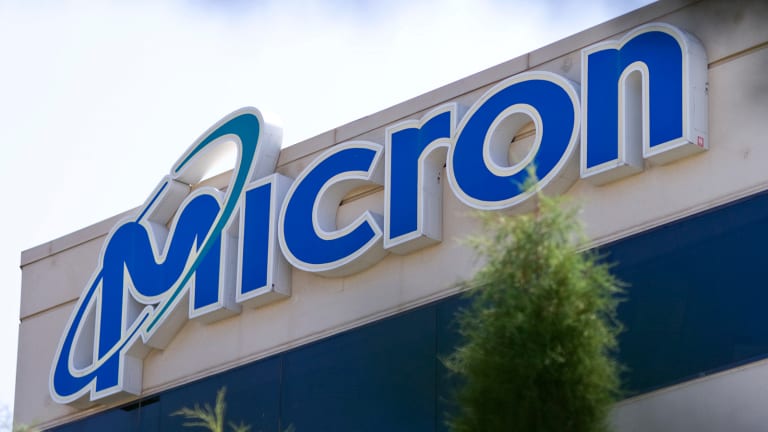 Publish date:
Micron Scores Six Price-Target Boosts on Earnings Beats -- Plus Jim Cramer's Comments
Micron is benefiting to an 'almost comical degree' from strong memory trends, Pacific Crest said.
Micron is benefiting to an 'almost comical degree' from strong memory trends, Pacific Crest said.
Shares of Micron Technology (MU) - Get Report were trading up by more than 10%, to $29.13, in Friday morning trading after the chipmaker reported Thursday night a top- and bottom-line beat for the 2017 second quarter.
For the quarter, earnings came in at 90 cents per share, topping estimates for 86 cents per share. Revenue rose 17% year-over-year to $4.65 billion, slightly above estimates of $4.63 billion. The results caused Micron shares to soar more than 10% in Thursday after-hours trading. 
The company also reported upbeat guidance for the third quarter with an earnings per share estimate in the range between $1.43 and $1.57 and a revenue estimate between $5.20 and $5.60. Analysts were projecting earnings of 91 cents per share on revenue of $4.74 billion for the third quarter. 
Shares of the stock are trading up by more than 180% in the past year. That's because the prices of DRAM (64% of sales) and NAND chips (30% of sales) have increased due to tight supply, which has helped the company's top and bottom line. The positive pricing environment also prompted Micron CFO Ernie Maddock to positively revise second-quarter results earlier this month. 
Micron's EPS guidance of $1.43 to $1.57 came in way ahead of Wall Street's estimates, and even the estimates from Jim Cramer, manager of the Action Alerts PLUS portfolio. He was looking for EPS of $1.00, he said on CNBC's "Mad Dash" segment Friday morning. 
"These are boom-bust stocks," and Micron is booming, Cramer said on the show. The skeptical analysts are correct that there will be a day where supply grows too much and it hurts pricing. But it's not today and it's not tomorrow. For now, Micron is in "clear sailing" and business remains strong, he reasoned. 
Cramer says a rally to the $35 to $40 range is reasonable. However, he suggested investors consider deep-in-the-money call options as a way to own the stock. "This was an amazing quarter," he concluded.
Read on for Wall Street's opinion on Micron's quarterly beat. 
Betsy Van Hees, Loop Capital Markets (buy, price target raised to $35 from $30)
"We believe 'the sun, the moon and the stars' remain aligned for MU as it benefits from the sweet spot of the memory cycle -- tight supply/demand dynamics, increasing prices and cost reductions -- driving considerable operating leverage in the model and a roaring return to year-over-year earnings and revenue growth in F2017. With no near-term negative catalysts on the horizon to change MU's favorable memory supply/demand dynamics, we maintain our buy rating and increase our price target to $35 from $30."
Ruben Roy, MKM Partners (buy, price target raised to $38 from $34)
"We continue to believe that the complexities inherent to node transitions in DRAM and higher-layer 3D NAND will naturally limit industry bit growth and, consequently, we believe that the current industry cycle is shaping up to be a multi-year event. In the meantime, we believe that MU's execution on cost reduction in both DRAM and NAND are noteworthy. With DRAM margins exceeding 50%, we believe that it is increasingly evident that MU is catching up to competitors from a technology perspective. As this trend is better understood, we believe that MU will finally see some multiple expansion."
Sidney Ho, Deutsche Bank (buy, price target raised to $35 from $30)
"We are particularly impressed with the company's ability to execute on its technology roadmap for both DRAM and NAND, driving solid bit growth and cost improvements. Furthermore, we expect the memory market to remain in shortage throughout 2017, as memory suppliers continue to exhibit disciplined capex behaviors. ...  We also see potential for re-rating should MU deliver more consistent free cash flow generation through-the-cycle. Downside risks include weak end demand, excessive industry supply growth, technology and manufacturing challenges."
John Pitzer, Credit Suisse (outperform, price target raised to $40 from $35)
"While MU is clearly benefiting from better cyclical pricing, the more important drivers seem more sustainable -- mix, cost-downs and scale efficiencies. ... While it's impossible to completely assuage risk of a cyclical peak, our analysis continues to point to tight supply in DRAM thru CY17, in NAND thru at least C3Q17 -- with memory becoming structurally more important to system performance and TCO."
Romit Shah, Nomura (buy, price target raised to $40 from $30)
"Micron's FQ3 guide equates to a record $6 in annual earnings. This backs the view that DRAM is a better business and Micron has improved execution. We also believe this level of earnings will prove too strong for the market to ignore and as such are raising our target price from $30 to $40."
Blayne Curtis, Barclays (overweight, price target raised to $35 from $26)
"Micron reported another beat and raise, this time to an even greater scale as favorable supply/demand dynamics continue to support healthy pricing and the company improves on cost. However, the magnitude of the outperformance suggests improvements are progressing better than expectations as Inotera is integrated and new technologies ramp. This increases our confidence that good results can last into the 2H as (a) better DRAM pricing ripples into the non-PC segments with longer contracts, and (b) lower costs can lift profitability even if pricing declines, but we remain cognizant that the environment could eventually reverse."
Weston Twigg, Pacific Crest (sector weight, price target not announced)
"Micron is benefiting to an almost comical degree from strong memory trends, and these could last at least into late this year. Still, we expect Samsung to become more aggressive with its DRAM capacity plans (it should have one new line up in 2H, and will likely add more capacity in 2018), which could begin to loosen supply by late 2017 or early 2018. For NAND, we expect bit supply growth to surge in 3Q17, with y/y growth peaking in 1Q18, but then to slow meaningfully by 2H18. This just means that pricing and supply could result in a roller-coaster ride for Micron investors; that said, longer-term, we expect NAND bit supply to remain constrained due to scaling inefficiencies."