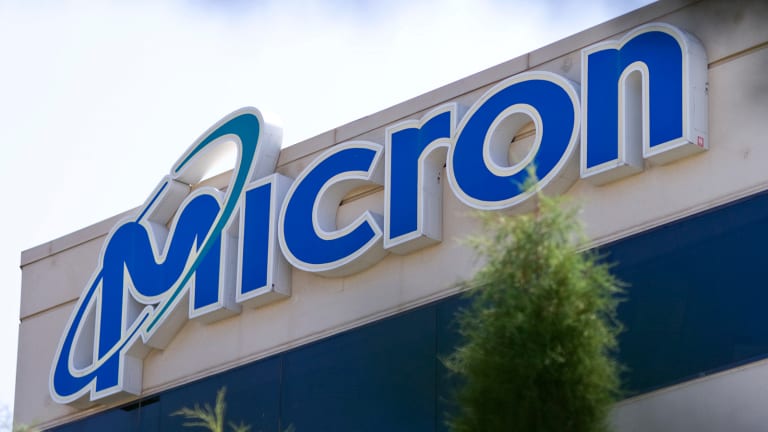 Publish date:
Micron Shares Spike as Strong Guidance Bodes Well for Its Largest Business
The memory giant beat estimates and offered upbeat short-term and long-term commentary for its booming DRAM business.
The memory giant beat estimates and offered upbeat short-term and long-term commentary for its booming DRAM business.
Micron's (MU) - Get Report high-flying shares saw about a 20% haircut in late November and early December on fears that the memory industry's latest boom cycle will soon come to an end. The outlook given with the company's November quarter reported suggests such fears were overblown, at least for Micron's core DRAM business.
And the long-term forecasts Micron gave for the DRAM and flash memory needs of some of its fastest-growing markets give reason to think the company can keep growing its sales in future years, just as long as industry supply doesn't race ahead of demand.
Micron reported November quarter (fiscal first quarter) revenue of $6.8 billion (up 71% annually) and adjusted EPS of $2.45, topping consensus analyst estimates of $6.44 billion and $2.20. And in its earnings slides, the memory giant guided for February quarter revenue of $6.8 billion to $7.2 billion (up 46% to 55%) and adjusted EPS of $2.51 to $2.65, well above consensus estimates of $6.24 billion and $2.04 for what's normally a seasonally weaker quarter.
In response, shares rose more than 5% in after-hours trading on Tuesday and were up almost 7% to $46.95 in pre-market trading on Wednesday. They're still below a late-November high of $49.89, but up 111% on the year.
DRAM revenue, which accounted for 67% of total revenue, grew 88% annually to $4.56 billion, beating consensus by over $300 million. High DRAM prices -- they began soaring in late 2016, and were up by a high-50s percentage annually -- naturally had a lot to do with the growth, and also led Micron's DRAM gross margin to more than double to 62%.
But it also helped that Micron is seeing strong orders from server, smartphone and graphics card makers, leading DRAM bit shipments to rise by a low-20s percentage annually. DRAM bit shipments to enterprise and cloud clients rose over 50%; Apple (AAPL) - Get Report and Samsung phone launches boosted mobile memory demand and demand from gamers and cryptocurrency miners yielded graphics memory supply constraints.
"Trade NAND" revenue, which was 27% of revenue, rose 47% to $1.84 billion with the help of fairly steady prices and ramping production of high-density 3D NAND chips, but fell short of a $2.01 billion consensus. On the bright side, solid-state drive (SSD) sales to enterprise and cloud clients rose 50% sequentially, rebounding from a component problem that weighed on August quarter sales and benefiting from share gains. And NAND gross margin also more than doubled, hitting 49% thanks to high-margin enterprise/cloud sales and the cost reductions made possible by the 3D NAND ramp.
Notably, Micron reiterated its guidance for 2018 DRAM industry bit supply to rise by about 20%, and for NAND industry bit supply to approach 50%. It's also maintaining fiscal 2018 (ends in Aug. 2018) capital spending guidance of $7.5 billion (plus or minus 5%), which is well above reported fiscal 2017 capex of $5.1 billion.
Assuming that Micron's DRAM supply outlook, and for that matter a similar outlook from rival Samsung, proves accurate, the good times could continue for a while for a DRAM industry that has largely consolidated around Micron, Samsung and SK Hynix. Particularly if some of the industry's long-term growth drivers are as strong as Micron suggests they'll be.
On the earnings call, CEO Sanjay Mehrotra noted that the average server currently has about 145GB of RAM, and that this number is expected to rise to about 350GB by 2021. He also mentioned cars supporting Level 5 (full) autonomy are forecast to have about 40GB of RAM.
Before that, Mehrotra noted Micron "secured a key design win in an important autonomous driving platform" last quarter, without naming the client.
Throw in the memory needs of cars with partial autonomy, gradual increases in average smartphone DRAM content and continued demand growth from the industrial/IoT and graphics markets, and conditions are good for DRAM demand to keep outpacing supply...just as long as rising capex doesn't throw a wrench in the equation.
For the NAND market, things are a little more complicated. There are big growth drivers here as well: Mehrotra noted the SSD penetration rate for notebooks is expected to grow from 35% to 75% over the next 3 years -- bad news for Seagate (STX) - Get Report -- and that the amount of flash found in the average server containing it is expected to nearly triple over the next 4 years to 8TB. SSD penetration rates are also rising for desktop PCs and enterprise storage, and much like the DRAM market, the amount of flash found in the average car or smartphone content continues moving higher.
But is all that enough to soak up a 50% or so increase in bit supply? While Micron is guiding for its trade NAND ASP to be flat annually this quarter, it fell slightly in the November quarter, and a slew of recent reports have indicated NAND pricing is starting to come under pressure a little. A lot could depend on just how fast new capacity from Samsung, Intel (INTC) - Get Report , Toshiba and others comes online.
That said, it's DRAM, not NAND, that accounts for around three-quarters of Micron's gross profit. And as production ramps for Micron's newer 64-layer 3D NAND chips -- they feature a much lower cost per bit than its older 32-layer chips -- the company should have some leeway to offset price declines with cost reductions.
Micron still only trades for 5.8 times a pre-earnings fiscal 2018 EPS consensus of $7.95. And odds are good that this estimate will rise post-earnings. But analysts have also forecast that 2018 will represent the peak for the current DRAM cycle, and that Micron's earnings will drop in fiscal 2019 and 2020.
It's much too soon to declare such predictions incorrect, especially given the DRAM industry's tumultuous past. But Micron's short-term and long-term commentary, together with industry consolidation, do provide reasons to wonder if this cycle will play out a little differently.
Jim Cramer and the AAP team hold a position in Apple for their Action Alerts PLUS Charitable Trust Portfolio. Want to be alerted before Cramer buys or sells AAPL? Learn more now.
More of What's Trending on TheStreet: