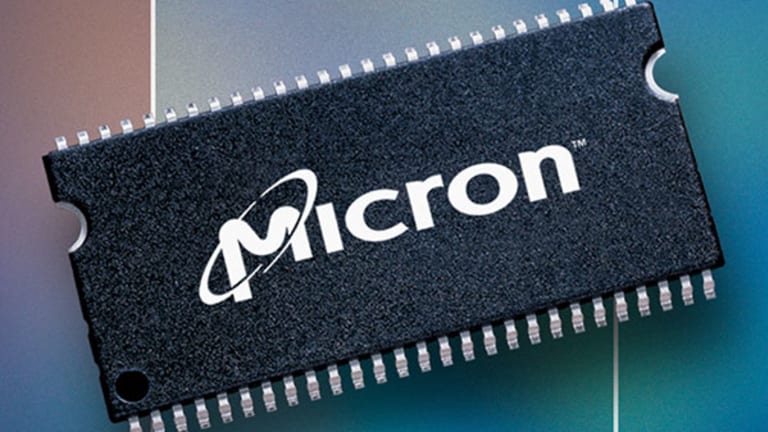 Micron 'Gets It Incredibly Right': What Jim Cramer's Saying
Micron's better-than-expected fiscal 2017 first-quarter results could act as a catalyst to boost other companies higher, TheStreet's Jim Cramer said. He also picks trickle-down winners.
This article has been updated from 10:24 a.m. to add comments from Jim Cramer's Stop Trading segment.
Shares of Micron Technology (MU) - Get Report were surging over 12% in early morning trading on Thursday, after the company reported better than expected results for the first quarter of fiscal 2017 and issued upbeat guidance for the second quarter, after the market close on Wednesday.
"We have a company that reported a number that was so strong that it could be an umbrella to lift a lot of other companies, which is Micron," TheStreet's Jim Cramer said on CNBC's "Squawk on the Street" Thursday morning.
Shares immediately spiked over 7% after Micron reported and that momentum has been carried into today's trading session. Moreover, the better than anticipated results may provide a read-through for the rest of the semiconductor space, Cramer noted.
"Literally what's happened here is they can't build the equipment fast enough. So, it's fantastic for the semiconductor equipment companies," Cramer said. He noted Western Digital (WDC) - Get Report as one beneficiary of Micron's results.
Sales volumes in both DRAM and NAND products drove the first quarter results. "This is one of those moments where supply has been greatly exceeded by demand for both their DRAM business and for their NAND business," Cramer explained.
DRAM sales in the first quarter spiked 18% compared to last year and NAND sales increased 26%.
"The analysts were just so far behind the curve here in terms of recognizing how much demand there is for Internet of Things products and for data center products," Cramer stated. Furthermore, the analysts failed to understand how little supply there is for these products.
"This is going to go longer and louder, than people think," Cramer contended. "This is a company that when it gets it right, it gets it incredibly right."
Also Thursday, Cramer was looking beyond the Micron earnings to the companies that are going to benefit from Micron's success.
"I'm surprised there's not more read-through from this amazing quarter," Cramer said on CNBC's "Stop Trading" segment. He noted Micron's management said on the conference call the company would have problems meeting demand.
Which companies profit?
A stock like Applied Materials (AMAT) - Get Report should be up at least $1 per share, Cramer reasoned. The stock is very inexpensive and will continue to benefit from this wave of increasing demand.
ASML Holding (AMSLF) and Lam Research (LRCX) - Get Report will also benefit, he added.
The supply-demand cycle will eventually destroy itself and hurt these companies, but we're a long ways away from that point, Cramer explained. Until now, Applied Materials, ASML and Lam all deserve to trade higher, he concluded.