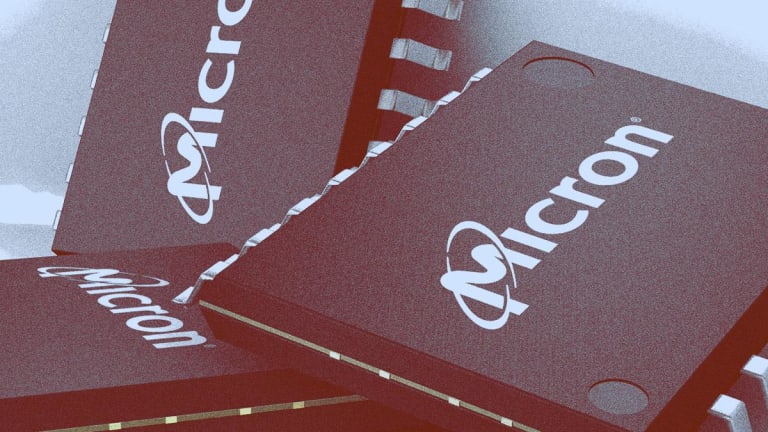 Micron Reports Earnings on Tuesday: 7 Important Things to Watch
With few expecting Micron to report strong quarterly numbers, its commentary about second-half demand and pricing trends could have a big impact on how its shares move post-earnings.
Micron's (MU) - Get Micron Technology, Inc. Report shares have given back most of their 2019 gains over the last two months, as bad news about trade tensions and declining memory prices continued to arrive.
For that reason, soft results and guidance might not by themselves be enough to drive Micron's shares lower when the reports earnings after the close on Tuesday. Rather, what might matter is just how bad Micron's near-term results and guidance are, and how quickly the company expects conditions to improve.
On average, analysts polled by FactSet expect Micron to report May quarter (fiscal third quarter) revenue of $4.69 billion (down 40% annually) and non-GAAP EPS of $0.79 (down 75%). For the August quarter -- Micron has been providing quarterly guidance on its earnings call -- the consensus is for revenue of $4.56 billion (down 46%) and EPS of $0.58 (down 84%).
In addition to Micron's sales and EPS numbers, here are some things for investors to keep an eye on as the memory giant reports after the bell on Tuesday and hosts an earnings call at 4:30 P.M. Eastern Time.
1. DRAM and NAND Pricing Trends
Three months ago, Micron reported its DRAM average selling price (ASP) fell by a low-20s percentage sequentially during its February quarter, and that its NAND flash memory ASP fell by a mid-20s percentage. And from all indications, ASPs have remained under pressure since.
The consensus is for Micron's DRAM ASP to have dropped by another 23% sequentially during its May quarter, and for its NAND ASP to have dropped 18%.
2. Full-Year DRAM and NAND Supply/Demand Guidance
In March, Micron forecast full-year DRAM and NAND industry supply growth would only be moderately higher than demand growth. For DRAM, the company forecast industry bit supply would rise by a mid-to-high teens percentage in 2019, and that demand would rise by a low-to-mid teens percentage. For NAND, it forecast bit supply would rise by a high-30s percentage, and that demand would rise by a mid-30s percentage.
However, those outlooks assumed a meaningful second-half demand pickup. With recent guidance from Broadcom  (AVGO) - Get Broadcom Inc. Report and others putting such a recovery into question, Micron might revise its demand forecasts. At the same time, ongoing memory capital spending cuts could lead its supply guidance to also be lowered.
3. Huawei Commentary
Quite a few chip suppliers have slashed their guidance on account of the recent Huawei parts ban, and it doesn't look as if Micron will be unscathed either.
Mizuho analyst Vijay Rakesh estimates the Huawei ban, which took effect last month, hurt Micron's May quarter sales by about $100 million. During Micron's May 23 business update call, CFO Dave Zinser noted that Huawei accounted for 13% of its sales during the prior two quarters.
4. Cloud Demand
Inventory cuts and a hardware spending pause among Internet/cloud giants (the proverbial hyperscalers) have been a major headwind for the memory market -- both in terms of the direct impact of these actions on unit sales, and their indirect impact on DRAM and NAND prices. For that reason, any commentary about expected second-half memory demand from the hyperscalers will get attention.
While cutting his Micron estimates over the weekend, Rakesh noted that "supply chain disruptions and data center optimization [efforts]" is resulting in additional push-outs for data center hardware spending. However, he added that "expectations are for a robust 2020 recovery," given that data center construction activity remains strong.
5. Capital Spending Plans
Micron has already cut its fiscal 2019 (ends in Aug. 2019) capex budget twice the year. In March, the company guided for fiscal 2019 capex of roughly $9 billion, down from a prior outlook of $9 billion to $9.5 billion. In light of the memory industry's current pressures as well as what has been reported about industry capex, a fresh capex budget cut would hardly be shocking.
Also keep an eye on commentary Micron shares about its fiscal 2020 capex plans. For now, the consensus is for capex to drop to $8.5 billion in fiscal 2020.
6. Inventories
In spite of a 21% annual revenue drop, Micron's inventories rose 38% annually during its February quarter to $4.39 billion, with days of inventories rising by 27 sequentially to 134. In March, the company indicated that inventories could rise some more during the May quarter, albeit while forecasting that they'll drop later in 2019 thanks to Micron's capex cuts.
7. Stock Buybacks
Micron spent $2.5 billion on stock buybacks during the first two quarters of fiscal 2019, and reiterated in March that it plans to spend at least 50% of its annual free cash flow on buybacks, via the $10 billion buyback program that commenced in September 2018. The company had $9.2 billion in cash at the end of February, and net cash (cash minus debt) of about $3 billion.
Save 57% with our July 4th Sale. Join Jim Cramer's Action Alerts PLUS investment club to become a smarter investor! Click here to sign up!