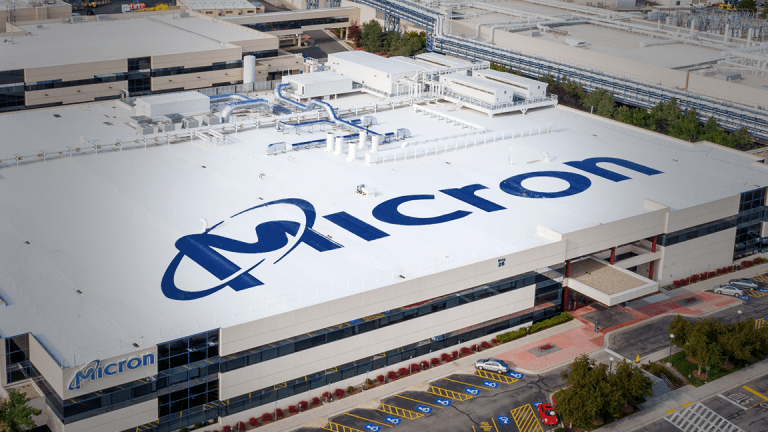 Micron CFO: DRAM Production Growth Could Be Less Than Previously Forecast
During a talk with TheStreet that followed Micron's earnings report, CFO Dave Zinsner indicated Micron now thinks the DRAM industry's 2019 production could be less than what it forecast in June.
Micron's (MU) - Get Micron Technology, Inc. (MU) Report outlook for both 2019 and 2020 bakes in some caution about macro conditions and trade tensions, says its CFO following his company's latest earnings report.
Micron's shares fell over 10% post-earnings in Friday trading, giving back a chunk of their big 2019 gains. While the DRAM and NAND flash memory maker topped August quarter estimates and issued stronger-than-expected November quarter revenue guidance, it issued light EPS guidance and forecast its gross margin would see another sequential decline.
Following Micron's report and earnings call, I had a chance to talk with CFO Dave Zinsner about Micron's guidance, along with its view of near-term demand trends. Here are some key takeaways:
NAND Growth Drivers
When asked about the factors driving Micron's hiking of its calendar 2019 outlook for NAND demand growth -- Micron now expects industry-wide NAND bit demand to grow by a low-to-mid 40s percentage, up from prior guidance for mid-30s growth -- Zinsner was quick to note the impact of rising smartphone storage capacities in the wake of healthy price declines.
And in line with earnings call comments made by CEO Sanjay Mehrotra, Zinsner noted that lower NAND prices are lifting solid-state drive capacities and (in what's a negative for hard drive suppliers) attach rates. He indicated the data center is an area where price elasticity is especially boosting NAND demand.
In addition to hiking its NAND demand guidance, Micron cut its NAND industry supply (output) guidance amid ongoing capital spending cuts, forecasting NAND bit supply will only grow by about 30% this year. For 2020, Micron is guiding for NAND bit demand to grow by a high-20s to low-30s percentage, and for supply growth to be "somewhat below" demand growth.
DRAM Demand Trends
Micron reiterated its guidance for mid-teens 2019 DRAM bit demand growth, while adding that supply is expected to exceed demand. Zinsner said the last quarter largely played out as expected for Micron's DRAM business, which is still seeing some price pressure, and noted inventory corrections among data center and graphics weighed heavily on demand earlier in the year.
He added that inventories are now generally at healthy levels, and that orders are tracking with end-market consumption that's benefiting from smartphone DRAM capacity increases and the memory needs of cloud providers.
Zinsner also suggested that Micron's demand guidance for both 2019 and 2020 reflects caution about macro and trade risks. "We're cognizant of the fact that the economy is somewhat uncertain," he said.
Nonetheless, Micron is guiding for 2020 DRAM industry demand growth to exceed supply growth: Bit demand is expected to grow by a high-teens to 20% percentage, and bit supply is expected to grow by a mid-teens percentage.
Falling DRAM Supply Growth
Notably, when asked about Micron's expectations for 2019 DRAM bit supply growth -- unlike in June, the company's earnings slides didn't feature any formal guidance about this -- he said the company now expects low-to-mid teens growth. That's below a June outlook for mid-to-high teens growth, and raises the possibility that full-year bit supply growth could be below demand growth.
"The fact that there was inventory at the customer level and kind of building at the supplier level, it made a lot of sense to start adjusting that bit growth, and so we've seen capex cuts in relationship to that to...reduce industry supply growth," Zinsner said. Likewise, during a talk with Jim Cramer on CNBC, Mehrotra indicated DRAM supply growth is now below demand growth.
With Micron and other DRAM makers working to pare elevated inventories, the fact that DRAM supply/production growth is falling below demand growth isn't for now enough to halt price declines. However, muted supply growth for the rest of 2019, and for 2020, should lead to a more favorable pricing environment in time -- at least provided industry demand tracks with expectations.
Chinese Inventory Stockpiling
One comment made during Micron's earnings call that raised eyebrows: The company believes that some Chinese customers are making strategic decisions to build up memory inventories as trade tensions continue flaring. However, Zinsner suggested the impact of such inventory buildups on Micron's top line isn't very large, and said it's "much smaller" than the impact of lower sales to Huawei in recent months, after Huawei was placed on the U.S. Entity List.
"The demand we're seeing in DRAM is more about fundamentals just getting better," Zinsner said. He also reiterated that Micron's shipments to Huawei are "materially lower" than what they were before export restrictions took effect.
Plans for Stock Buybacks
After spending about $2.5 billion on stock buybacks during the first two quarters of fiscal 2019 (it ended in August), Micron spent just $157 million on them during its May quarter, and didn't buy back shares during its August quarter. However, the company reiterated its goal of spending at least half of its annual free cash flow (FCF) on buybacks.
Zinsner insisted the recent buyback pause was simply a result of Micron's FCF, which totaled $4.08 billion in fiscal 2019, dropping thanks to the memory industry's downturn. "We entered the year with a little bit higher expectation around free cash flow," he said, while adding Micron spent about 65% of its fiscal 2019 FCF on buybacks. The company plans to spend over half of its fiscal 2020 FCF on buybacks, and will keep an eye on how its cash flows trend to determine what this spending looks like.
With the qualifier that a memory maker's annual cash flows can be very tough to predict and are prone to quickly rising or falling as industry conditions change, the consensus analyst estimate for Micron's fiscal 2020 FCF currently stands at $1.13 billion.
Save 57% During Our Fall Sale. Join Jim Cramer's Action Alerts PLUS investment club to become a smarter investor. Click here to sign up and save!