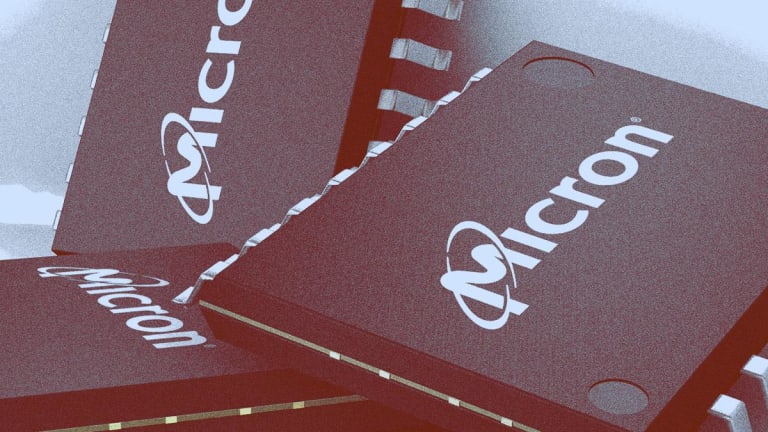 Micron Bears Have Some Serious Soul Searching to Do Now
The chipmaker's shares may well have priced in the absolute worst in earnings outlook already.
Bulls who love memory-chip maker Micron Technology (MU) never learn: When times are good, and the DRAM market is zooming, they always insist the good times will last forever. Inevitably, reality sets in, and the market comes crashing down, as it did last year, taking Micron stock with it.
But bears on Micron can be too complacent as well. They take the inevitable crash as vindication that Micron is too risky to ever believe in. Just look how much money some people lost, the bears say, in Micron's 50% decline from its 52-week high of $64.66, on June 1 of last year, to a recent $34.02. 
For the bears, the worst news is always yet to come, in good times and bad. That means buying the stock, even when its shares have been washed out, is the proverbial case of catching a falling knife.
That attitude is too extreme: time and again, Micron's stock bounces back as the worst is over. 
Things can get worse for Micron's earnings estimates, but that doesn't mean the stock will continue to crater. Right now is a very important time to think about how estimates may bottom out.
When Micron stock bottomed in the previous downturn, on Jan. 20, 2016, at $9.31, analysts' estimates for that fiscal year and the year after it had another six months of declines to go. And the company's own forecast didn't improve until October of that year, ten months later.
Financials, in other words, were entirely a lagging indicator; the shares can turn well ahead of any good news. 
The low point in the past year's trading was in late December, at $28.39, and the stock enjoyed a solid run-up into late April. 
Micron has since come under pressure amidst continued estimate cuts, a decline in outlook by management and now the ratcheting up of tensions over technology between the Trump administration and China. Hence, the shares are back to the point where, as the bears say, the worst is still yet to come.
How much bad news is already priced into the stock? Actually, quite a bit, it would appear. The estimate for earnings per share for this fiscal year ending in August is $6.36, according to FactSet, way down from the $10.79 analysts were modeling a year ago. 
Although estimates will probably continue to come down, sentiment right now appears to be at a nadir. It's very hard to see things improving anytime soon. Micron again cut its outlook for the DRAM market this year during its March 20 earnings call. The company doesn't report again until June 25, but chip-equipment giant Applied Materials (AMAT) , which makes tools that go into producing those DRAM and NAND parts, has added to the negative news about DRAM in the meantime. 
On its May 16 earnings call, Applied's CFO, Daniel Durn, said that a correction in DRAM supply will last into next year. Another year or more of bad news, in other words.
The soul-searching that bears need to do is ask themselves whether the current dour mood represents the absolute bottom in negativity, similar to how the mood a year ago was unreasonably upbeat. With no remedy to DRAM's woes this year, it certainly seems the bears have been given just about everything they could hope for in terms of bad news. 
That may mean a pick-up in shares as the market discounts better times in 2020. 
Bears will of course make at least two arguments for their case. One is that the stock multiple needs to go significantly higher before it's time to buy, to represent so-called "trough" earnings. When Micron hit that low price in January of 2016, its forward price-to-earnings multiple at the time was 18 times. Right now, Micron's stock is still modestly valued, at 5.3 times this year's projected earnings of $6.36.
Hence, it seems estimates still need to come down a lot more, and the stock needs to get more expensive on a P/E basis, for there to be a buying signal. 
And the other case bears can make is that the expanding battle with China may have far broader scope than anyone is estimating at the moment, which means it's premature to look for a turnaround for Micron. 
They're both good points. On the first score, consider that Micron appears to be being run more efficiently in this chip cycle, hence its earnings may not fall as low as in past. Therefore, looking for a P/E multiple to expand as dramatically as in prior cycles may be unrealistic.
And as for China worries, well, as I pointed out recently, if relations are expanding from a trade war to a tech war, that's something so broad it will hit the entire chip industry, not just Micron.
At that point, forget about Micron: you may be dumping your chip holdings altogether.
Watch: How a Company From Idaho Revolutionized Data Solutions: Making Micron
Tiernan Ray neither trades nor owns any shares of any companies mentioned in this article.