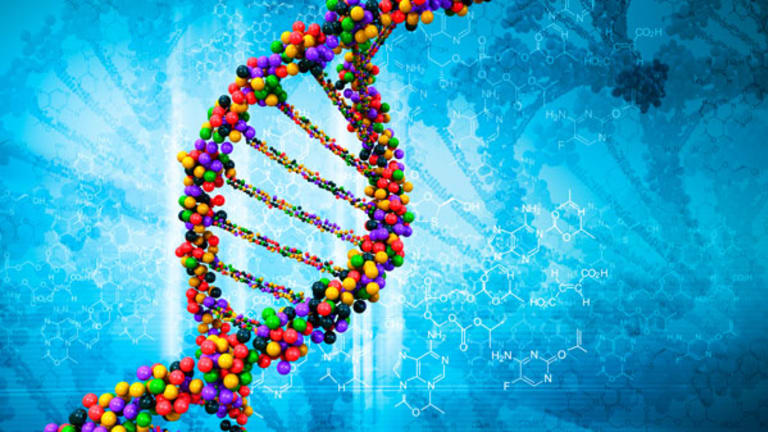 Micromet Cancer Drug Meets Goal; Shares Rise
Micromet drug reduces the level of leukemia cells in study's patients to undetectable levels.
Micromet drug reduces the level of leukemia cells in study's patients to undetectable levels.
Updated from 12 p.m. EDT
A new type of cancer drug being developed by
Micromet
(MITI)
met the goal of a small mid-stage clinical trial by reducing the level of leukemia cells in patients with advanced disease to undetectable levels.
The phase II study enrolled 21 adult patients with acute lymphoblastic leukemia (ALL), a cancer of white blood cells. The patients were in complete remission after previous treatment but still had a small number of cancer cells in their bone marrow. Patients with ALL who still have "minimal residual disease" are at a markedly higher risk for a relapse of their cancer.
Treatment with Micromet's drug, known as blinatumomab, induced a response in 13 of 16 patients, or 81%, who were evaluated to date. A response in this study was defined as the elimination of residual leukemia cells below the level of detection.
"We are excited about the significant activity of blinatumomab in ALL and the favorable safety profile observed in this study. These results are particularly important for these patients who are in a disease stage with extremely poor prognosis and for which we lack treatment options except for patients eligible for allogenic stem cell transplantations," said Dr. Ralf Bargou, principal investigator of the trial, in a statement.
The data from the phase II study were presented at the European Hematology Association meeting over the weekend.
Micromet shares ended Monday's trading session up 7.1% to $4.95 after rising as high as $6.40.
Blinatumomab comes out of Micromet's proprietary BiTE (Bispecific T-cell engager) antibodies technology platform. BiTE antibodies are "better" antibodies (or so the company hopes) because they are designed to spur patients' T cells to identify and attack tumors.
Conventional cancer-fighting antibodies typically have a single binding site that attaches to the cancer cell and recruits other forms of immune cells to help attack the tumor. BiTE antibodies, on the other hand, have two binding sites -- one that attaches to the cancer cells and one that attaches to and activates T cells.
T cells are the immune system's most potent disease killers, but they're generally not useful against cancer because cancer cells closely resemble healthy cells and have developed various ways of eluding detection by T cells. In simple terms, the BiTE antibodies latch on to cancer cells and draw the attention of the T cells, which then do what they're designed to do -- kill foreign agents that are harmful to the body.
Other drug companies, most notably
Medarex
(MEDX)
,
Bristol-Myers Squibb
(BMY) - Get Report
and
Pfizer
(PFE) - Get Report
, are also developing drugs designed to bring T cells to the cancer-killing party (albeit with a different approach).
In addition the blinatumomab results in ALL patients mentioned above, Micromet also presented encouraging tumor response data from a phase I study of the drug in patients with non-Hodgkin's lymphoma (NHL).
Micromet owns 100% of the rights to blinatumomab. Earlier this year,
AstraZeneca
(AZN) - Get Report
returned the drug's North American development rights to Micromet.
In its present formulation, blinatumomab requires patients to wear an infusion pump that doses the drug continuously over a four-week period. Micromet is working on alternative dosing formulations for the drug, but for now the treatment requires this four-week continuous intravenous infusion.
In an interview earlier this year, Micromet CEO Christian Itin said the company was anxious to move forward in ALL because it's an orphan cancer indication (only about 5,000 patients in the U.S. are diagnosed every year), which could help the drug reach the market faster.
However, Micromet has only studied the drug in adults, who represent about one-third of all ALL patients (the rest are children). Right now, there isn't an established regulatory pathway for the approval of an ALL drug as a post-remission treatment. Micromet says it would like to start a pivotal phase III study of MT103 in ALL patients next year, but acknowledges that the design of the trial is still up in the air.
Even if Micromet can get blinatumomab approved for use in children and adults, the commercial opportunity is small -- less than $100 million. An approval for adult ALL patients with minimal residual disease would probably only bring in between $30 million and $40 million in peak sales.
Moving blinatumomab into non-Hodgkins lymphoma is a much more lucrative commercial opportunity, where drugs like
Genentech's
Rituxan generate billions of dollars in sales every year. However, NHL is a very crowded treatment market with lots of competition, so it remains unclear how MT103 would fit in.
Micromet is also using its BiTE platform to develop a host of other cancer-fighting antibodies, including MT110, which is in an early clinical trial for the treatment of various solid tumors. Micromet also has data showing that it can re-engineer currently marketed antibodies and convert them to BiTE antibodies.
Adam Feuerstein writes regularly for TheStreet.com. In keeping with TSC's editorial policy, he doesn't own or short individual stocks, although he owns stock in TheStreet.com. He also doesn't invest in hedge funds or other private investment partnerships. Feuerstein appreciates your feedback;
to send him an email.