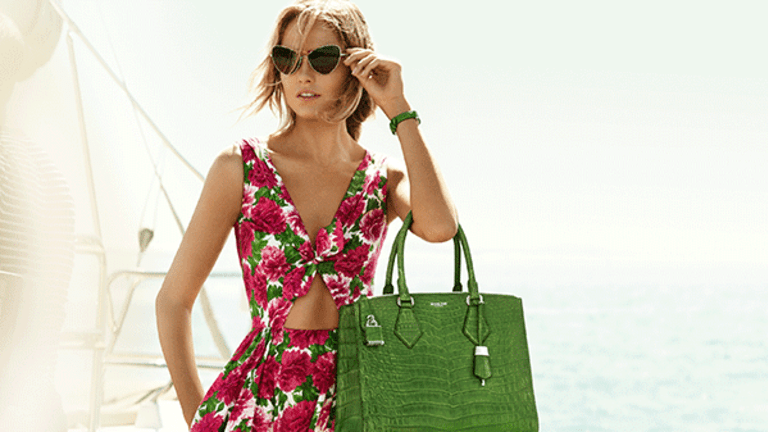 Michael Kors Can Thank Dying Malls For One Vicious Stock Plunge
What you need to know after one plummeting sell-off.
As some malls bite the dust, they are dragging down apparel makers like Michael Kors (KORS)   with them.
At one time there were between 1,200 and 1,500 malls, but now, by some estimates, the number is closer to 1,000.
That downturn is devastating retailers like Macy's (M) - Get Macy's, Inc. Report , Sears (SHLD) and J.C. Penney (JCP) - Get J. C. Penney Company, Inc. Report  too, which have closed stores in droves and are shuttering more. Over the next two years, Michael Kors also announced Wednesday plans to close between 100 and 125 stores. As there are fewer places to sell products, sales for Michael Kors have come under severe pressure. 
Michael Kors' stock, trading at $32.65 at 11:20 am EDT, is down almost 9% following its fiscal fourth-quarter earnings release before the bell on Wednesday. 
The company swung to a net loss of 17 cents a share after reporting a profit of 98 cents a share in the year ago period. Net sales fell 11.3% to $1.03 billion in the quarter. In addition, the company said that it would buy back $1 billion of shares. 
Michael Kors is one piece of the struggling retail sector impacted by worsening mall traffic, weak tourist sales challenged by macro/geopolitical issues and intensified rivalries within the accessories sector, according to analysts at Jefferies. The analysts also point out the failure of Michael Kors Access (new smartwatch and wearables category) to launch. 
In spite of these drawbacks, Jefferies puts Michael Kors as a buy with a target price of $60 as they believe that the company has pushed the "reset button" and its "downside case has been reached." Among its more positive aspects, according to Jefferies, is that that handbag category has high margins and irreplaceable product, and while Michael Kors' numbers are lower, they are not "crushed." By fiscal year 2019, Jefferies is predicting a generous share price of $75.
Retail's downturn giving you the blues? Jim Cramer has a list of retailers that are currently oversold, giving investors a leg up one of the market's most volatile sectors.
Read More Trending Articles:
Apple Is Now a Prodigious Chipmaker, Giving It Some Major Competitive Advantages