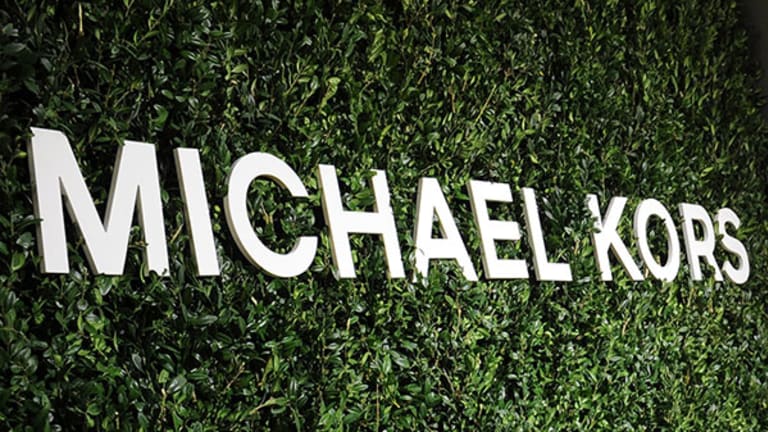 Michael Kors Rises Following Earnings Beat
Shares of Michael Kors reversed course on Wednesday to move higher, after a rocky morning in the red, despite the accessories and lifestyle retailer reporting fourth-quarter earnings and revenue that were above Wall Street's expectations.
This story has been updated from 12:24 pm EST to reflect stock price changes.

NEW YORK (TheStreet) - Shares of Michael Kors (KORS) reversed course on Wednesday to move higher, after a rocky morning in the red, despite the accessories and lifestyle retailer reporting fourth-quarter earnings and revenue that were above Wall Street's expectations.
The stock went from surging more than 4% before the markets opened to falling as much as 4.1% in morning trading. At last check, Michael Kors shares were rising 1.1% to $96.80 on Wednesday on volume that was more than quadruple the average daily trading volume of 2.3 million shares.
Hong Kong-based Michael Kors reported fourth quarter net income of $161 million, or 78 cents a share, compared to $101.1 million, or 50 cents a share, in the year-earlier quarter. Analysts, on average, were expecting the company to post quarterly earnings of 68 cents a share, according to Thomson Reuters.
Michael Kors' revenue rose 53.6% to $917.5 million, above expectations of $816 million. The company said that retail net sales increased 49.7% to $408.4 million, with comparable store sales up 26.2% in the quarter. Analysts were calling for same-store sales of 21.4%, according to Consensus Metrix.

WATCH: More market update videos on TheStreet TV | More videos from Debra Borchardt
Gross profit, as a percentage of total revenue, increased to 59.9% compared to 59.7% in the fourth quarter of fiscal 2013, the company said.
"We believe that our expanding global brand awareness is driving continued strong demand for our luxury product and fueling our growth as a global luxury lifestyle brand. In addition, Michael Kors and our talented design team continue to deliver exceptional products while the distinctive jet-set in-store experience that we offer in both our retail stores and our shop-in-shops continues to resonate well with our consumers," John D. Idol, the company's chairman and CEO said in an earnings statement. "Overall, we have great momentum as we head into fiscal 2015 and remain very excited about our growth prospects for next year and beyond."
As of the end of the quarter, the company operated 405 retail stores, including concessions. Including licensed locations, there were 555 Michael Kors stores worldwide at the end of the fourth quarter of fiscal 2014.
However, despite the strong growth momentum Michael Kors is seeing particularly in Europe and Japan, analysts during the conference call became concerned about the company's margins going forward, particularly as it continues to invest in the brand.
The company said during the conference call on Wednesday that it expected first-quarter gross margin to be slightly lower than last year and operating expense rate to be slightly higher when discussing its outlook for the quarter. Michael Kors disclosed first-quarter earnings between 78 cents and 80 cents a share, in line with analysts' expectations of 79 cents a share. For the year, the company disclosed that it expected earnings per share between $3.85 and $3.91.
"KORS posted a strong [quarter], with sales growth well above our estimates (primarily driven by the wholesale channel). With guidance for comps +20% in Q1, it seems that momentum has continued. Although it is tough to critique a [quarter] with a 26% comp and 64% EPS growth, one thing to note is that [gross margin] was up only 20bps compared to increases of 100bps or more in prior [quarters]. This could be a sign that markdown levels are finally beginning to normalize," Wells Fargo Securities analyst Paul Lejuez writes in an early morning research note.
CFO Joseph Parsons noted that as the company invests in expanding its stores in Europe, retail operating margins are being pressured.
"We accelerated our rollout of Europe is fiscal 2014," Parsons said during the call. "We again in fiscal 2015 have a significant rollout of retail stores in Europe." Kors plans to open half of the 110 stores in fiscal 2015 in Europe.
"After that I believe there will be upside to the retail operation margins. On the wholesale operating margin we don't have that upside ... expectations is that it would come down as we have more markdowns and allowance cadence," Parsons noted.
CEO Idol added that at the end of fiscal 2014, retail operating margins were "roughly flat as a percentage on a year over year basis and our wholesale margin were up slightly."
"We don't think next year's or operating margins will change significantly higher or lower. If anything we would say our wholesale would come down slightly from where it is today given normalization," Idol said. That said, "gross margins in ... our retail business increased this year. I want to repeat that - our gross margin increased this year, and the reason I want to point that is ... that points to the health of the company."
Sterne Agee's Ike Boruchow writes in a note that Michael Kors "continues to exhibit extremely robust top-line growth (comps +26%, revenue +54%) - leading to another sizable beat in Q4, despite an anemic macro backdrop," however, "the market appears increasingly focused on the company's industry leading 31% margins, as retail margins declined meaningfully, Q1 GM was guided lower and FY EBIT margins were guided to come down. All in, KORS's top-line momentum can't be denied, but with margins potentially peaking, there are fewer ways to win going forward."
--Written by Laurie Kulikowski in New York.
>>Read More:
Looking for an Investment? Here are 8 of the Best Franchises in America
Why Best Buy Is Pointing Fingers at Apple and Samsung
How PizzaRev Plans To Be the 'Chipotle of Pizza'
Disclosure: TheStreet's editorial policy prohibits staff editors, reporters and analysts from holding positions in any individual stocks.