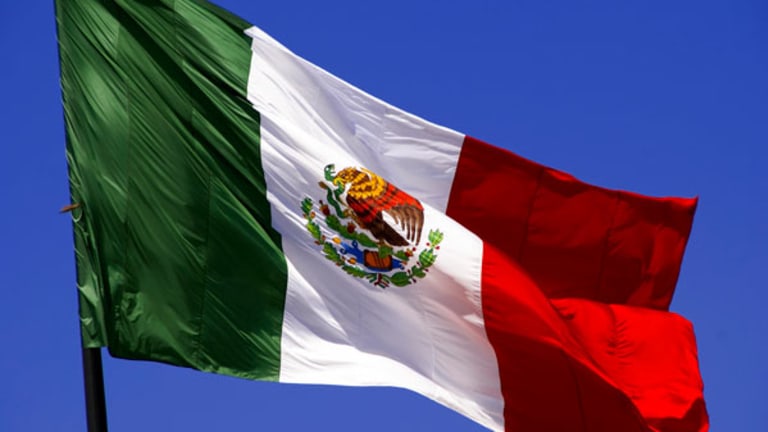 Mexico Gains as Auto Export Power
Mexico is fourth in the world in auto exports, after Germany, Japan and Korea, and is the only one lacking a domestic automaker.
DETROIT (
) -- In the 22 years since the North American Free Trade Agreement took effect, Mexico has carved out a unique niche as the leading major auto exporting country that lacks a domestic auto industry.
Growth in Mexican auto exports is being led by Japanese and German automakers, who combined have four new plants under production, according to a recent article in the April edition of the Federal Reserve Bank of Chicago monthly letter, which publishes research.
Today, Mexico accounts for 19% of North American automobile production, more than Canada, and is the fourth-largest exporter of motor vehicles, behind only Germany, Japan and South Korea -- all home to major automakers, said the article, titled "The Growing Importance of Mexico in North America's Auto Production," and written by Thomas Klier, the bank's senior economist .
"What surprised me was how quickly the overseas producers have become an integral element in Mexican auto exports," Klier said, in an interview. "Who is producing the vehicles that are being exported from Mexico? Detroit is only around 50%."
Most people are generally aware that the Detroit Three produce cars in Mexico.
Ford
(F) - Get Ford Motor Company Report
has two plants in Mexico and builds the Fusion in Hermosillo. (It will soon add production at Flat Rock, Mich.)
GM
(GM) - Get General Motors Company Report
has three plants in Mexico, while Chrysler has two. Additionally,
Nissan
(NSANY)
has two plants, while
Volkswagen
,
Honda
(HMC) - Get Honda Motor Co. Ltd. Report
and
Toyota
(TM) - Get Toyota Motor Corp. Report
each have one.
Four more plants are under construction or planned. In 2011, Mazda and Honda announced plans for new plants, scheduled to open in 2013 and 2014, respectively. Nissan is building its third plant and Audi plans to begin a plant construction by mid-decade.
"Mexico has become the location of choice for Asian-headquartered automakers to produce vehicles destined primarily for the Americas," Klier wrote. "All of their newly announced assembly plants in Mexico are slated for the production of small vehicles."
The growth of Mexico's auto exporting has been stimulated, the article said, by relatively low wage rates, starting at $40 a day; by the 1994 North American Free Trade Act, which reduced trade restrictions; by increasing demand, as fuel prices rise, for small cars; and more recently by the strengthening yen.
In 2012, Mexican light-vehicle production was 2.86 million vehicles, including 2.38 million that were exported, four times the approximately 600,000 exports in 1985. Over the same period, Klier noted, exports by overseas producers, as opposed to Detroit producers, increased to 1.1 million from fewer than 10,000. Meanwhile, the share of shipments to the U.S. has declined to 63% in 2012, down from nearly 100%.
One result of the shifting trend in export destinations is that while auto plants have historically been located in the north of Mexico, all of the new plants will be in the interior, enabling better access to ports. The Atlantic Port of Veracruz is the primary gateway for Mexican automotive exports, but the Pacific ports of Lazaro Cardenas and Manzanillo are also benefiting from the growth.
-- Written by Ted Reed in Charlotte, N.C.
>To contact the writer of this article, click here: