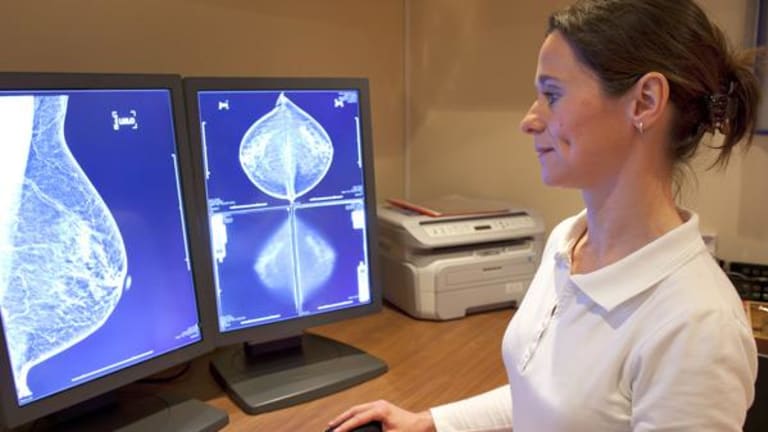 Merrimack Shares Crash After Halting Breast Cancer Study
The drug was one of the most important in the company's pipeline, which is undergoing a strategic review.
Cancer and autoimmune disease treatment maker Merrimack Pharmaceuticals (MACK) - Get Merrimack Pharmaceuticals, Inc. Report saw shares slip 18% Wednesday morning on news that it halted its phase two trials of its breast cancer drug. 
The Cambridge, Mass.-based company saw shares hit $4.39 apiece Wednesday. Merrimack's shares are down more than 29% this year. 
Merrimack officials said via press release Wednesday that the company has halted its Phase 2 HERMIONE study of MM-302 in patients with HER2-positive metastatic breast cancer. According to the company's independent data and safety monitoring board, "continuing would be unlikely to demonstrate benefit over the comparator treatments." 
There were no safety problems with the drug; however, the board deemed continuation of research futile given that it likely won't treat patients better than competitors may. 
"This asset MM320 was viewed as one of the most important, if not the most important pipeline products at the company," analyst Eric Schmidt of Cowen & Co. said by phone Wednesday. "It's a blow to Merrimack's pipeline."
It's important to note, though, that this announcement leaves Merrimack's one commercial drug, Onivyde, which is undergoing studies for treatment of other types of cancers, still in play. 
Along with this announcement, Merrimack officials revealed that the company plans to provide results of its strategic pipeline review in January. 
"I think there's more to it than just a failed clinical trial," Guggenheim analyst Tony Butler said by phone Wednesday. 
Merrimack began a review November for which it engaged advisers from Credit Suisse and Bank of America Corp., though it was unclear if the process would include considerations of a sale or licensing agreement. Interestingly, though, the company has a collaboration outside of the U.S. with Shire (SPG) - Get Simon Property Group, Inc. Report .
"Ideally they'd like to keep Onivyde," Schmidt said by phone. 
But Butler noted that perhaps as a result of the review, Merrimack could sell the drug, or the entire company outright. A buyer for the company, is unclear. Though Shire has a partnership with Merrimack already, Bulter said: "that doesn't make Shire logical buyer, it just associates them."
And Schmidt was equally unsure of who could buy Merrimack. 
"There's always interest in cancer drugs and cancer pipelines," he said by phone. "I'm just not sure which company would be more interested."
The company could not be reached for comment early Wednesday.