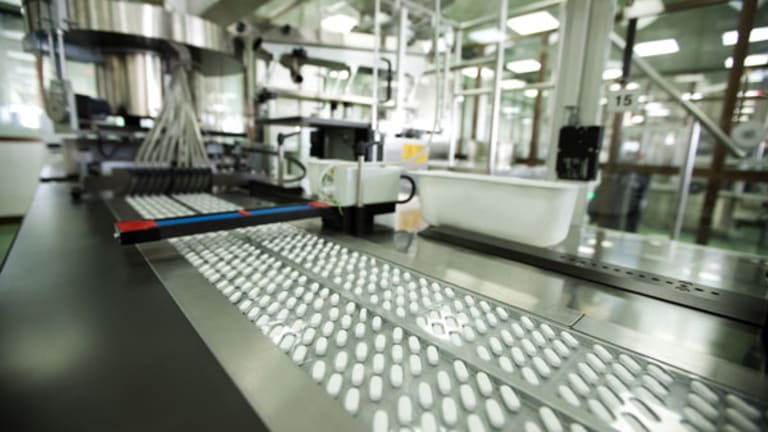 Merck, Vertex Prep for Hep C Drug Panels
FDA is holding an advisory panel next week to review Hep C drugs from Merck and Vertex.
BOSTON (
) -- A new era of hepatitis C treatment and the potential for billions of dollars in sales are on the line next week as an independent panel of experts meets to scrutinize new drugs from
Merck
(MRK) - Get Merck & Company Inc. Report
and
Vertex Pharmaceuticals
(VRTX) - Get Vertex Pharmaceuticals Incorporated Report
.
The U.S. Food and Drug Administration advisory panel meets Weds. April 27 to review Merck's hepatitis C drug boceprevir. The same expert panel reconvenes on Thurs. April 28 to judge Vertex's telaprevir.
Prior to every advisory panel, the FDA publishes briefing documents, including a review of the drug(s) in question. Expect to see the FDA's review of boceprevir and telaprevir on Monday, April 25,
posted to the agency's web site
.
Both boceprevir and telaprevir are the most advanced entrants in a new class of oral drugs that act directly against the hepatitis C virus and promise to radically improve cure rates while cutting treatment duration. Both drugs could be approved and launched later this year, transforming the way hepatitis C is treated and leading to blockbuster sales.
Telaprevir is expected to generate more than $1 billion in sales in 2012, according to one buy-side investor survey conducted recently, illustrating the heavy demand for new Hep C drugs expected to come from doctors and patients.
The following is a primer to help investors prepare for next week's FDA advisory panels:
Why is the FDA holding an advisory panel for boceprevir and telaprevir? Are there any serious doubts that these two drugs work?
No, not really. Both boceprevir and telaprevir are effective against the Hep C virus. Data from multiple phase III studies conducted by Merck and Vertex, presented and published widely, prove that point beyond doubt. With that said, both drugs represent entirely new ways of treating Hep C and each has unique side effect or safety issues. For these reasons, FDA decided wisely to convene advisory panels.
Investors absolutely expect both panels to recommend the approval of both boceprevir and telaprevir. A negative vote for either drug will be a shocking surprise. But even though the overall outcome of next week's panels are not in serious doubt, the discussions about safety and potential labeling claims are important and could throw some curveballs into the way the Street views the commercial potential of both drugs.
Sounds like you're recommending investors pay attention to these Hep C drug panels even though neither is expected to go off script.
These Hep C advisory panels are a big deal, even if investors are looking beyond them to the inevitable FDA approval and launch of both drugs. And even though investors think they know everything there is to know about the efficacy and safety of boceprevir and telaprevir already, investors don't know what FDA or a panel of independent experts thinks about the drugs. More importantly, what concerns or questions will be raised? Remember, there are always questions and concerns raised about every drug.
Of course, I also want to you pay attention because I'll be live-blogging both panels. (Shameless commercial plug!) As I've done in the past with other drugs brought in front of FDA panels, I'll be providing real-time coverage and analysis of Wednesday's boceprevir panel, followed Thursday with the same intensive coverage of the telaprevir panel. (Shameless commercial plug!)
After two consecutive days of live-blogging, I will sleep for four days. Please, don't wake me.
Can you give us a quick summary of the boceprevir data?
Absolutely. For starters, recall that boceprevir is a pill dosed three times daily and is used in combination with a weekly injection of interferon and a daily dose of oral ribavirin. The interferon-ribavirin regimen, lasting 48 weeks, is the current standard of care for Hep C and cures about 40% of patients.
In a phase III study of treatment-naive Hep C patients,
boceprevir plus the standard of care led to cure rates
(sustained virologic response, or SVR) of 63-66% compared to a cure rate of 38% for patients treated with standard of care alone.
To get those 63-66% cure rates, the shortest boceprevir regimen lasts 28 weeks and as long as 48 weeks. Approximately 40% of patients achieved a cure with the shortened, 28-week boceprevir regimen.
What about boceprevir's efficacy in treatment-experienced Hep C patients?
Boceprevir also works in these harder-to-treat patients, with cure rates ranging from 59-66% compared to a cure rate of 21% for patients retreated with standard of care alone.
Importantly, boceprevir was not studied in so-called "null responders." These are patients who never responded at all to previous standard therapy and are considered the most difficult Hep C patients to treat (and cure.)
You mentioned above that safety might be a debatable issue for both drugs, so what should we be listening for during the boceprevir panel?
Anemia, or a significant reduction in red blood cell counts, is likely to be the most discussed safety issue during the boceprevir panel. Adding boceprevir to standard of care essentially doubles the percentage of patients reporting serious cases of anemia (roughly, from 20% to 40%). As a result, doctors are forced to treat anemia in boceprevir patients with the red blood-cell boosting drug erythropoietin about twice as often as they do for patients treated with standard of care alone.
Expect the panels on both days to also discuss the implications of drug resistance in patients who fail to respond to treatment with either boceprevir or telaprevir. In some patients, the Hep C virus can mutate into a form that is resistant to drug treatment. The FDA and the experts on the panel will likely raise the issue of what to do with patients who don't respond to either drug due to viral resistance. Do you retreat these patients again or wait for another Hep C drug to come along with a different resistance profile?
Both Merck and Vertex have collected data from clinical trials showing that resistant strains that do arise after treatment with either of their drugs are relatively weak. These resistant strains of the Hep C virus can and often do revert back to so-called "wild type" virus that is susceptible once again to treatment with boceprevir or telaprevir.
The respective resistance rates for both boceprevir and telaprevir are relatively low, so this is not an issue expected to derail approval. It's more of a concern about how to treat or re-treat patients in the "real world" clinical setting if or when resistance to either drug occurs.
What do we need to know about telaprevir for Thursday's panel?
The basics: Telaprevir is also a pill dosed three times a day (although Vertex has data showing that a twice-daily dose is also effective.) Like boceprevir, patients take telaprevir in combination with the current standard of care, interferon and ribavirin.
In the phase III study of treatment naïve patients,
telaprevir plus standard of care demonstrated cure rates
of 72-75% compared to 44% for patients treated with standard of care alone. Moreover, about two-thirds of patients were cured in 24 weeks, including only 12 weeks of telaprevir.
For treatment-experienced patients, the
telaprevir regimen led to cure rates of 64-66%
compared to 17% for patients treated with standard of care alone. I mentioned above that boceprevir wasn't tested in the hardest-to-treat null responder patients. That puts the drug at a competitive disadvantage to telaprevir, which was able to cure between 29-33% of null responders compared to a 5% cure rate for null responders re-treated with standard of care alone.
What about telaprevir safety?
Think rash. Telaprevir causes a rash, severe in about 5-% of patients, which can lead to drug discontinuation. Vertex educated doctors about how to manage the telaprevir rash in patients enrolled in its clinical trials, so the side effect was less obtrusive in the phase III studies than it was in earlier telaprevir studies. How rash impacts patients once telaprevir is used widely isn't known, but expect it to be a point of discussion and debate during Thursday's advisory panel.
Will boceprevir and telaprevir be approved right after the advisory panels next week?
No, the advisory panels are just that -- advisory. Only the FDA can approve or reject a drug. What you'll see next week are votes from the panel experts on whether or not to recommend the drugs' approval, based on the clinical data presented and reviewed at the meetings.
The FDA then takes those votes and the comments/conclusions reached by the panel and uses the information to make an approval decision.
FDA is expected to issue an approval decision on Merck's boceprevir in early May, perhaps May 7 (although Merck hasn't confirmed an exact date.) The FDA's approval decision for Vertex's telaprevir will be announced on May 23.
I know these panels are supposed to follow a script, but what could go terribly wrong?
Worst case: The FDA and the panel come down hard on Merck for the high rates of anemia, recommending against boceprevir's approval until Merck submits additional data on the impact of erthrypoietin use in boceprevir patients.
For Vertex, big problems could arise if the FDA and panel members fixate on the one case of Stevens-Johnson Syndrome (SJS) reported in a telaprevir patient during the clinical trial. SJS is a severe and serious allergic skin reaction.
--Written by Adam Feuerstein in Boston.
>To contact the writer of this article, click here:
Adam Feuerstein
.
>To follow the writer on Twitter, go to
http://twitter.com/adamfeuerstein
.
>To submit a news tip, send an email to:
.
Adam Feuerstein writes regularly for TheStreet. In keeping with company editorial policy, he doesn't own or short individual stocks, although he owns stock in TheStreet. He also doesn't invest in hedge funds or other private investment partnerships. Feuerstein appreciates your feedback;
to send him an email.