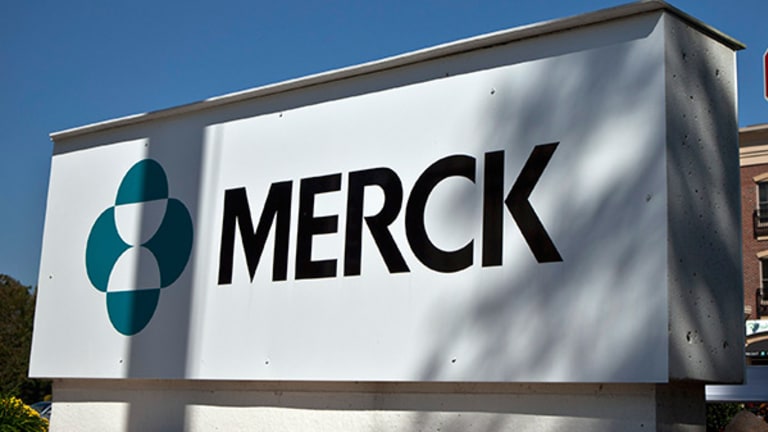 Merck Solidifies Lung Cancer Immunotherapy Lead Over Bristol-Myers Squibb
Merck's Keytruda works in first-line lung cancer, Bristol's Opdivo does not.
Merck (MRK) - Get Merck & Co., Inc. Report will emerge victorious from a European medical conference this weekend with the only immunotherapy, Keytruda, shown to significantly delay tumor growth and extend the lives of patients with newly diagnosed non-small cell lung cancer compared to chemotherapy.
Bristol-Myers Squibb (BMY) - Get Bristol-Myers Squibb Company Report leaves the same conference with a competing immunotherapy, Opdivo, that's a total failure in newly diagnosed lung cancer. There was speculation Bristol might salvage something positive for Opdivo from the negative clinical trial first announced in August. That didn't happen, so now Bristol is in a bad place.
Bristol has already lost $32 billion in market value since announcing in August the failure of the Opdivo front-line lung cancer trial. In the same time period, Merck's market value has increased by $14 billion.This weekend's cancer immunotherapy duel isn't likely to reverse that valuation trend.
Keytruda and Opdivo are both highly effective and commercially successful drugs which harness a patient's immune system to kill a growing list of cancer types. Both drugs are even effective in treating patients with lung cancer that no longer responds to prior therapies.
However, in newly diagnosed lung cancer, a commercial market opportunity that could reach $8 billion in sales annually, Merck's Keytruda works and Bristol's Opdivo does not.
Why? Because Bristol gambled big by testing Opdivo in a broad population of new lung cancer patients. The bet blew up. Merck played conservative, choosing to target a smaller group of lung cancer patients with a biomarker suggesting Keytruda would be more effective. Merck's strategy paid off.
Keytruda and Opdivo belong to a class of drugs known as checkpoint inhibitors. They work by blocking the interaction between PD-L1, a protein found on the surface of tumor cells, with PD-1, a receptor found on immune cells. Blocking the PD-1/PD-L1 connection allows a patient's immune system to recognize and kill cancer cells.
Merck restricted enrollment in its phase III study to previously untreated patients with at least 50% of lung tumors cells expressing PD-L1. Approximately one-third of newly diagnosed lung cancer patients have this biomarker.
The patients were randomized to receive treatment with Keytruda or a physician's choice of five different chemotherapy regimens. For the study's primary endpoint, Keytruda reduced the risk of tumor progression by 50% compared to chemotherapy. At the median, Keytruda delayed tumor growth by 10.3 months compared to 6 months for chemotherapy.
Keytruda also reduced the risk of death by 40% compared to chemotherapy, despite the study allowing chemotherapy patients to receive Keytruda once their tumors started to grow again. (43% of the chemo patients crossed over to Keytruda.) The median overall survival times for both arms has not been reached but 80% of Keytruda patients were alive at six months compared to 72% of chemo patients.
The tumor response rate to Keytruda was 45% compared to 28% for chemotherapy.
Twenty-six percent of Keytruda patients reported serious adverse events compared to 53% of chemo patients.
"This is a major advance for front-line lung cancer. We believe these data are dramatic and unambiguously positive," said Roy Baynes, Merck's senior vice president for global clinical development.
The study results are being presented Sunday at the cancer conference sponsored by the European Society of Medical Oncology. The study was also published Sunday in the New England Journal of Medicine.
Merck has already submitted these Keytruda data to the U.S. Food and Drug Administration. The agency is expected to make an approval decision by Dec. 24.
If Keytruda is approved, Merck estimates there are 25,000 newly diagnosed lung cancer patients in the U.S. with tumors meeting the 50% PD-L1 expression level cutoff. The comparable number in Europe is 22,000.
The Bristol phase III study enrolled previously untreated patients with at least 5% of lung tumor cells expressing PD-L1. Half of the screened lung cancer patients met this more liberal enrollment criteria. Like Merck, Bristol randomized patients to treatment with Opdivo or chemotherapy.
The results were a disaster. The risk of tumor progression was actually higher in the Opdivo arm compared to chemotherapy, although not statistically significant. At the median, Opdivo delayed tumor growth by 4.2 months compared to 5.9 months for chemotherapy.
The risk of dying in the Bristol study was the same whether a patient was treated with Opdivo or chemo. At the median, overall survival was statistically the same at 14.4 months for Opdivo versus 13.2 months for chemo.
In an attempt to mitigate the study's failure, Bristol examined patients containing tumors that expressed higher levels of PD-L1. The hope was that these patients would respond better to Opdivo, just like they did to Merck's Keytruda. They did not. Even in patients with tumors expressing 50% PD-L1, there was no difference in tumor progression or survival between Opdivo and chemotherapy, said Fouad Namouni, Bristol's oncology drug development chief. 
Obviously, Bristol cannot file for approval based on these negative Opdivo study results. That leaves Merck all alone for now in the front-line lung cancer treatment market.
Through the first half of the year, Bristol has reported $1.5 billion in Opdivo sales compared to Merck's $563 million for Keytruda. Approval in first-line lung cancer will help Merck accelerate Keytruda sales at the expense of Opdivo.
Bristol knows it screwed up, so the catch-up plan in front-line lung cancer involves combining Opdivo and its other cancer immunotherapy Yervoy. At an investor event scheduled for Sunday night, Bristol will present an update from an uncontrolled phase II study of the Opdivo-Yervoy lung cancer combination.
Bristol briefed me on the new combination data but doesn't want disclosure until its Sunday night meeting. With that said, the company is already conducting a large phase III study of Opdivo-Yervoy combination therapy in newly diagnosed lung cancer patients, based on the data from the phase II study. Patient enrollment is nearly complete and results are expected in the first quarter of 2018, the company says.
If the phase III study is positive, Bristol's entry into the first-line lung cancer market will be the Opdivo-Yervoy combination.
Unfortunately, Bristol might not be alone. On Sunday, Merck presented data at the ESMO conference from a phase II study of its own lung cancer combination therapy -- Keytruda plus chemotherapy. The study was also published in The Lancet Oncology. Here's a summary:
In newly diagnosed lung cancer patients with any level of PD-L1 expression, Keytruda/chemotherapy demonstrated a 55% response rate compared to 29% for chemotherapy alone.
Keytruda/chemo reduced the risk of tumor progression by 47%. At the median, Keytruda PFS was 13 months compared to 8.9 months for chemotherapy.
At six months, 75% of Keytruda/chemo patients were alive compared to 72% of chemo patients. (Half of the chemo patients have already crossed over to also receive Keytruda.)
Like Bristol, Merck is also conducting larger, phase III studies of Keytruda combination therapy in first-line lung cancer, and they're both competing against other combination therapies under development by AstraZeneca and Roche. It's a crowded race.
Adam Feuerstein writes regularly for TheStreet. In keeping with company editorial policy, he doesn't own or short individual stocks, although he owns stock in TheStreet. He also doesn't invest in hedge funds or other private investment partnerships. Feuerstein appreciates your feedback; click here to send him an email.