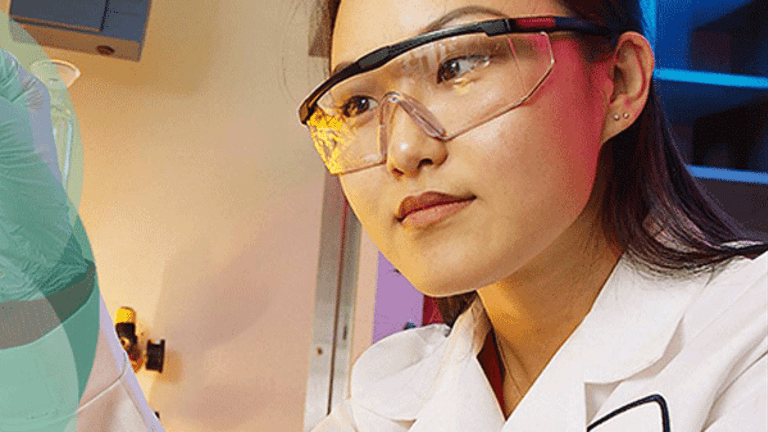 Merck Keytruda-Chemo ASCO '17 Update Shows Lung Cancer Survival Trend
The new Merck survival data were included in a research abstract for next month's American Society of Clinical Oncology (ASCO) annual meeting that was distributed on Wednesday night.
A survival benefit for Merck's (MRK) - Get Merck & Co., Inc. Report recently approved Keytruda-chemotherapy combination therapy is trending in the right direction for newly diagnosed lung cancer patients but updated results from a clinical trial are not yet statistically significant.
The new survival data were included in a research abstract for next month's American Society of Clinical Oncology (ASCO) annual meeting that was distributed on Wednesday night. Merck submitted the abstract with updated data from the KEYNOTE-021 Cohort G study. This is the same study which Merck used to secure FDA approval on May 10 for Keytruda-chemotherapy to treat first-line non-small cell lung cancer.
With a median follow up of 14.5 months, lung cancer patients treated with Keytruda and chemotherapy had a 31% reduction in the risk of death compared to patients treated with chemotherapy alone. The survival benefit was not statistically significant, in part because 75% of the patients randomized into the chemotherapy arm crossed over to receive Keytruda
At 12 months, 76% of the Keytruda-chemo patients were still alive compared to 69% of chemo patients.
Merck is conducting a separate confirmatory study of Keytruda-chemo in lung cancer, with results expected later this year.
Full text of the ASCO abstract is below:
9094 -- First-line carboplatin and pemetrexed (CP) with or without pembrolizumab (pembro) for advanced nonsquamous NSCLC: Updated results of KEYNOTE-021 cohort G.

Background: Data from the randomized, phase 2 cohort G of KEYNOTE-021 (NCT02039674) showed that adding pembro to first-line CP in patients (pts) with advanced nonsquamous NSCLC significantly improved the primary end point of ORR (55% vs 29%, P = 0.0016) and the key secondary end point of PFS (HR 0.53, P= 0.0102) compared with CP alone and had a manageable safety profile (grade 3-4 treatment-related AEs, 39% vs 26%; treatment-related AEs leading to discontinuation, 10% vs 13%). We present updated efficacy for cohort G based on 5 mo additional follow-up.Methods: 123 pts with stage IIIB/IV, chemotherapy-naive, nonsquamous NSCLC and no EGFR mutation or ALK translocation were randomized to 4 cycles of carboplatin AUC 5 + pemetrexed 500 mg/m2 Q3W ± 24 mo of pembro 200 mg Q3W; maintenance pemetrexed was permitted in both arms. Eligible pts in the CP arm who had radiologic progression could crossover to pembro monotherapy. Response was assessed per RECIST v1.1 by blinded, independent central review. All Pvalues are nominal. Results: As of Dec 31, 2016, median follow-up was 14.5 mo (range, 0.8-24.0). 36 of 48 pts (75.0%) in the CP arm who discontinued CP received subsequent anti-PD-1 or PD-L1 therapy. There was 1 additional response in each arm, and ORR was 56.7% (95% CI 43.2%-69.4%) with pembro + CP vs 30.2% (95% CI 19.2%-43.0%) with CP (P = 0.0016). Median DOR was not reached for pembro + CP (range, 1.4+ to 18.6+ mo) and was 16.2 mo (range, 2.8 to 20.7+) for CP alone. PFS remained longer with pembro + CP (HR 0.49, 95% CI 0.29-0.83, P = 0.0035; median [95% CI] NR [9.7 mo-NR] vs 8.9 mo [6.2-10.3]; 12-mo estimate, 56% vs 34%). With 16 deaths in the pembro + CP arm and 23 deaths in the CP arm, HR for OS was 0.69 (95% CI 0.36-1.31, P= 0.13). Median OS was not reached in either arm; at 12 mo, estimated OS was 76% in the pembro + CP arm and 69% in the CP alone arm. Conclusions: With 5 mo additional follow-up, first-line pembro + CP continues to provide a substantial, clinically relevant improvement in efficacy over CP alone in pts with advanced nonquamous NSCLC, including an almost doubled ORR, halved risk of progression or death, and a trend toward improved OS despite a 75.0% crossover rate in the CP arm.
Adam Feuerstein writes regularly for TheStreet. In keeping with company editorial policy, he doesn't own or short individual stocks, although he owns stock in TheStreet. He also doesn't invest in hedge funds or other private investment partnerships. Feuerstein appreciates your feedback; click here to send him an email.