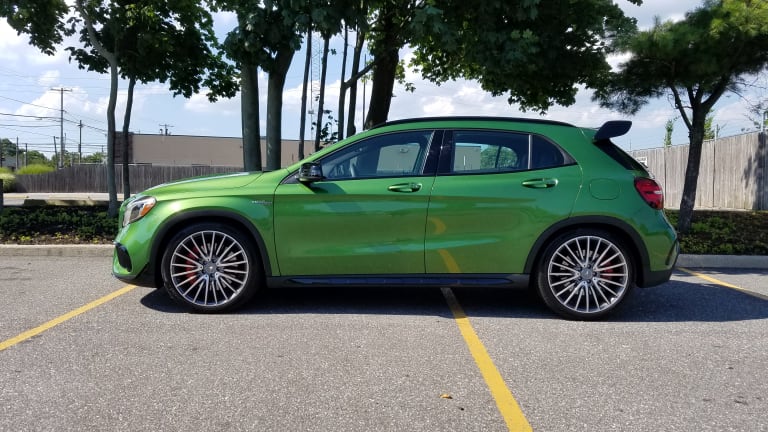 Mercedes-Benz Just Hit a Record, and This Cool New $50,000 Hatchback Probably Helped
Mercedes should be proud about this one.
Daimler (DDAIY) may have delivered a mixed quarter on Wednesday, but Mercedes-Benz was a clear standout
Mercedes-Benz sales hit a record 595,200 in the second quarter, Daimler said, while unit sales in China rose 28%. Daimler said it expects to see a "normalization of demand" this year in the world's biggest car market "but the market is likely to expand significantly in the full year compared with 2016."
One new car worth shouting out as doing its part is the GLA 45 AMG. 
Daimler May Have Missed Estimates, but Mercedes Just Hit a Record
Driving the Mercedes-Benz GLA 45 AMG will make you feel alive again, that much we learned.
We found the high-performance Mercedes compact a sheer thrill on the highways. Looking like a ride straight out of videogame Need for Speed, our rear wing equipped Benz had an impressive 375 horsepower. The beastly power-plant -- which is bolted to a drive-train that could change modes with the flick of a button (including race mode, of course) -- pushed our pocket rocket to 60 mph in about 4.1 seconds. Not too shabby by any means.
The Recaro racing seats are a nice touch, too. And as we have written in the past, the Mercedes easy-to-use infotainment is always appreciated. In the words of a former stock analyst, this $50,000 plus whip deserves a buy rating.
Here is our weekend with the car.
The Front-End
Aggressive. You just want to pull up next to some punk teen and blow them away.
The Wing
Yes, this Mercedes has a wing on its hatchback. It's not done in poor taste, either.
It's a Hatchback
A good deal of storage room, always the benefit of a hatchback. 
Cool Rims a Must
A pain to clean, but at least they fit the car's cool factor. 
The Interior
Mercedes makes some of the best interiors in its class -- easy to use infotainment system, sleek design.
These Seats
Racing seats in a Mercedes. Not the most comfortable, but fits the car's overall theme.
Drive Modes
Race mode is the only way to go. Switch it on, the car gets louder and gains even more spunk. 
Engine
What 375 horsepower looks like inside a hatchback. 
Hat Tip
Thank you Nico for making it an enjoyable weekend.
Watch More with TheStreet:
5 Outrageously Expensive Jimmy Choo Shoes and Bags That Should Scare Coach