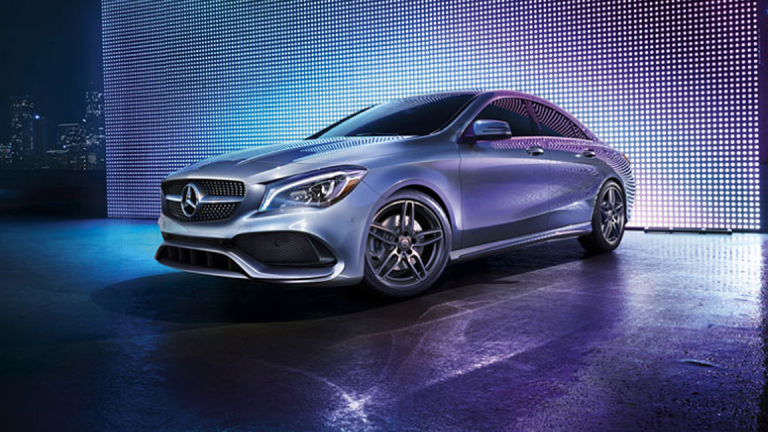 Mercedes-Benz CEO Highlights Major Obstacles to the Self-Driving Car
Mercedes-Benz USA President and CEO Dietmar Exler sat down with TheStreet and provided interesting insight into the world of self-driving cars.
Mercedes-Benz USA President and CEO Dietmar Exler sat down with TheStreet and provided interesting insight into the world of self-driving cars.
When wandering through the media days of the North American International Auto Show in Detroit, it doesn't take long to figure out this year's main theme: Self-driving cars.
After talking to auto execs, browsing through multiple booths and talking with Nvidia's (NVDA) - Get Report  Senior Director of Automotive Danny Shapiro, it's clear this is no fad. Keynote speeches from United States Secretary of Transportation Elaine Chao and BlackBerry (BB) - Get Report CEO John Chen only added to that certainty.
However, we found some time to catch up with Mercedes-Benz USA president and CEO Dietmar Exler.
We obviously had to ask him about the Mercedes Benz User Experience product; Mercedes is essentially an AI infotainment system inside the cabin of the vehicle. Mercedes will launch in the A-Class next month and likely carry on to future models as well. Exler said he's excited to see the feedback from customers, particularly given that the A-Class, on average, is purchased by Mercedes' youngest customers.
Getting this program right is "critical" he said, given the straightforward response the company will receive from the customers who use it.
Nvidia is a holding in Jim Cramer'sAction Alerts PLUS Charitable Trust Portfolio. Want to be alerted before Cramer buys or sells NVDA?Learn more now.
"Voice control is just the way to go," Exler added, explaining that it's safer and more convenient for drivers and others on the road. "I think it's a huge step forward and they've done a fantastic job," Exler said of Mercedes.
The automaker worked with Nvidia on the product, using the latter's Drive IX platform to build Mercedes. Nvidia's Shapiro walked us through why AI on the inside of the car will be an important factor moving forward.
But that presents an interesting addition to the self-driving car world. While the cabin is getting its own features, let's not forget about the outside of the car. This is where Exler provided some head-scratching scenarios when it comes to AI and the car.
"Why would you go [to the dealership]?" he asks. Once the car is capable of level 5 driving -- something not too far away -- why is there any need to take your car in for service. That could change the dynamics of how dealerships are managed vs. how they look today.
Another obstacle, perhaps for drivers in rural settings, is the unpaved road. The car will obviously be able to detect an oncoming car, but will it know how far to move over? Will it know where the road ends since it is all dirt? Can it quickly decipher the severity of a pothole and react accordingly? For that matter, can it determine the road's quality?
Exler pushed on, then asking about delivery services and even mailmen. Will we need them in the future or will the self-driving vehicle be able to make the rounds on its own? Surely one will still need to hand off the package or mail, but in a day and age like this, replacing this task doesn't seem all that difficult either.
Another scenario involved take-out food. In a world where autonomous cars can soon show up as your Uber ride, surely there will be a way to send them to McDonald's (MCD) - Get Report , Wendy's (WEN) - Get Report or any number of restaurants that allow for grab-and-go take-out options. Even a number of sit-down restaurants have the takeout option.
But how will restaurant employees know which car belongs to the right customer? How will they get inside the car to leave the order? Will we pay via a third-party app or directly through the company?
Exler acknowledged that as the number of capabilities increase for the car, so too will solutions for some of these obstacles. In some cases, these scenarios aren't even problems. Instead, they are simply situations that have yet to be talked about.
Interestingly, he told us that Chick-Fil-A has some 15 to 20 people working on how to cater to driverless-car customers. As is usually the case, first-mover advantage can have a big impact when it comes to technological advances in non-traditional tech industries.
One example? Starbucks (SBUX) - Get Report . The sweeping changes it made to its rewards program and mobile app allowed it to sidestep much of the blow to traditional retail. It gave Starbucks first-mover advantage and a big leg up on its competition for the new wave of retail. 
Meanwhile, TheStreet's Executive Editor Brian Sozzi recently tested this $153,000 BMW.
More of What's Trending on TheStreet:
This article is commentary by an independent contributor. At the time of publication, the author had no positions in the stocks mentioned.