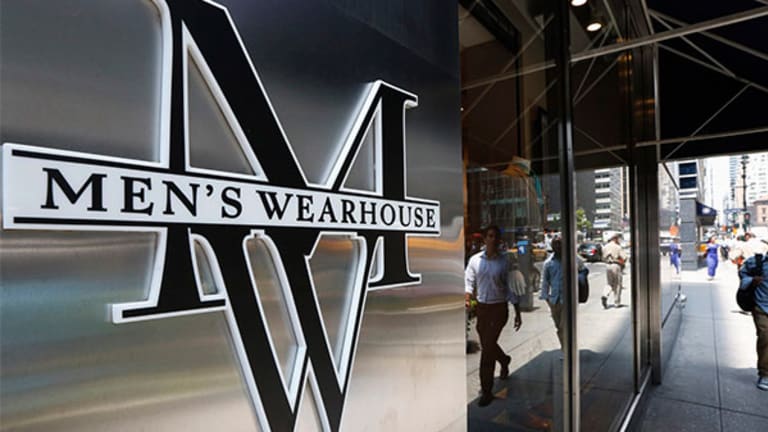 [video] Men's Wearhouse Likes the Way Jos. A. Bank Clothiers Looks
Men's Wearhouse proposes to acquire Jos. A. Bank Clothiers for $1.54 billion.
This story has been updated from 8:48 a.m. EST with a response by Jos. A. Bank and Eminence Capital as well as new stock prices.
NEW YORK (TheStreet) -- In a continuation of the battle over men's suits, Men's Wearhouse (MW)  proposed to acquire Jos. A. Bank Clothiers (JOSB) for $1.54 billion.
The deal, in which Men's Wearhouse would acquire all the outstanding shares of its men's retail competitor for $55 a share, would create a combined company with more than 1,700 total stores and pro forma sales of more than $3.5 billion, Men's Wearhouse said in a press release.
The stocks of both retailers were surging on Tuesday, showing just how much investors want this deal to happen. Men's Wearhouse shares were up 11.3% to $52.38. Jos. A. Bank shares were jumping 11.1% to $56.21.
Jos. A. Bank confirmed on Tuesday that it received the unsolicited, non-binding acquisition proposal from Men's Wearhouse, according to a statement. The company simply said that its board of directors and advisors were evaluating the bid and that it would "respond in due course."
The two companies have been in the news over the past month, following Jos. A. Bank's bid for Men's Wearhouse, which the latter repeatedly rejected. Jos. A. Bank's acquisition bid expired on Nov. 14, after Men's Wearhouse refused to allow it access to non-public financial information.
Men's Wearhouse maintained that Jos. A. Bank's $2.3 billion acquisition proposal "significantly undervalued" the company.
However, Men's Wearhouse has been pressured by activist investor Eminence Capital to still consider a buyout after the Jos. A. Bank proposal expired. The investor owns 9.8% of Men's Wearhouse stock and is its largest shareholder.
Eminence Capital CEO and CIO Ricky Sandler said in its own statement Tuesday that the company is "pleased to see that the board of Men's Wearhouse agrees with us and recognizes the substantial benefits of merging with Jos. A. Bank."
The Men's Wearhouse proposal represents a 45% premium over Jos. A. Bank's "unaffected enterprise value" and a 32% premium over Jos. A. Bank's closing share price on Oct. 8, the day prior to when Jos. A. Bank's proposal was made public, Men's Wearhouse said. It also represents an 8.7% premium over Jos. A. Bank's closing stock price on Monday.
"Following Jos. A. Bank's unsolicited public proposal to acquire Men's Wearhouse, our board of directors evaluated a number of alternatives to deliver value to our shareholders," said Bill Sechrest, the lead director of the board of Men's Wearhouse. "After a thorough review, our board concluded that an acquisition of Jos. A. Bank by Men's Wearhouse has strategic logic and the potential to deliver substantial benefits to our respective shareholders, employees and customers.
"We believe we are the right acquirer for this combination and that our experienced management team is best positioned to execute the integration of our companies and achieve the synergies that would result. We are ready to engage with the Jos. A. Bank's Board immediately," Sechrest said in the press release.
The transaction will be substantially accretive to Men's Wearhouse's earnings in the first year following the completion of the deal. Shareholders would benefit from approximately $100 to $150 million of annual synergies realized over three years through improving purchasing efficiencies, optimizing customer service and marketing practices and streamlining corporate functions.
The Men's Wearhouse proposal "does not require any costly third-party equity investment and is not conditioned on financing," the company said. It expects to finance the transaction with a combination of balance sheet cash and debt financing.
Men's Wearhouse would expect a smooth integration. Stores would not be rebranded or remodeled and Jos. A. Bank's store banner would remain in place. Management would consist of the most qualified individuals from both companies, the release said.
Written by Laurie Kulikowski in New York.
Disclosure: TheStreet's editorial policy prohibits staff editors, reporters and analysts from holding positions in any individual stocks.