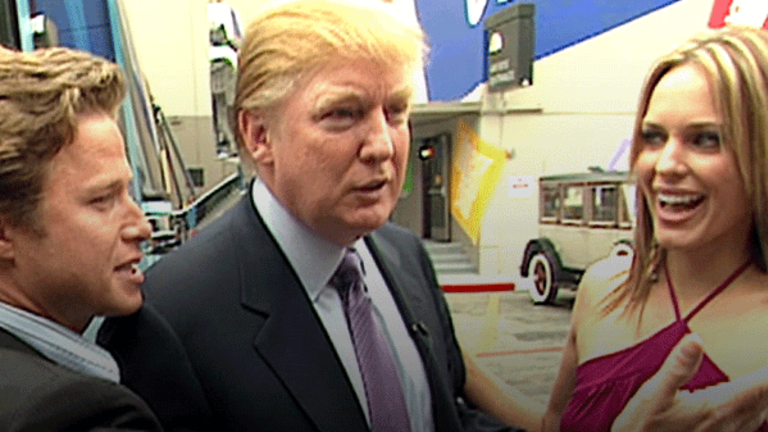 From Trump to Google's James Damore, Here Are Big Name Guys Acting Badly at Work
Tennis players and tech executives alike have misbehaved toward their female coworkers.
Fired Alphabet Inc. (GOOGL) - Get Alphabet Inc. Class A Report  engineer James Damore's memo arguing that women are biologically unsuited to work in tech has thrown the spotlight on boorish behavior by some men at work, whether their workplace is the basketball court, the media or a tech giant. Here's a look at men behaving badly who've hit the news in recent weeks.
More of What's Trending on TheStreet:
Bobby Riggs
Washed-up tennis player Bobby Riggs, claiming that he could beat any female player well after his retirement, challenged Billie Jean King to a match. King beat him in straight sets, taking home a $100,000 prize. Forty years later, ESPN's Outside the Lines would argue that Riggs threw the match to pay off gambling debts, although some Riggs confidants like Lornie Kuhle deny the allegations. Twenty-First Century Fox Inc.'s (FOXA) - Get Fox Corporation Class A Report Fox Searchlight Pictures will release a movie about the match, titled Battle of the Sexes, in September, with Emma Stone as King and Steve Carell as Riggs.
Donald Trump and Billy Bush
A month before the 2016 presidential election, the Washington Post released tape in 2005 of now-president Donald Trump, then filming an episode of Access Hollywood, bragging to television host Billy Bush about "grabbing" women by the genitals. Trump repeatedly dismissed the tape as evidence of "locker room banter." Bush, a nephew of former president George H.W. Bush, was fired from the Today show, only recently re-emerging to tell his side of the story.
Travis Kalanick and David Bonderman
Uber's 2017 annus horribilis began with a February blog post by former Uber engineer Susan Fowler, who described rampant sexual harassment and gender discrimination at the highly touted startup. Such behavior wasn't news to longtime company followers, who recalled co-founder Travis Kalanick referring to the company as "Boob-er" when describing his newfound wealth and popularity with women. Fowler's blog post precipitated a series of crises at Uber, and some of the company's efforts at damage control only made matters worse. Uber board member David Bonderman, for instance, resigned from the board immediately after making a sexist remark at an Uber staff meeting about combating precisely that sexist corporate culture.
Roger Ailes, Bill O'Reilly, Bill Shine and Eric Bolling
A number of men have been forced out of Fox News in the past year amid sexual harassment accusations, beginning with Gretchen Carlson's July 2016 suit against then-CEO Roger Ailes; a number of women levied similar accusations. His de facto replacement, co-president Bill Shine, was forced out less than a year later after failing to quell the scandal. The network's most popular anchor, Bill O'Reilly, was forced out in April after a New York Times investigation claimed the network had paid out $13 million to women accusing O'Reilly of sexual harassment. Most recently, anchor Eric Bolling was suspended pending another sexual harassment investigation after the Huffington Post reported that he sent lewd photographs to three female colleagues; he's suing the reporter in question.
LaVar Ball
The father of Lakers rookie Lonzo Ball, LaVar Ball's relentless promotion of his son's burgeoning NBA career has already attracted derision. Last month, however, while coaching another son's AAU game, Ball received a technical foul from a female referee for shouting obscenities. Ball cast aspersions on the referee's familiarity with the sport, telling reporters, "She needs to stay in her lane." The referee was removed by Adidas AG (ADDYY) , who was sponsoring the event.
Watch More with TheStreet:
Say Hello to the Next Gold Rush: Cryptocurrency Miners Are Showing Off Insane Rigs on Instagram
, which Jim Cramer manages as a charitable trust, is long GOOGL.