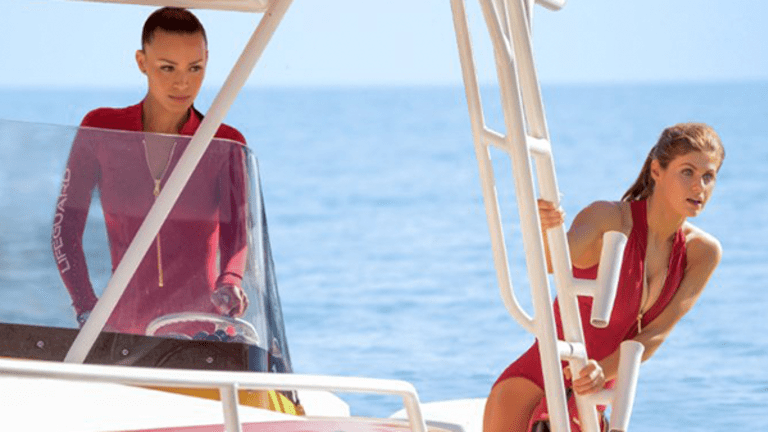 Memorial Day's Box Office Was Weakest Since 1999, but Movie Studios Needn't Panic
The traditional rules for when to release movies don't seem to apply as much anymore.
This past Memorial Day weekend launched two lackluster debuts, as Disney's (DIS) - Get Walt Disney Company Report "Pirates of the Caribbean: Dead Men Tell No Tales" and "Baywatch" from Viacom's (VIA) - Get Via Renewables, Inc. Class A Report Paramount both opened beneath industry expectations, with "Pirates" taking in just $77 million and Baywatch belly flopping with just a $23 million four-day opening.
If studios are searching for a culprit for the overall depressed Memorial Day grosses -- this year's weekend produced $172.3 million in total domestic earnings, the lowest recorded figure since 1999 -- they may well have to point to themselves. Indeed, studios' recent trend of distributing blockbusters equitably throughout the course of the year, instead of concentrating big releases in the summer months, has contributed to recent Memorial Day weekend woes.
In the past, moviegoers would save their money for May releases after a dearth of quality content in the spring. However, several high-profile movies are released every month now: this past March, for instance, was the highest-grossing on record due to such blockbuster hits as "Logan," "Kong: Skull Island," and "Beauty and the Beast." Indeed, May will come in at least $300 million below March in total box office earnings, an extraordinary phenomenon considering every May before 2016 had comfortably out-grossed each of the preceding two months.
"Big movies are now spread throughout the year, and so high-profile holiday weekends are not what they used to be," says Comscore (SCOR) - Get comScore, Inc. Report analyst Paul Dergarabedian. "Because people can go out and see a blockbuster at pretty much any point in the year, these holiday frames don't come across as special anymore."
Indeed, Disney has been largely responsible for the democratization of the release calendar that helped waterlog its most recent "Pirates" film. "Captain America: The Winter Soldier" (2014), "Cinderella" (2015), "The Jungle Book" (2016) and this year's "Beauty and the Beast" were all spring releases from Disney that capitalized on their unorthodox scheduling to clear $200 million at the domestic box office. Ten years ago, however, those movies would likely have been scheduled for the summer corridor instead.
Moving those films to less-populated months makes year-to-year comparisons unfavorable during historically strong months at the box office such as May. Ultimately, though, having blockbusters spread out over the course of the year is healthier for the industry, as it gives films the opportunity to breathe and develop word-of-mouth before being supplanted by the next big blockbuster.
"If you're looking strictly at the summer box office, we're down 9% from last year," says Dergarabedian. "However, looking at the year as a whole, box office grosses are still up 2% over 2016."
In short, movie-going has become increasingly content driven, and the term "blockbuster" is no longer as season-dependent. Just as the half-a-billion domestic gross of "Beauty and the Beast" in the middle of spring was no reason to be shocked, a lackluster Memorial Day frame simply indicates that neither "Pirates" nor "Baywatch" excited moviegoers, and doesn't portend a weak summer season.
"Every year there's a period of doom and gloom, before a successful movie comes along to turn it around," notes Dergarabedian. "Perhaps we put too much emphasis on this weekend -- at the end of the day, this industry is slate-dependent, not calendar-dependent."