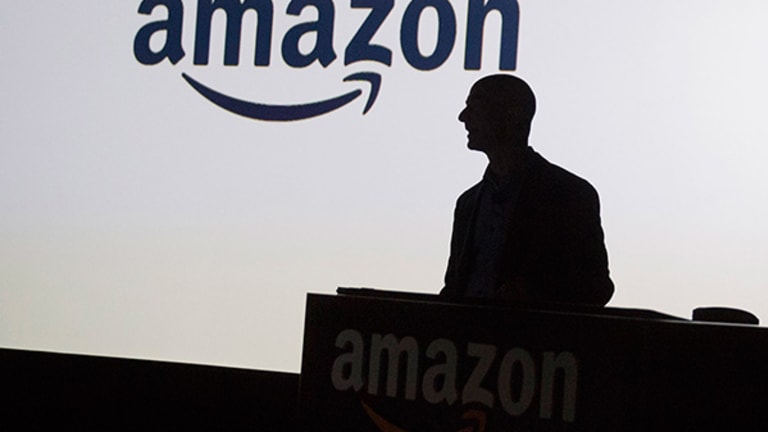 Memo to 'The Post's' Bezos: Newspaper Paywalls Work
More than 400 newspapers use a paywall, succumbing to the notion that readers will pay for content. Too bad The Washington Post didn't use one sooner.
NEW YORK (TheStreet) -- In a week that was for U.S. newspapers, I called Tara McMeekin, editor of the trade Web site News & Tech, based in Denver, to talk about the growing acceptance of the paywall, a business strategy that newspapers publishers once viewed as nothing short of business suicide.
McMeekin threw out a rather stunning number: More than 400 U.S. newspapers, dailies and weeklies, out of a universe around 1,300, now use a paywall. As mobile applications have become increasingly prevalent, adoption of the paywall has accelerated in the past 12 months as readers have become increasingly comfortable with the notion of paying a monthly fee or website content, she said.
Two years ago, the total number of U.S. newspapers using a paywall was somewhere between 100 and 200, she McMeekin said. That's a big change. So, what took newspapers so long to force the transition?
"Newspapers were afraid that if there was a paywall, people would decide that they could get the information somewhere else and then they'd lose those eyes," McMeekin said. "For newspapers, it's been about finding the right mix for their advertisers. Determining whether advertisers are willing to be behind a paywall has been a delicate question."
The Washington Post surprised industry observers this week by announcing it would sell the newspaper to Amazon (AMZN) founder Jeff Bezos. The Post didn't enact a paywall until June. By contrast, The New York Times erected its paywall in March 2011 --  and it's been a huge success.
In its recently released earnings statement, The New York Times reported a 35% increase in digital subscriptions to 699,000, a surge that helped offset declines in both digital and print advertising. Two years ago, digital subscribers at the Times was less than 100,000. Growing online circulation revenue is central to New York Times (NYT) plans and prospects for growth are likely to be strengthened as the company rebrands the >International Herald Tribune as the International New York Times, seeking more digital subscribers abroad.
"The present digital subscription model hasn't impacted our traffic in any significant way and its created a second stream of revenue which we didn't have two years ago,'' said Times spokeswoman Eileen Murphy in a phone interview.
New York Times CEO Mark Thompson will also be helped by no longer having to spend part of his work week trying to figure out the Boston Globe. The company sold New England's leading daily for a mere $70 million on Aug. 3, a transaction that will allow the company to focus on its main product, the Times. Salvaging the error of having bought the Globe in 1993 for $1.1 billion was already a lost cause.
For the record, the Globe instituted a paywall in September 2011 but it has had limited success. As of June 30, the Globe counted just 39,000 digital subscribers. Clearly, the newspaper will be looking to increase that total under heir apparent John Henry, the hedge fund operator and Boston Red Sox owner who agreed to relieve the Sulzbergers of the Globe.
Strangely enough, The Washington Post, toyed with a paywall at various points over the past few years but ultimately pulled back until June when the newspaper finally, fully embraced it. Chairman Donald Graham, whose heartfelt devotion to newspapering will forever be legendary, introduced a "metered subscription model" on June 12 in hopes of countering an agonizing decline in advertising.
But it was too little, too late. The Washington Post lost money again last quarter, driving its operating loss for the first half of 2013 to $49.3 million. The sale to Bezos was seen as the only legitimate way to salvage a newspaper that had arguably been one of the more innovative on the Web. The Post was doing high-quality videos before anyone, including the Times. But it wasn't enough.
"As we looked ahead, if revenues kept declining we'd have no choice but to keep cutting," Graham told Washington Post reporter Ezra Klein in an Aug. 6 interview in the newspaper. "Still we were quite certain that The Post could survive and have a long future, but we wanted to do more than survive. We wanted to be successful and expanding and financially strong. So for the first time in either of our lives we asked ourselves if we thought our small public company was still the best place for the newspaper."
The Post's fate was likely sealed years before Graham began to debate when and how to institute a paywall.
Alex Jones, director of Harvard University's Shorenstein Center on the Press, Politics and Public Policy, and author of The Trust: The Private and Powerful Family Behind the New York Times, said Graham made the fateful decision in the mid-1980s not to attempt to become a national newspaper as The Times had become. Graham argued that the Post would be best served focusing its circulation and advertising sales on the Washington D.C. metro area.
But that decision proved to box the Post in forever. For while the Post's newsroom would continue to cover the U.S. and the world, in the tradition of its prominence at the leading daily in the nation's capital, it didn't have the revenue base to complete the task.
"The Washington Post is in a uniquely awful situation in some respects," Jones said in an interview this week. "It's a nationally recognized newspaper with a national and international stature, but as a business, it was a local business. And the local business in Washington for a newspaper, just as it's been for most metro areas, has been terrible."
It will be Bezos job to make the Post a national and international newspaper by finding revenue sources well outside the Beltway. His first task might be to strengthen that paywall.
-- Written by Leon Lazaroff in New York
>To contact the writer of this article, click here: LeonLazaroff.