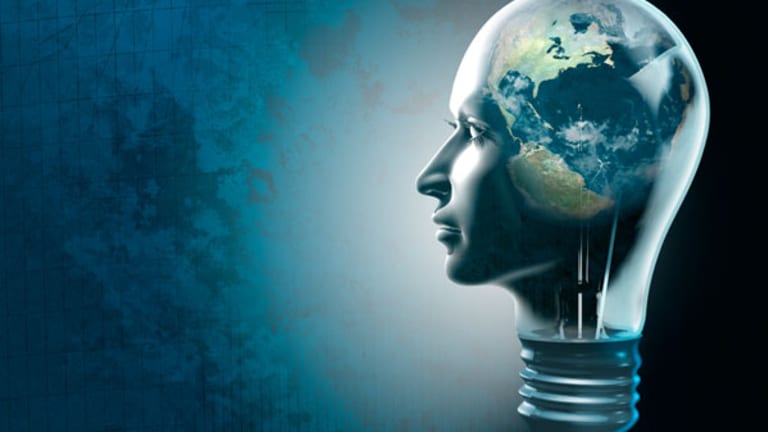 MEMC's Big Rally: Why Is the Solar Stock on Fire?
MEMC Electronic Materials rallies big on Wednesday, but it's still an evolving comeback story for the solar company.
NEW YORK (
) --
MEMC Electronic Materials
(WFR)
is up by double-digits on Wednesday after providing investors with a bullish outlook on 2011 -- the company guided revenue for the full year above the Street consensus by a range of $700 million to $1 billion. MEMC's top end for earning per share in 2011 is $1.30, also well above the $1 Street consensus -though the company still has $1 as its low-end EPS target.
MEMC missed earnings again, and its semi wafer business experienced a profit stall, yet MEMC shares are on fire on Wednesday. Why?
TheStreet
spoke with Paul Leming, analyst at Princeton Tech/Soleil Securities, about MEMC's big rally. Leming, who has been covering MEMC for many years, had an earnings per share estimate of $1.28 for MEMC in 2011 -- coming in closest to the bullish target that the company presented in its Tuesday earning report
several analysts raised EPS estimates to the mid-point of the MEMC range, $1.15 to $1.16, on Wednesday. Leming thinks that MEMC is a very different animal than most solar stocks, and its recent string of disappointments set the stage for a major relief rally.
TheStreet
: The past few quarters in solar earnings, the trend has been beat-and-raise quarters, followed by a selloff, in many instances with investors unwilling to bid up solar stocks based on solar management outlook confidence. MEMC inverted that recent trend, missing the consensus again, yet guiding way higher than the Street and rallying. How did MEMC accomplish this feat?
Leming
: "I think the debate over whether they missed on the fourth quarter is pointless. Let's move on. I never try to go back and quantify the past. The fact is that MEMC has missed consensus for several straight quarters
the earning miss record for MEMC spans as much as two years, though it also includes a since-replaced management team, and that alone means that it won't react to earnings in the same way as all the other stocks with their history of beating and raising. It's a relatively unique set of circumstances for MEMC, and the management team is still relatively new."
TheStreet
: MEMC has been a dog, and yet, it trades at a price to earnings ratio that's almost twice many of the Chinese solar stocks. So if it's rallying based on its long history of underperformance, it's not because it has had a compressed multiple compared to the solar universe, is it?
Leming
: "P/E multiples are a bad way to value solar stocks. When you look at enterprise value/EBITDA, MEMC and SunPower are valued at even lower multiples than the Chinese solar stocks."
TheStreet
: Does MEMC deserve a different grading metric than the rest of solar?
Leming
: "Until it puts up a few good quarters in a row, yes, it's graded differently, and this is almost a relief rally. This stock has horribly lagged the market and been one of worst performing stocks in the solar sector."
"MEMC held an investor day in mid-2010 and its shares rallied to above the $16 mark, but it's never gotten back to that level since. I characterize this rally as a sign of relief, and the thought that 'thank god, they finally did what they said they were going to do."
TheStreet
: What exactly did MEMC do in "finally doing what they said they were going to do?"
Leming
: "They put up some big numbers from the SunEdison business. What investors had been hearing about SunEdison over and over was 'Trust us.' Three quarters in a row it was trust us, it's coming, and until they put up some numbers, everybody was scratching their heads and wondering, is it real?
SunEdison posted non-GAAP revenue of $407 million in the fourth quarter, and for the full year, $600 million.
"Additionally, the solar wafer business grew 27% quarter over quarter in revenue, and there was a 500-basis-point improvement in margins. That overwhelms the 'earnings miss' noise.
"This company was back to missing another quarter after so many quarterly misses already, and it's been frustrating, but SunEdison finally put up some numbers, and this was first time in two years where results come in and MEMC shares are not down huge, so it's clearly a wave of relief about the underlying business."
TheStreet
: Semiconductor wafer margins stalled, though, and it's a differentiating factor for MEMC versus other solar stocks, so why isn't that a bigger negative?
Leming
: "I wasn't thrilled with the semi wafer numbers in an absolute sense, but it was a tough environment for semi wafers. I think semi wafers will be up in the next year versus this year, and the company is coming through a soft patch in semi wafers. I don't think there is lots of debate about it being 'up and to the right' on revenue and margins in semi wafers
MEMC said on its conference call it expects to gain 1% to 2% in semi wafer marker share, which it described a significant increase. I think the semi wafering business is worth $12 per share on its own."
TheStreet
: The outlook was really bullish, yet uncertainty is still ever-present in solar about a closure of Italy's market, where SunEdison is a major player. Why aren't investors more concerned about the political risk in Italy?
Leming
: "MEMC management was asked at least three times what happens if Italy slams the door shut, and while they were long on verbiage and short on hard specifics, the MEMC CEO was pretty adamant that North America is going to carry the business in 2011.
MEMC CEO Ahmad Chatila said, "Italy, it is some percent of the 325 megawatts, but it's not going to make or break our overall plan. Let me just leave it at that. If Italy comes out to be zero, we'll come and tell you that, 'Hey, we're reducing maybe some megawatts,' but I don't think it's going to break us. We have nice geographic diversification of our installation as a company. I just want to let you know..."
TheStreet
: Are you left with any major concerns given the bullish take from MEMC management, and bullish trading today?
Leming
: "I think solar wafer pricing will be flat from the fourth quarter through the first half of 2011, and then tail off in the second half of the year, yet while that seems concerning on the surface, the pattern should still mean MEMC has a positive year-over-year earnings growth comparison. MEMC underperformance in the first half of 2010 was so significant that it sets up the stock for a very easy first half comparison, and even with a pricing decline in the second half of the year, you can get to a year-over-year improvement in solar wafers
MEMC said to expect a decline of as much as 15% to 20% in poly and solar wafer pricing in 2011.
"The 64,000 question on upside is just how solid the SunEdison backlog is. Do they double revenue and double earnings in SunEdison? That's the pivotal question. For other players in the downstream space, like First Solar and SunPower, the reality of the downstream business has been delays and 80% of the business coming in the fourth quarter.
MEMC said on its earnings call to expect a 1/3 of the business in the first half of the year, and 2/3 of the business in the second half of the year in 2011.
"I've been pushing MEMC for some time as a value stock, and not to play it for any one-quarter earnings, and I think it's having its value rally today. Yet MEMC has got to continue to show improvements, and prove to the world that SunEdison is a viable long-term business."
Here's a roundup of the Street research views and additional takes on the SunEdison business and MEMC after its bullish guidance on 2011:
Jesse Pichel, Jefferies
MEMC at hold: "We believe WFR's wafer business can grow 35% in 2011 and expect WFR's internal wafer capacity to help offset some of the wafer pricing erosion in 2H11. WFR executed well on revenue growth in all three segments but had trouble improving its margin. We recommend sidelines waiting for better visibility on SunEdison's system business profitability and internal wafer ramp up."
Dan Ries, Collins Stewart MEMC at hold
: "The real story of the results is that the backlog of SunEdison has grown to 1.4GW (versus 167MW of installs in CY10) and the growth potential that provides for WFR in CY11 and beyond. While we have concerns for 2H11 in its wafer business, monetizing the SunEdison backlog as wafer and module prices decline is a strategy with merit.
"MEMC sees its solar wafer sales up perhaps 20% in CY11, aided by the current elevated polysilicon prices. As WFR self-produces an increasing percentage of its wafers in CY11, margins should improve. Our Non-GAAP EPS forecast rises to $1.15, the mid-point of its $1.00-1.30 guidance range Trading at just over 10x our CY11 forecast our rating on MEMC remains at Neutral, though we are more optimistic on the company than in the past."
Jeff Osbourne, Stifel MEMC at buy
: "Heading into 2011, rationalization of semi wafering capacity as well as internal wafering on the solar side should continue to deliver margin improvements, assuming semi segment pricing remains relatively stable and solar wafer pricing compression does not exceed mid to high teens levels in a back-end loaded year."
"Additionally, management expects to make an announcement in the near future regarding possible polysilicon capacity expansion, potentially with a partner. This would serve to support press reports in early November reporting Samsung and MEMC being in talks to invest in a roughly $600 million polysilicon plant in Korea, and we would expect this to be viewed positively by investors.
"MEMC remains a 2011 show-me story at a reasonable valuation. We expect margins will be crimped until internal solar capacity comes online in 1Q11 and ramps through the year as well as semi capacity migrates to lower cost areas. While the base business continues to improve, we see investors continuing to struggle with the value of the SunEdison segment, which is expected to comprise over half of 2H11 revenue."
Edwin Mok, Needham & Co. MEMC at hold
: "Overall, we are incrementally more positive following the call, but we see limited upside to stock price in the near-term given: 1) a back-end loaded 2011; 2) the limited visibility into the project pipeline; and 3) limited profitability of the SunEdison business. With the stock trading at a premium to peers, we maintain our Hold. WFR is trading at 10X 2011 P/E vs. peers at 4-8X.
"Management sounded very positive on the growing pipeline of SunEd (now >1.4GW) and projected MW installation to more than double in 2011. SunEd is clearly executing in growing the top-line; however, a lack of profitability is giving us a reason to pause (4Q10 non-GAAP OM of -2.1% on $407MM of revenue). Given that 2011 will be more back-end loaded, we would rather wait for better visibility.
Jeff Bencik, Kaufman Brothers MEMC at buy
: "As expected, significant improvements were made from MEMC's subsidiary, SunEdison. Importantly, the company interconnected 140MW of solar installations in 4Q10, but only recognized revenue for 85MW. If the company had recognized the fully interconnected amount, it would have exceeded our above-consensus revenue forecasts. In any case, the 55MW that were not recognized should be recognized in 2011, which increases our confidence that the segment should be able to grow around 100% Y/Y.
"While each of the business segments is improving, previous results have been slightly under consensus expectations. Importantly, expectations for the company have been lowered significantly and there are several forthcoming improvements that we believe are likely to significantly increase the profitability of the company in 2011.
"We are valuing the stock at 12x our 2011E non-GAAP EPS of $1.14, resulting in a price target of $13.50. This is toward the low end of the stock's historical range of 7x-20x forward earnings. We could see multiple expansion if the company is able to grow earnings faster than we have built into our forecast, but given the risks in the market, we think a below-average multiple is appropriate for now."
-- Written by Eric Rosenbaum from New York.
RELATED STORIES:
>>More Solar Subsidy Cuts on Deck in Germany
>>Italian Solar Walks Boom/Bust Line
>To contact the writer of this article, click here:
Eric Rosenbaum
.
>To follow the writer on Twitter, go to
.
>To submit a news tip, send an email to:
.