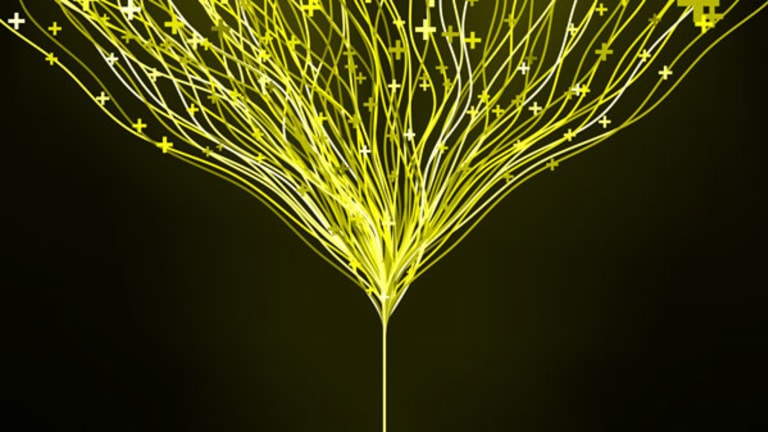 MEMC: Mixed Signals Abound
MEMC's earnings are being viewed by analysts as sending mixed signals on the outlook for the solar industry.
SAINT PETERS, MO. (
) -- Early commentators on Wednesday's after-market earnings report from
MEMC Electonic Materials
(WFR)
are saying the semiconductor and solar manufacturer is sending mixed signals in its latest numbers.
Oppenheimer & Co. put out a research note on Thursday morning covering the MEMC earnings and under the title: 'Nothing to Write Home About'.
Piper Jaffray described the MEMC results as "mixed", and in particular, said the MEMC results were "plagued" by the acquisition of SunEdison. SunEdison had a $10 million operating loss in the fourth quarter.
The MEMC acquisition of SunEdison is one of the
biggest bones of contention between the Street and MEMC, as analysts are still trying to comprehend the logic in the deal.
Piper Jaffray analyst Jesse Pichel did reserve final judgment, however, saying that MEMC could rally after its investor day in New York on Thursday, if it can convince analysts and investor of the SunEdison strategy. The fear is that MEMC's strong balance sheet will be dragged down by the need to finance the expensive SunEdison large-scale, and lower gross margin, solar projects.
Oppenheimer wrote of the SunEdison issues: "Our initial take is that historical revenue is far lumpier than we would have thought; 2) balance sheet and asset management now become more critical; and 3) synergies with the core wafer business are not straight-forward."
MEMC gross margins of 14.7% in the fourth quarter beat some Street estimates, as problems at MEMC's Pasadena plant in the third quarter took gross margins all the way down to 6.6%.
Collins Stewart was encouraged by short-term pricing strength in semiconductor wafers and volume growth, but still reiterated a hold on SunEdison, due to concerns regarding solar wafer pricing and uncertainty about SunEdison. Collins Stewart noted that SunEdison contributed to a decline in net cash per share from $5.40 at the end of the third quarter of 2009 to just $2.84 at the end of the fourth quarter of 2009. Net cash has been a key asset supporting WFR's shares over the past year, Collins Stewart said.
Oppenheimer agreed, writing that the semi growth story looks like it has legs, but the analyst was still cautious on the solar wafer business beyond the first quarter due to German subsidy declines and continued industry oversupply conditions.
MEMC was down more than 2% in the pre-market session on Thursday.
Meanwhile,
GT Solar
( SOLR), a solar equipment maker considered a good indicator of supply and demand in the solar sector, spiked on Wednesday after its earnings outperformance, though analysts continue to
be cautious about the longer-term outlook for GT Solar .
--Reported by Eric Rosenbaum in New York.
RELATED STORIES:
>>Solar's Black Box: MEMC Electronics
>>Germany May Bend a Bit for Solar
>>Brave New Solar, or Grave New Solar?
>>Should Investors Buy Solar's Growth Prospects?
>>See our new stock quote page.
Follow TheStreet.com on
and become a fan on
Copyright 2009 TheStreet.com Inc. All rights reserved. This material may not be published, broadcast, rewritten, or redistributed.