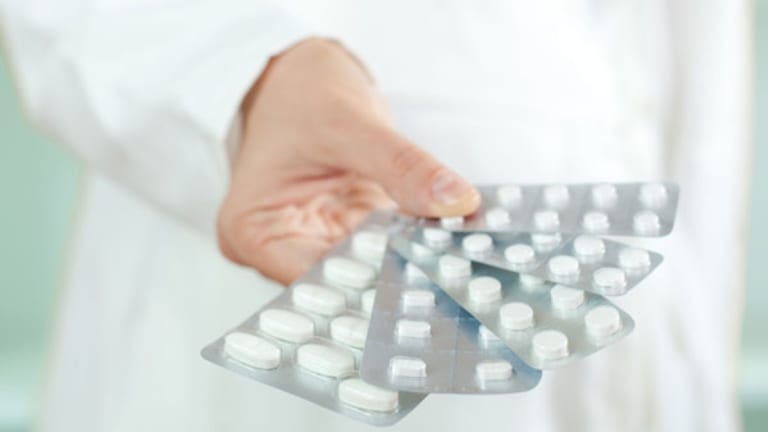 MELA's Stock Sale Suggests Problems for Skin Cancer Detector
MELA's decision to raise money ahead of an August FDA advisory panel suggests raises questions about its MelaFind device.
Update: MELA Sciences priced 2.2 million shares of stock at $7.50 a share Wednesday. MELA expects to gross about $17.5 million, including the sale of over-allotment shares. MELA tried to get $8 a share for the stock offering Tuesday night, according to a source familiar with the deal terms.
IRVINGTON, NY (
) --
MELA Sciences
(MELA)
CEO Joseph Gulfo explained to investors on a Tuesday night conference call that the company decided to raise money now -- just two months shy of an all-important FDA advisory panel reviewing the company's melanoma skin cancer detection device -- because investors are worried that MELA is running short on cash.
Hmm... Really?
An FDA panel convenes Aug. 26 votes to review MELA's MELAFind, a computer-enhanced imaging device that takes high-tech pictures of suspect moles and lesions to assist doctors in the early detection of melanoma, the deadliest form of skin cancer. If the FDA's outside panel of experts votes to recommend MELAFind's approval, MELA's stock price is definitely going higher. Wouldn't that be a more advantageous and lucrative opportunity for the company to raise money?
It would if MELA were confident in a positive panel vote. At least that's how I see things. Tuesday night, however, Gulfo said the decision to sell stock now was made to "reduce headwinds and market uncertainty" surrounding the company's existing cash position.
Gulfo was speaking to investors on a conference call arranged by the investment bank Leerink Swann, a co-manager of MELA's stock offering. MELA has not specified how much stock will be sold in the offering or at what price.
MELA shares closed Tuesday at $8.30 but were down to $7.50 in Wednesday's pre-market session. The stock traded as high as $9.25 earlier this week in a run that began in late May when the stock was around $6, fueled by investors excited about the FDA advisory panel for MELAFind in late August.
I've often stated that biotech companies and small drug or device makers can't always pick and choose the optimal times to raise money, but MELA's financing raises a red flag in my book. Tuesday's announcement reminds me too much of
Cell Therapeutics
(CTIC) - Get CTI BioPharma Corp. Report
, which also
raised money last January
just in front of a pivotal FDA advisory panel. Experts on that panel ended up voting to
unanimously to reject the Cell Therapeutics' lymphoma drug
.
MELA closed the first quarter with $30 million and is burning about $4 million to $4.5 million each quarter. As the end of the second quarter approaches, MELA probably has about $25-26 million remaining, so yes, the company needs to raise money fairly soon.
Does that mean this week, however? I'd say no, unless MELA's CEO Gulfo is planning for the a bad outcome at the Aug. 26 FDA advisory panel meeting and is therefore trying to gather as much cash now as possible so the company can weather another significant delay in MELAFind's approval.
On Tuesday's call, as he's done in the past, Gulfo heralded the accuracy of MELAFind, and touted the device's ability to detect melanoma skin cancers. He said MELAFind's eventual approval and commercial launch would save lives and reduce the number of unnecessary biopsies. Dermatologists will find MELAFind particularly useful for early or suspect lesions or moles that are much harder to diagnose accurately and are often missed by traditional screening methods, Gulfo said.
"MELAFind uses sophisticated algorithms and computer software to identify atypical lesions. These are things the human brain cannot do," said Gulfo.
In a large phase III study conducted in early 2009 involving 1,831 pigmented skin lesions from 1,383 patients, MELAFind was found to be 98 percent accurate in successfully detecting melanoma, including lesions that were considered borderline, according to MELA.
MELAFind's specificity, or the device's ability to rule out melanoma (and therefore avoid a biopsy) was 9.9 percent compared to 3.7 percent for dermatologists participating in the study, according to MELA.
Those results look impressive but they are not a complete account of the data from the MELAFind phase III study. Serious questions are raised about the accuracy and clinical relevance of MELAFind by a full reading of both the study's final results and the way the study was designed:
MELAFind's 98 percent accuracy in detecting melanoma skin cancers (the device's sensitivity) was enhanced by the fact that all the lesions entered into the study were initially flagged as being possibly cancerous by dermatologists. This stacked the deck in MELAFind's favor, making it easier for the device to accurately diagnose melanoma.Despite the enriched pool of lesions entered into the phase III study, MELAFind still missed three melanomas, accurately diagnosing 172 of 175 lesions. This means that if MELAFind were the only tool used in these cases, three patients would have been told they were cancer free when in fact the lesions or moles on their bodies were melanoma.
MELA argues that MELAFind is still more accurate than the trained, experienced eyes and diagnostic ability of dermatologists. Yet the company has no data to prove that MELAFind's sensitivity is greater than that of dermatologists who participated in the study. The sensitivity of dermatologists could not be measured in the study, says MELA, because melanomas that dermatologists may have missed were not included in the phase III study.
Despite claims to the contrary, MELAFind does not significantly reduce the number of biopsies performed by dermatologists. In the phase III study, the biopsy ratio for MELAFind was 10.8 to 1, meaning that 10.8 biopsies were performed to catch one case of melanoma. For dermatologists in the study, the comparable biopsy rate was 11.3 to 1, which means using MELAFind reduced the number of biopsies performed by less than one. The clinical benefit of MELAFind is even more questionable when borderline lesions (the more difficult-to-diagnose cases) are added to melanomas in the analysis of the phase III data. Here, MELAFind's biopsy ratio was 7.6 to 1 compared to a biopsy ratio for dermatologists of 7.9 to 1 -- essentially equal.
Last March, the FDA deemed MELAFind "not approvable" in a letter sent to MELA that also contained questions about the device's approval application. MELA and its supporters brush aside this setback (which also knocked the company's stock price to its knees), claiming that an administrative backlog in the FDA's medical device division -- and not substantive issues/questions with the MELAFind data -- was responsible for the approval delay.
Perhaps that's true, but it sounds a lot like wishful thinking to me. The FDA doesn't throw around the words "not approvable" very lightly. If the FDA reviewers were simply too busy to complete the MELAFind review, why wasn't that the specific reason stated in the March letter?
On Tuesday's conference call, an investor asked MELA's Gulfo if FDA reviewers agreed with the company's statistical analysis of the MELAFind phase III study results. The investor on the call wanted to know why, if the study's endpoints were met, did FDA deem MELAFind "not approvable" last March.
In response, Gulfo said not to assume that FDA's non-approvable letter last March was related to problems the agency had with MELAFind's accuracy. He described many of the FDA's questions about MELAFind as "typical," adding the company was happy that FDA scheduled an advisory panel meeting for August.
I found Gulfo's answer to be less than forthright. To assuage real investor concerns about MELAFind's approvability, he could have said definitively that FDA was in agreement with the data and analysis from the MELAFind phase III study. He didn't do that.
FDA, of course, doesn't comment on ongoing drug or medical device reviews, so we have no way of knowing what the agency really thinks about the MELAFind data.
I expect FDA will highlight the issues about MELAFind's accuracy and clinical benefit listed above when the agency releases briefing documents on MELAFind in advance of the Aug. 26 advisory panel meeting. If the real results from the MELAFind study were not as robust as MELA claims -- perhaps even falling below the regulatory and statistical standards deemed acceptable by FDA -- the advisory panel is more than likely to reject MELAFind's approval.
And if that happens, MELA will be very happy for every cent of the money raised from the financing announced Tuesday night. Existing shareholders of the company will not be as pleased.
-- Reported by Adam Feuerstein in Boston.
Follow Adam Feuerstein on
.
Adam Feuerstein writes regularly for TheStreet.com. In keeping with TSC's editorial policy, he doesn't own or short individual stocks, although he owns stock in TheStreet.com. He also doesn't invest in hedge funds or other private investment partnerships. Feuerstein appreciates your feedback;
to send him an email.