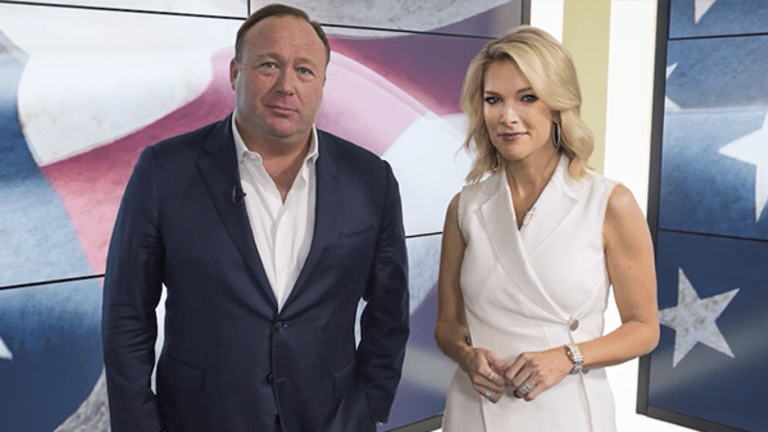 Megyn Kelly May Have Just Damaged Her Star Power With Jones Interview
Megyn Kelly is under fire.
Out of the frying pan and into the fire for Megyn Kelly.
Just months after leaving 21st Century Fox's (FOX) - Get Report Fox News Channel amid accusations that her allegations of sexual harassment led in part to the dismissal of ex-CEO Roger Ailes, Kelly was disinvited to emcee a gathering hosted by parents of children murdered in the 2012 Sandy Hook elementary school shootings.
Parents in the Connecticut town denounced Kelly for agreeing to give the right-wing ideologue Alex Jones a platform on her newly launched show on Comcast's (CMCSA) - Get Report NBC, Sunday Night with Megyn Kelly.
Jones has repeatedly called the Sandy Hook massacre as well as the 9/11 terrorist attacks and the Aurora, Col. school shootings a "government hoax" intended in part to curb the availability of military-style assault weapons. Kelly's interview with Jones is scheduled to air on Sunday.
Kelly has long enjoyed the role of provocative celebrity journalist. She was a rising star at Fox News when her questioning of Republican front-runner Donald Trump about his history of sexist comments and sexual assault allegations sparked a running feud that became its own news story. For the debut of her show, Kelly interviewed Russian President Vladimir Putin.
Yet Kelly's decision to make Jones the third guest for her weekly show has raised questions as to whether she should be giving time  -- primetime and on Father's Day -- to someone who traffics in unfounded speculations while warning the U.S. government is close to declaring martial law. Jones, who runs the website InfoWars, hosts a radio show that routinely draws millions of listeners.
"Megyn Kelly seems to be using her notoriety to secure controversial interviews," Jane Kirtley, a professor of media and ethics at the University of Minnesota Law School, said in a phone interview from Minneapolis. "I can certainly understand why in Sandy Hook this is problematic. Yet if she's going to do a probing interview and not a puff piece, then that's a good thing -- that's what journalists are supposed to do."
Comcast is a holding in Jim Cramer'sAction Alerts PLUS Charitable Trust Portfolio. Want to be alerted before Cramer buys or sells CMCSA? Learn more now.
Kelly left Fox News in January following reports that former star anchor Bill O'Reilly and Trump supporter Sean Hannity had vigorously complained that her testimony to lawyers hired by the company to investigate sexual harassment within its workplace had prompted Rupert Murdoch and his children, who control 21st Century Fox, to dismiss Ailes. 
NBC News argued that Kelly's interview would challenge Jones, who may be well-known to the far-right and popular among white nationalist groups, but is largely unknown to the general public. By interviewing him, Liz Cole, the executive producer of Kelly's show, told CNNMoney that Jones' views would be challenged.
Nonetheless, parents in Sandy Hook, and readers elsewhere, expressed indignation that Kelly appeared to be oblivious to the sensitive nature of giving Jones, whose railings have been condemned by the Southern Poverty Law Center, a national forum. A photo of Kelly and Jones, above, driving in a car looking chummy added to the fury. Kelly was scheduled to host the Promise Champions Gala, an annual event to raise money for the Sandy Hook Promise Foundation, a nonprofit gun violence prevention group founded by family members.
"This decision was spurred by NBC's planned broadcast of Kelly's interview with conspiracy theorist Alex Jones, who believes the tragedy at Sandy Hook Elementary in Newtown, CT, was a hoax," said Nicole Hockley, co-managing director of the foundation in a statement. 
JPMorgan (JPM) - Get Report was quick to distance itself from Kelly's interview with Jones, making clear that it had asked NBC to remove its local TV and digital ads ties to Sunday's program in addition to all NBC news programming until after the interview is broadcast. 
"JPMorgan clearly made a decision that this interview didn't fit with its values as a company," Vivian Schiller, a former television executive at NBC News and NPR, said in a phone interview. "For Megyn Kelly, this was an odd choice for an interview subject given that Alex Jones's views are often repugnant. Having said that, it's not an unreasonable to say, let's hold his feet to the fire. We'll have to see how she does it." 
Visit here for the latest business headlines.