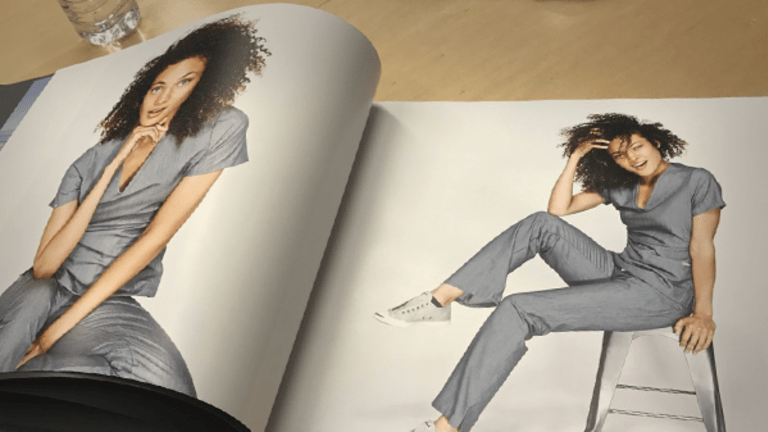 Meet the Startup Backed by Will Smith That Is Trying to Make Ugly Doctors Scrubs Cool
Scrubs by no means are trendy. This company hopes to change that.
Scrubs are scrubs. That's how most doctors and nurses view the boxy, uncomfortable hospital wear.
Except privately owned Figs, an online medical apparel retail startup founded in 2013 that is looking to take a big bite out of the $50 billion global medical apparel industry, of which $10 billion lies in the U.S. alone. It plans to do that by designing scrubs to be stylish, comfortable and durable, rather than an ugly afterthought. 
"What we're doing is completely changing the game," said Trina Spear, president and co-founder of Figs in an interview with TheStreet,explaining that there are 3,000 medical supply stores in the U.S. where hospital workers are obligated to go to buy scrubs and other gear. And they're horribly disorganized, making the experience a dreaded task.
Plus, medical apparel is "ill-fitting, baggy, not anything that you or I would want to wear especially if you're running around a hospital for 14 hours a day," Spear said.
"I was having coffee with a girlfriend of mine who is a nurse practitioner and she was wearing these big, boxy scrubs," added Figs co-founder Heather Hasson in the interview. "So, I'm looking at her scrubs and I'm thinking, this is the best that you can purchase? I went into these mom-and-pop stores and on aggregated sites online and the experience was terrible. So I said, you're right, this is the best that's out there, let me fit them to you. And then her colleagues called me and said, can you make me some scrubs, as well?"
Spear said medical apparel and gear makers are obligated to sell to retailers, as, from what Figs found out, they have non-compete agreements, barring them from selling directly to consumers.
READ MORE: Meet Carbon, Who With Big Backers Google and General Electric Wants to Revolutionize Manufacturing
"Ninety percent of medical professionals buy their own uniforms and we're the first solely-branded e-commerce company in the space, which was crazy to us because it's an industry that's been around for a long time and no one had sold in a different way," Spear said.
Figs' apparel is complete with features that are "focused on function," such as stain repellant, four-way stretch (with yoga waist bands) and odor resistance. And there are pockets inside the clothes so hospital workers have a place to put their wedding rings, keys and wallets, among other everyday items.
Typically scrubs sell for between $65 to $90 a set, and Figs falls generally in line with that range, selling shirts for just under $40 and pants for around $45. In the past two years, Spear said Figs' sales have grown 17x. She declined to share how much in sales Figs has rung up. 
Some of the company's biggest backers include former Lululemon (LULU) - Get Lululemon Athletica Inc Report CEO Christine Day; Thomas Tull, founder and former chairman and CEO of Legendary Pictures Films; John Fisher, founder of Draper Fisher Jurvetson; Steve Tisch, chairman and executive vice president of the New York Giants and co-owner of Escape Artists Productions; Peter Morton, co-founder of the Hard Rock Cafe; and actor Will Smith.
As for future competition, Spear and Hasson say, bring it on. "We're fast, we're innovative and we have an exceptional team," Hasson said.
Figs now employs 22 workers and has a presence in 28 countries.
Spear is a former private equity investor and worked for Citigroup (C) - Get Citigroup Inc. Report and Blackstone (BX) - Get Blackstone Inc. Report , among other firms. Hasson's background is in fashion, living seven years in Italy and then spending time in Kenya, where she designed and donated uniforms to schools.
Jim Cramer and the AAP team hold a position in Citigroup for their Action Alerts PLUS Charitable Trust Portfolio. Want to be alerted before Cramer buys or sells C? Learn more now.
Click here for the latest business headlines.
Editor's Pick: Originally published May 22.