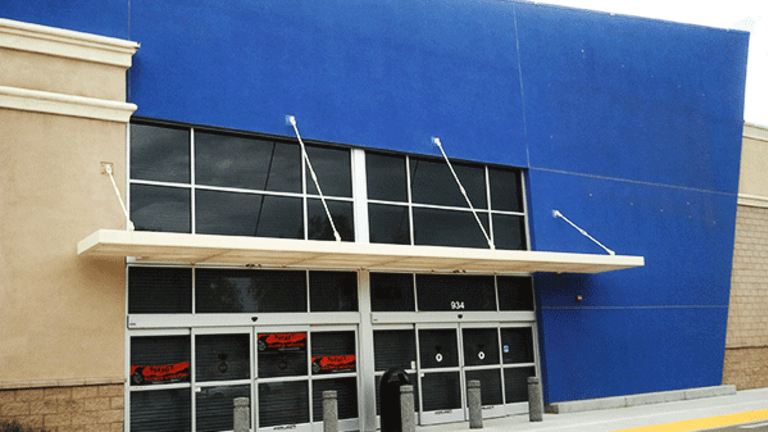 Can You Guess the One Retailer That Surprisingly Didn't Get Killed During the Holidays?
Test your knowledge.
Editors' pick: Originally published Jan. 19.
If you read the tea leaves, Best Buy (BBY) - Get Free Report not only won the holiday season because of its improved shopping experience in stores and online -- not to mention the insatiable consumer interest for gadgets -- but entered the new year with some form of sales momentum and a decent story to pitch to investors on the first-quarter earnings call (unlike everyone else in retail). 
The clues are scattered about. First, Target (TGT) - Get Free Report said Wednesday that same-store sales in its electronics and entertainment segment, which make up about 18% of its business, plunged by a high-single-digit percentage in the November/December period. For Target, the results were especially disappointing given a new round of investments to spruce up the look of its electronics department and employee re-training. The company also worked hard to source better products from top vendors such as Apple. Consumers likely saw the changes at Target, but still preferred the more expansive selection of tech toys at Best Buy. 
Meanwhile, clothing sales were markedly soft during the holidays despite some killer promotions by specialty retailers and department stores. J.C. Penney's  (JCP) - Get Free Report same-store sales declined 0.8% during the nine-week holiday period, hurt by weakness in women's apparel. Sales at Macy's (M) - Get Free Report and Kohl's (KSS) - Get Free Report each fell 2.1% during November and December, and both issued nasty cuts to their earnings outlooks. 
One could perhaps blame Mother Nature for the tepid consumer interest in buying sweaters and jackets for Christmas: 2016 was the warmest year on record, according to recent data from the National Oceanic and Atmospheric Administration (NOAA).
The brutal holiday outcome for clothing sellers, struggles by others in electronics and momentum behind Best Buy's turnaround are factors that haven't been lost on Wall Street, which continues to be rather optimistic on the company's prospects.
"Sales over the holiday period for consumer electronics categories as measured by NPD data declined 2.3%, the smallest decline in at least three years -- Best Buy's domestic same-store sales have outgrown this NPD measure in each quarter since the first quarter of 2014 by an average of 3.9%, so [we think] our 1.0% U.S. same-store sales forecast appears to be in reach," said Goldman Sachs analyst Matthew Fassler. He added that Best Buy likely experienced strong demand during the holidays in the notebook computer and large-screen TV categories, where he believes the company took leadership positions. 
Fassler's optimism on Best Buy right now is shared elsewhere on Wall Street. "Best Buy faces waning product cycles and diminishing cost takeout opportunity, but is becoming the go-to retailer for consumer electronics," said Morgan Stanley analyst Simeon Gutman. "Best Buy has reestablished its foothold in the consumer electronics segment by restoring brand credibility and controlling margins," Gutman added. 
The only question worth asking today is whether Best Buy's stock will react favorably to strong fourth-quarter results when they are released sometime in February. Best Buy's shares have rocketed some 69% to $44.17 over the past year, dusting the S&P 500's 22% gain. Executives will have a high hurdle to clear in order to get investors to pony up more cash to buy the stock. 
"Looking ahead, we believe it will be increasingly difficult for Best Buy to deliver out-sized margin gains and same-store sales leverage, two key drivers of strong second- and third-quarter earnings beats," noted Gutman, adding, "Best Buy is up against difficult comparisons from favorable profit sharing benefits and is nearing the end of its cost savings program."
But hey, at least Best Buy isn't dying alongside most others that have physical stores. And for a softee like this writer, that's a dose of good news amid the crazy daily news cycle. 
Cool Reads From Around the Web
Here comes pricey self-driving beemers:BMW will roll out approximately 40 autonomous 7-Series models in the second half of 2017 in the United States and Europe, reportedCarScoops. Do you even care about self-driving cars? Tweet me at @BrianSozzi with your feelings (personally, I'm not a fan and believe they are being over-hyped). 
This new watch is silly expensive: The new RM 50-03 Tourbillon Split Seconds Chronograph Ultralight McLaren F1 watch (what an absurd name, no?) just debuted. It's the first product of a recently inked partnership between McLaren and high-end watchmaker Richard Mille, reportedCarScoops. The price for this insane watch: a mere $1 million, the same price as the McLaren P1. 
Key presidential inauguration times to know for Friday, compliments of Vox:
The swearing-in ceremony will start at 11:30 a.m. EST on the western front of the Capitol building, where Donald Trump will take the oath of office and make his inaugural address to the American people.
The inaugural parade will follow the swearing-in ceremony, scheduled to begin at 3 p.m. It will make its way down Pennsylvania Avenue toward the White House.
Trump, Vice President-elect Mike Pence, and their wives will attend three official inaugural balls later that evening. Two will be at the Walter E. Washington Convention Center and are ticketed; the third is the Armed Services Ball at the National Building Museum, which is by invitation only.