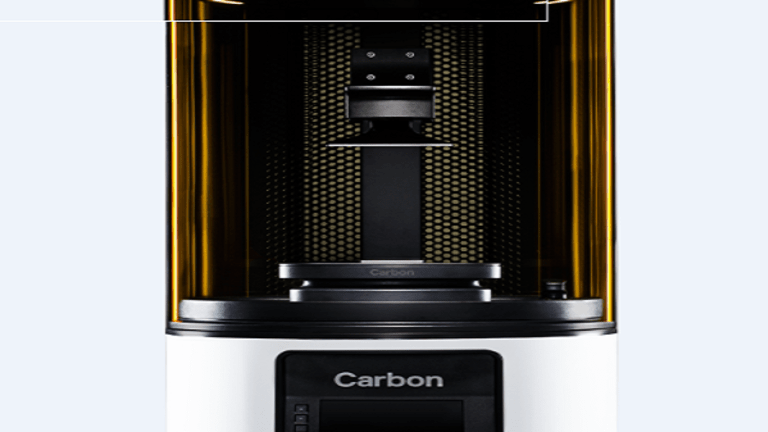 Meet Carbon, Who With Big Backers Google and General Electric Wants to Revolutionize Manufacturing
From making shoes to medical devices, manufacturing is becoming personal.
From sneakers to cars to medical devices, 3D printing is revolutionizing the way companies manufacture products, making one startup a hot commodity.
Carbon, founded in 2013 by Joseph DeSimone, a long-time faculty member at the University of North Carolina at Chapel Hill where he first was introduced to 3D printing, is revolutionizing the technology. DeSimone has been working on making materials more durable and capable of being used to make consumer products in a seamless, affordable and more personalized manner than traditional manufacturing.
Through digital light synthesis, or what DeSimone calls the next generation of 3D printing, Carbon was able to recently launch custom-made sneakers dubbed Futurecraft 4D for AdidasAG (ADDYY)  .
"It's actually a tool to help you perform better, it's not a toy," Adidas Head of Global Brands Eric Liedtke told TheStreet in an earlier interview. "This is the holy grail of sneakers."
Adidas said in early April that 300 pairs of Futurecraft 4D sneakers were being released later this month. The sneaker's sole was designed online - significantly reducing time - and manufactured at Carbon's Silicon Valley facility with digital light syntheses. An additional 5,000 pairs are set to hit retailers in the fall or winter of this year.
The company plans to have more than 100,000 Futurecraft 4D sneakers on the market by the end of 2018 as Carbon opens new manufacturing sites.
Because the shoes are designed online, using digital pressure point technology, athletes can have their kicks ordered with a custom fit. DeSimone explained to the TheStreet that not only do people who where a size nine weigh differently, but they "have different gaits, they have different ways they strike the ground."
Plus, because the design is all done online, time and money is being saved for the company, too. The actual "printing" part of the process takes as little as 10 minutes, according to DeSimone.
The sneakers would never have been able to be manufactured with traditional 3D printing, DeSimone says -- the earliest version of 3D printing was introduced in the 1980s and although it did not become well-known until the early 2000s, it was "terrible, more like a gimmick."
He said digital light synthesis allows products to be strong and last, compared to the "brittle" things produced with 3D printing.
But shoes are just a taste of what consumers will eventually see from Carbon and similar companies in general.
DeSimone said Carbon, in addition to Adidas, partnered with automakers BMW, Ford (F) - Get Ford Motor Company Report , construction and mining equipment maker Caterpillar (CAT) - Get Caterpillar Inc. Report , Johnson & Johnson (JNJ) - Get Johnson & Johnson Report and even tech giants Microsoft (MSFT) - Get Microsoft Corporation Report and Alphabet's Google (GOOGL) - Get Alphabet Inc. Class A Report  to make certain products. BMW, for example, has already started putting Carbon's printers in its Germany production facilities.
The startup has also managed to crack open the checkbooks of some of those aforementioned industrial heavyweights. 
Last September, Carbon reportedly raised $81 million from big name manufacturers such as GE Ventures (owned by General Electric (GE) - Get General Electric Company Report ), BMW, Nikon and JSR. It marked the creation of Carbon's first strategic investors. 
The investment followed Carbon's $100 million Series C round in 2015, which was led by Google Ventures. A Google representative declined to comment.
Carbon's total funding now tallies about $222 million.
DeSimone said products that can be manufactured through digital light synthesis include car (and even airplane) interiors, ear buds and medical devices.
Joseph Sandra, VP of manufacturing, engineering and technology for Johnson & Johnson, said the New Brunswick, N.J.-based company has been working with 3D printing, or forms of it for about 30 years now, and partnered with Carbon - plus about 50 other entities - two years ago to explore different ways it can take products to market.
Johnson & Johnson manufactured its first 3D-printed product in orthopedics about five to seven years ago. The company is working with 3D printing across all three of its business segments - consumer, pharmaceutical and medical devices.
Sandra told TheStreet a "really big opportunity" lies in making "patient specific products." He declined to go into specifics, but said forms of 3D printing can eventually be used to allow healthcare professionals to create individualized medical solutions "on demand" for each patient.
He said the new technology "radically changes" how medical devices are made and how they can tend to patients' specifics needs. And patients won't need to wait for them.
Carbon's DeSimone said digital light synthesis is going to "usher in a sea change for how people make things" and will eventually affect every business sector. As Carbon expands its manufacturing footprint across the U.S., consumers may have a front row seat into watching that sea change play out. 
Alphabet is a holding in Jim Cramer's Action Alerts PLUS Charitable Trust Portfolio. Want to be alerted before Cramer buys or sells GOOGL? Learn more now.
Read MORE trending tech stories on TheStreet:
How Intel Is Putting More Effort Into Fighting AMD
Why You Should Put IBM's Stock in the Garbage Can and Then Light It on Fire