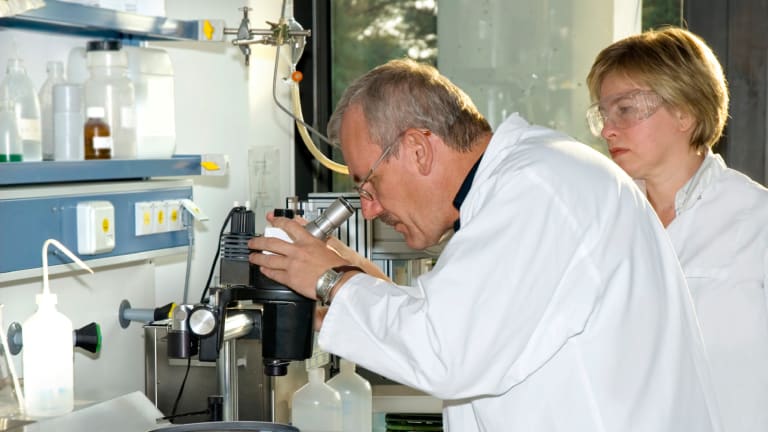 MediWound Shares Lower After Pricing Stock Offering - Biotech Movers
MediWound priced an underwritten public offering of 4.4 million shares at $5 apiece.
Shares of MediWound Ltd. (MDWD) were down 14% to $5.20 in premarket trading on Tuesday, Sept. 19, after the Yavne, Israel-based firm priced an underwritten public offering of 4.4 million shares at $5 a share. The company  has given underwriters a 30-day option to buy up to 660,000 additional shares. The offering is expected to close on or about Sept. 21.
Meanwhile, shares of Supernus Pharmaceuticals Inc. (SUPN) were down 10.3% to $44.55 after the Rockville, Md.based firm on Monday unveiled the outcome of the planned interim analysis from the first Phase 3 study on SPN-810, a potential treatment for impulsive aggression for 6- to 12-year-old patients with attention deficit hyperactivity SPN-810 is being evaluated in two Phase 3 studies at total daily doses of 18 mg and 36 mg against placebo.
Supernus said it has wrapped up the interim analysis and the two studies will continue through to completion. "Based on the predefined criteria for dropping a dose arm, the lower dose of 18 mg will be eliminated," the company said. "Moving forward, all patients will be randomized to either the 36 mg dose arm or placebo until the predetermined total number of patients are enrolled without changing the size of the trials.  The Company believes that this will maximize the probability of reaching a statistically significant outcome for the 36 mg dose."
Other biotech movers include  Adamas Pharmaceuticals Inc. (ADMS) , up 7% to $22.60 on the heels of its analyst day on Monday. Mizuho Securities USA LLC analyst Irina Koffler on Tuesday reiterated her buy rating on the stock and upped her price target to $48 from $26.
In a note, Koffler attributed the price target increase mainly to "higher Gocovri pricing assumptions (previously modeled $14,400/year vs. $28,500/year that was announced at the Analyst Day), growth in the MS indication, and full credit for Gocovri in the Parkinson's LID indication in our model."
Meanwhile, Koffler lowered Gocovri estimates in 2018 "after management conservatively guided to less than 1% market penetration but steepened our ramp trajectory after 2019 once reimbursement improves and MS gait may get approved in 2020," according to the note.
Emeryville, Calif.-based Adamas in August secured the U.S. Food and Drug Administration's approval for Gocovri as a treatment for dyskinesia in Parkinson's disease patients receiving levodopa-based therapy, with or without concomitant dopaminergic medications.
More of What's Trending on TheStreet: