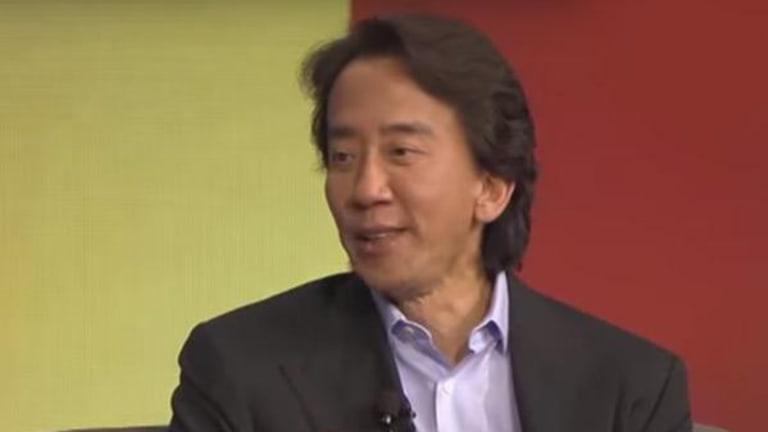 Medivation Founder Takes Helm at Axovant, Shares Spike
David Hung will become Axovant's CEO after completing the $14 billion sale of Medivation to Pfizer.
Shares of dementia treatment researcher Axovant Sciences (AXON)  were flying high Monday morning after the company announced that a former Medivation (MDVN)  executive would be its new CEO.
Axovant shares were up 25% just after opening bell Monday after the company announced it had hired Mediation founder, CEO and president, David Hung, to take the helm at the company.
Hung oversaw the sale of Medivation, a company focused on cancer drugs, including Xtandi, which treats prostate cancer, to Pfizer (PFE)  in 2016. The sale was worth $14 billion and closed in September after a lengthy bidding war that also included Sanofi (SNY)  .
The company has a market cap of $1.89 billion. Shares were trading at $19 apiece Monday morning.
The news may come as a surprise to some shareholders.
"We were not searching for a new CEO at Axovant, but following the acquisition of Medivation I approached David about taking a role with us after the MINDSET study," said Vivek Ramaswamy, the founding CEO of Axovant, in regards to recent phase 3 studies of intepirdine for treating alzheimer's-induced dementia . "David decided that he wanted to join us now."
Ramaswamy will step down and will remain on the board of directors at Axovant. He will also continue to oversee Axovant's parent company, Roivant Sciences as CEO.
Along with this announcement came news from Axovant that Marion McCourt, former Medivation chief operating officer will now take the helm at the company as president and COO. Axovant's board is also set to be expanded as a part of the shakeup.
Kathryn Falberg and William Anthony Vernon will both be joining Axovant's board. Falberg had previously served as CFO at both Amgen (AMGN)  and Jazz Pharmaceuticals (JAZZ) . Meanwhile, Vernon worked as CEO of Kraft Foods Group.
Both also had served on the board at Medivation.
"I had the pleasure of working with Kate and Tony on the board of Medivation where they provided exceptional counsel to me over the years," said Hung in a statement. "As Axovant approaches the potential launch of intepirdine, I look forward to once again leveraging their deep commercial, operational, and financial insights to help me build another world-class healthcare company."
Interestingly, Falberg is the first woman to join Axovant's now nine-person board of directors. This matters because studies show that companies with just one woman on the board outperform those with none. And those with three or more women consistently show improved revenues year over year.
As Axovant gears up to launch intepirdine, which could help treat dementia, it's likely that the company could use an extra boost wherever it can get it.
More from TheStreet:
Focus on Earnings in the Second Quarter, Not Donald Trump's Policies
What will move markets this quarter and how should investors position themselves ahead of time? Jim Cramer sat down with four of TheStreet's top columnists recently to get their views. Click here to listen to his latest Trading Strategies roundtable with them and read their advice for stocks, bonds, forex, tax reformand gold.