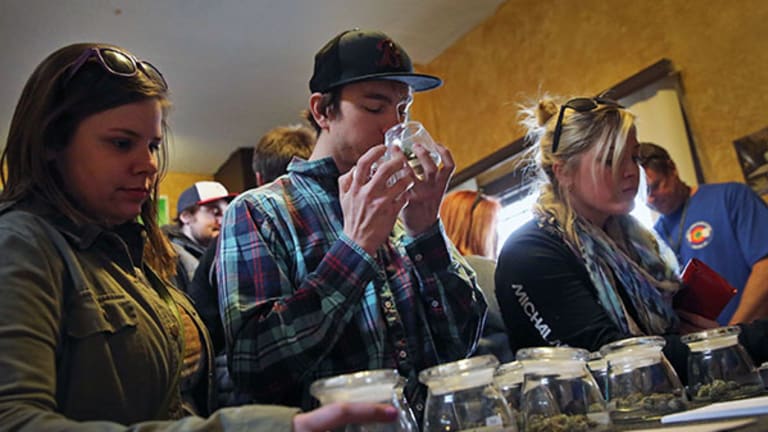 Medicinal Marijuana Company Doubles Revenue But Struggles to Break Even
The first publicly traded marijuana company released earnings on Monday, June 5 -- and the numbers were pretty high in their favor.
The first publicly traded marijuana company released earnings on Monday, June 5 -- and the numbers were pretty high in their favor.
Sales in the legal marijuana business are blazing hot, brushing $6.7 billion in 2016 -- but projections are expected to climb even higher to as much as $20 billion in sales by 2021, according to cannabis research firm Arcview Market Research. 
Despite the uptick in overall sales, the industry is still struggling to find its footing as those in the public space continue to battle turning a profit.
Medical Marijuana Inc. (MJNA) , a $321 million market cap company that claims to be the first publicly traded medicinal cannabis firm, is no different. While doubling revenue over the last year, the company is still struggling to turn a profit. 
For the quarter ended March 31, San Diego-based Medical Marijuana saw revenue jump about 135% to $3.6 million from $1.5 million in the same quarter of the previous year. Despite total gross profit, the company still suffered a net loss of around $2 million, though that number was significantly improved from the $11 million loss posted in the first quarter of 2016.
Over-the-counter-traded Medical Marijuana is beginning to face one of its largest obstacles: its debt load, which clocks in at $13 million for the quarter ended March 31, according to the company's earnings release on June 5.
Over the years the company has increasing devoted capital to paying down its debt, which ballooned to as much as $24 million in September 2015.
During the first nine months of 2016 Medical Marijuana spent about $6.7 million to reduce its debt load, up from $3 million devoted to paying down debt in 2015 and $990,000 in 2014. The same year, Medical Marijuana's president stepped down after indicted by a federal grand jury for involvement in an alleged $10 million mortgage fraud.
According to Derek Peterson, CEO of Terra Tech Corp. (TRTC) , some of the largest challenges facing the cannabis industry dwell in banking and financial services because the business is heavily cash correspondent. Peterson also noted difficulties with inflated costs facing operators, which he attributes to negative connotations in the sector.
"What would cost a normal business a dollar costs us a dollar fifty in almost any activity," said Peterson. "[Though], the revenue per square foot is unmatched in this industry, even with Apple."
Medical Marijuana has faced a handful of lawsuits, including a $100 million litigation against CannLabs Inc. amongst others. The ongoing suit was filed in 2014 following publication of a Project CBD report that challenged Medical Marijuana's residue toxicity levels in two product samples. The Project CBD report indicated conflicting test results, first noting that the Real Scientific Hemp Oil contained high levels of nickel, selenium, molybdenum, arsenic, and silver. A few days later, a second report was published stating that the five metal toxins were in fact within safe ranges.
Despite the drawbacks, the company is encouraged by the outlook for the medical marijuana and cannabis industry.
"We continue to be encouraged by the growing international acceptance of cannabis and the progress our team has made in educating the world on its many therapeutic uses," said Stuart Titus, CEO of Medical Marijuana in a statement. "I am quite excited about international expansion opportunities."
Expansion into medical opportunities, that is. Products from Medical Marijuana mirror more of a Whole Foods Markets Inc.  (WFM) aisle rather than a dispensary with their hemp offerings. Customers will find products based off of cannabidiol, or CBD, a non-psychoactive cannabis compound.
Ingesting CBD-based products bypasses the "stoned" feeling often associated with marijuana, which is courtesy of the psychoactive constituent, THC. CBD is the component that makes medical marijuana a viable option for patients seeking to alleviate pain and other discomforts.
Customers perusing Medical Marijuana's website will encounter products such as Real Scientific Hemp Oil, cannabidiol drops, and tinctures (the last one is essentially a cannabis infused alcohol.) Not to mention, all of these products are legal since CBD derived from hemp is considered a dietary supplement. Since Medical Marijuana hemp products contain less than 0.3% THC by weight, they're exempt from the Federal Controlled Substances Act.
Medical Marijuana is also the first to establish a Global CBD pipeline, the first to deliver prescription cannabidiol, and the first to commercialize the U.S. NIH patent "cannabinoids as antioxidants and neuroprotectants". They refer to themselves as "a company of firsts."
Shares of Medical Marijuana were down $0.11 on Monday, June 5 after the company released its earnings. The company reached an all-time high of 37 cents per share in January 2014.
Editors' pick: Originally published June 17.
Editor's Note: This article contains one or more stocks with a market capitalization below $100 million. Such micro-cap stocks tend to be volatile.