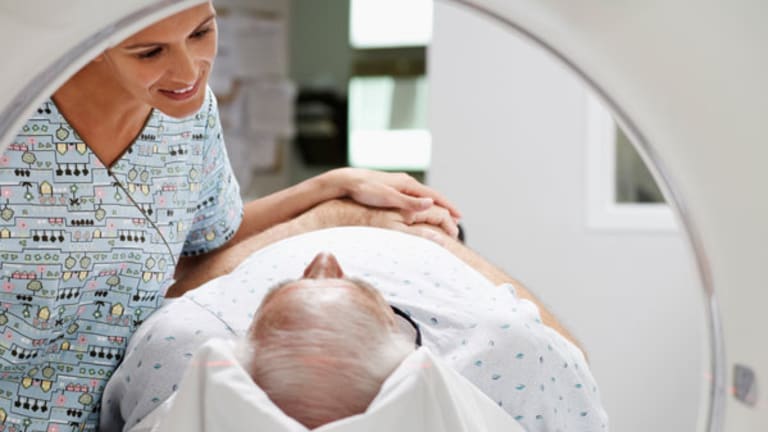 Medicaid HMOs Soar on Obamacare Victory
Medicaid HMOs are soaring on Obamacare's Supreme Court ruling.
NEW YORK (
) -- Medicaid HMOs were soaring Thursday on the Supreme Court's decision to uphold Obamacare as some 16 million to 20 million new Americans could become eligible to enroll in the government program in 2014.
Shares of
Amerigroup
( AGP) were at $66.33, up $3.93 or 6.3%,
Molina
(MOH) - Get Molina Healthcare, Inc. Report
was at $22.92, up $1.66, or 7.8%, and
Centene
(CNC) - Get Centene Corporation Report
traded at $31.51, up $1.57, or 5.3%.
"I would say the stocks hadn't really baked in much value for Medicaid expansion," said David Windley, a health care analyst at Jefferies.
The court ruled that the legislation could not force states to expand Medicaid, which means bigger states that tend to lean more politically conservative -- like Texas and Florida -- could opt out of the Medicaid expansion program.
Windley said there would be more upside than downside for Medicaid HMOs on this decision, as many states -- California, New York and others that tend more politically liberal -- would likely participate in the 2014 expansion. Simply, whatever happens on a state-by-state basis, there are still millions of new Americans who would likely enroll into Medicaid and boost revenue for the companies that help provide that care.
Chief Justice John Roberts, joined by Justice Stephen Breyer and Justice Elana Kagan, wrote that Congress can't take away states' existing funding if they don't adhere to Medicaid expansion. Justice Ruth Bader Ginsburg and Justice Sonya Sotomayor did not make that case; however, the five justices in the majority agreed that Congress could not impose a penalty against the states.
"So technically, the Court does not find that even that part
Medicaid expansion of the statute is unconstitutional," said Greg Magarian, a law professor at Washington University in St. Louis.
Magarian said that Roberts proved to be the true swing vote in the decision --
an outcome we reported in March could occur. (Magarian admitted, though, that he expected Kennedy to side with Roberts. Kennedy did not stand with the majority opinion).
The losers in Thursday's ruling were the diversified health care providers, which face regulatory pressures such as minimum medical loss ratios and rate reviews that could affect their bottom lines.
"Stocks appear to be trading on some disappointment that the guaranteed issue aspect of the law wasn't struck down," said Windley. "The diversified managed-care companies are impacted by the fact that ... somebody who wants insurance, they have to offer it to them, and they have MML floors -- the margin limitations on their business."
Minimum medical loss ratio is like the inverse of gross margin, or your cost of goods divided by revenue.
In a previous interview, Chris Rigg, a senior health care analyst at Susquehanna Financial Group, said that small group and individual health insurance business companies must spend at least 80% of premium dollars on medical care, and 85% for large group market, or else the company has to rebate money to consumers.
Virtually all diversified health care stocks are down as a result:
Aetna
(AET)
,
Cigna
(CI) - Get Cigna Corporation Report
, and
Wellpoint
(WLP)
were all dipping more than 4% on Thursday.
Diversified health care stocks jumped in late March on sentiment that the Supreme Court would strike down Obamacare, but the winners were those investors who bet on Medicaid expansion to remain and Obamacare to be upheld entirely.
-- Written by Joe Deaux in New York.
>Contact by
.