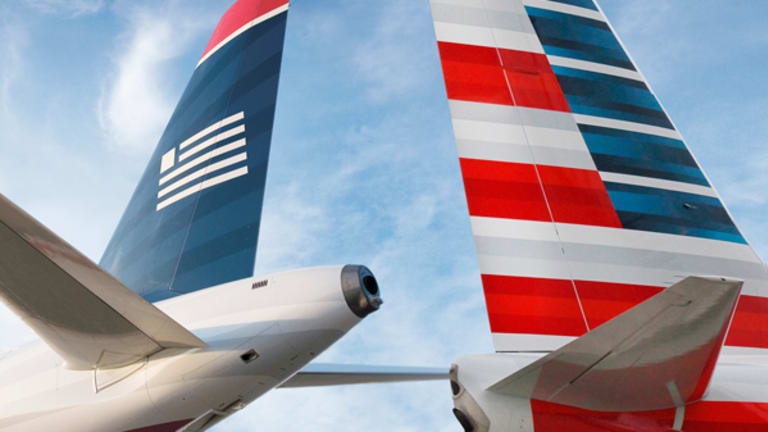 Mediation Offers Path to Merger of US Airways and AMR, Expert Says
Given unprecedented public support for a US Airways/American merger, the DOJ might see mediation as a way out, a veteran attorney says
CHARLOTTE (
) -- Mediation could provide a pathway for the Justice Department to back away from a scheduled court battle against the planned merger between
US Airways
(LCC)
and
American
( AAMRQ), a veteran antitrust attorney said.
"If the government is looking for a way out of this political pickle, the mediation would be a convenient cover under which it could claim victory," said John Briggs, co-chair of Axinn Veltrop & Harkrider's Antitrust Group and managing partner of the firm's Washington office, in an interview. Briggs will observe his 40th anniversary as an antitrust attorney this week.
Briggs and antitrust attorney Ankur Kapoor of Constantine Cannon agreed that going to mediation, in itself, is not meaningful. The airlines and the Justice Department revealed in a court filing on Monday that they had agreed to go to a mediator at the behest of U.S. District Judge Colleen Kollar-Kotelly, who is scheduled to hear the case starting Nov. 25.
"Usually in any complex civil case at some point the court will encourage if not order that the parties mediate," Kapoor said. "When the court encourages the parties to do something, they do it. There is nothing in and of itself unusual in that."
But Briggs noted that the amount of
brought to bear in the case -- from unions, mayors, airports, chambers of commerce and members of Congress -- is
.
"I've never seen a deal with so much (public) pressure put on the administration," Briggs said. "In most deals (contested by the Justice Department), people try to put pressure on the administration, but not on television and on the front page of the newspaper.
"I'm not sure it's going to have an effect, but I wouldn't say it doesn't," he said. "Traditionally, the antitrust division has been very independent and pretty much impervious to political pressure.
"But pretty much impervious does not mean completely impervious," just as "there's a big difference between mostly dead and all dead," Briggs said, referring to a line from the 1987 movie "The Princess Bride."
Briggs said he knows Bill Baer, a Stanford Law School graduate and long-time Washington attorney who spent time in both private practice and at the Federal Trade Commission before being named head of the antitrust division in 2012. "I know Bill Baer," he said. "I have a huge amount of respect for him, and I bet he is not 100% comfortable" with all of the public opposition.
Kapoor said that "given the complexities of the case and the expedited trial schedule, there is an incentive for the government to listen to what the airlines have to say, and Bill Baer is always willing to listen.
While mediation does not significantly increase the chance of a settlement, "the chance always increases a little bit when they start talking," Kapoor said. "The mediator will be able to offer an independent perspective and maybe bring them a little bit closer to a settlement.
"The question becomes whether the airlines can offer enough divestitures to rectify what the government sees as excess concentration," he said. "There will have to be divestitures to satisfy government concerns. It's just a matter of which ones and how many."
Kapoor said he expects the airlines have already offered slots at Washington Reagan National Airport. "National is not the hinge on which this transaction turns," he said. To rectify the government's concern that competition on about 1,000 one-stop routes would diminish, he said it is possible that gates at connecting airports could be made available to competitors.
US Airways shares were trading up 17 cents to $22.18 in mid-morning trading on Tuesday. The shares have risen 64% this year.
-- Written by Ted Reed in Charlotte, N.C.
>To contact the writer of this article, click here: