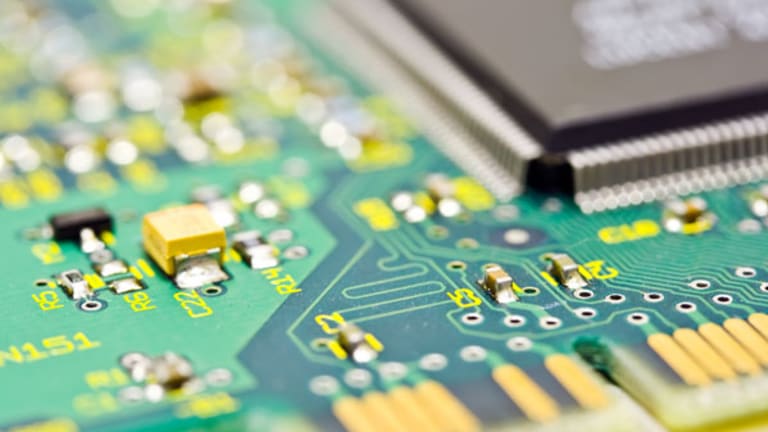 Media Focus on Apple's Joke, Not Products
Coverage of yesterday's event paid more attention to an opening joke about Jobs' health than to new products.
Nothing throws the distractible business media off the trail more than a well-timed joke. But let's give Apple (AAPL) - Get Free Report its due. The company told a knee-slapper that actually managed to throw the business media off of two trails.
As company CEO Steve Jobs took the stage yesterday at a meeting ostensibly to announce breakthrough new products, a message on the oversized screen behind him read: "Reports of my death have been greatly exaggerated."
It was funny, both in its timeless reference to Mark Twain and in its modern meta nod-and-wink awareness of the ongoing issue of Jobs' health, not to mention a prematurely released obituary from
Bloomberg
. But Jobs and Apple, as talented in playing the media as they are in producing technology, managed to accomplish more than just making the assembled reporters laugh.
The joke was often the first thing much of the prominent coverage that followed mentioned, either in its headline, lead or accompanying photo -- and sometimes in all three. But wouldn't you know it? A pair of important issues were either subordinated to the joke or left out altogether.
One: Apple has been disingenuous at least twice now about Jobs' health. He still looks thin. What's the real deal? We weren't told -- though thanks to the joke, you read some coverage and think we were.
Two: The announcements of some tweaks to iPod design were a disappointment and, set next to the breakthrough product announcements that have become an Apple standard, would normally have raised some questions. But open with a big joke that conjures up Twain and modernism, and the disappointment plays second fiddle.
We'll let the coverage of these master media manipulators, who in the past have played the expectation game better than anyone, speak for itself.
Look at a headline in today's
Wall Street Journal
: "
At Apple Product Event, Jobs's Health Is Focus
."
More accurately, the
joke
was a focus. Hard, actual information about Jobs' health was not. In an interview later yesterday with
CNBC
, Jobs, who did not disclose that he had pancreatic cancer until nearly a year after his diagnosis, blamed hedge funds for the recent concern. But Apple also lied about his condition when concern that he looked ill became widespread following a public appearance in June.And a shareholder, no matter how otherwise positively inclined toward the company, which is benefiting greatly from disillusionment with
Microsoft's
(MSFT) - Get Free Report
Windows Vista, has reason for concern; Jobs has no heir apparent.
Could Jobs be completely healthy? Of course. But considering the history of lies, an opening joke and vague comments in a television interview afterward hardly constitutes focus.
Moreover -- thanks again to the ability of the opening joke to shift focus of the business media -- the fact that there was disappointment over the new array of products did not appear until the fifth paragraph of this
Wall Street Journal
story.
Look at this short piece from the
Associated Press
. Plenty of room for talk about the joke in the headline and lead. Nothing substantive about his health and nothing about the thin lineup of new products.
Headline: "
Apple's Jobs jokes about rumors about his health
"
Article: "Apple Inc. CEO Steve Jobs joked about the speculation on his health Tuesday, kicking off an Apple event by flashing a message on a screen that 'The reports of my death are greatly exaggerated.'
"Jobs played off the famous Mark Twain quote in referring to obituary preparedness on him that was accidentally posted by Bloomberg News and then retracted. News outlets regularly prepare obituary material on famous people.
"Questions about Jobs' health swirled after he appeared gaunt at a recent Apple event. Apple has since said Jobs, 53, a survivor of pancreatic cancer, suffered from a bug and is better.
"He appeared thin but energetic Tuesday as he detailed changes in Apple's lineup of iPods and the iTunes music service."
And forget words. Look how Apple's stunt worked in terms of visuals, which might matter more.
The New York Times
ran a big photo of Jobs striding on stage with the Twain quote looming above him. But those disappointing new iPods, the ones that look a bit too much like those old iPods?
A
way down low. You almost have to squint to notice.
Mark Twain, who had a way with the media himself, would take his white hat off to that one.
At the time of publication, Fuchs had no positions in any of the stocks mentioned in this column.
Marek Fuchs was a stockbroker for Shearson Lehman Brothers and a money manager before becoming a journalist who wrote The New York Times' "County Lines" column for six years. He also did back-up beat coverage of The New York Knicks for the paper's Sports section for two seasons and covered other professional and collegiate sports. He has contributed frequently to many of the Times' other sections, including National, Metro, Escapes, Style, Real Estate, Arts & Leisure, Travel, Money & Business, Circuits and the Op-Ed Page. For his "Business Press Maven? column on how business and finance are covered by the media, Fuchs was named best business journalist critic in the nation by the Talking Biz website at The University of North Carolina School of Journalism and Mass Communication. Fuchs is a frequent speaker on the business media, in venues ranging from National Public Radio to the annual conference of the Society of American Business Editors and Writers. Fuchs appreciates your feedback;
to send him an email.