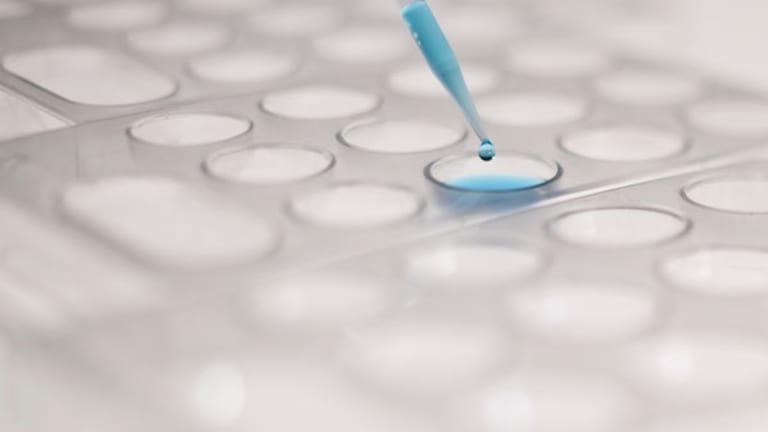 Medco's Discount Daze
Some call Thursday's Wal-Mart-led selloff overdone.
Attention,
Wal-Mart
(WMT) - Get Walmart Inc. Report
shoppers: Put those
Medco
(MHS)
cards away. You may not need that discount anymore.
Under a sweeping plan announced this week, Wal-Mart customers will soon pay just $4 for a month-long supply of any one of nearly 300 generic drugs, including popular treatments for diabetes and high blood pressure. Customers who carry cards supplied by pharmacy benefit managers, such as Medco and
Caremark
(CMX)
, often face $10 co-payments for some of those drugs.
Those cardholders could soon enjoy lower prices and -- perhaps even better -- greater convenience going forward. They could actually save more money by picking up generics at their local Wal-Mart stores than they would by filling 90-day prescriptions at mail-order pharmacies operated by their PBMs.
"The overwhelming positive impact from generics for a PBM is in its mail-order business," Merrill Lynch analyst Thomas Gallucci has stressed in the past. "A mail-order generic is the most profitable script a PBM can process."
By using so-called spread pricing, or paying low prices for generics and then selling them for far more, PBMs can boost their profits significantly. They pocket even more when they fill the prescriptions themselves. Last month, for example, Medco topped Wall Street expectations and raised its full-year guidance due in large part to the strength of its generic mail-order business.
To be fair, the PBMs should escape an immediate hit. For now, Wal-Mart has decided to offer its $4 generics in the Tampa Bay market alone. However, the company hopes to expand the program across the state of Florida -- and then move on to other states -- in the months ahead.
For its part, Medco seemed to downplay the new development. The company said that its cardholders will continue to enjoy the lowest prices offered by retail pharmacies, including Wal-Mart, and even suggested that its competing mail-order pharmacies should suffer no downturn as a result.
Still, PBM investors felt rattled by the news. Shares of Medco, the largest player in the group, fell 3.5% to $60.71 on Thursday. Caremark, which boasts a huge mail-order business, tumbled 4.6% to $56.40. And smaller
ExpressScripts
(ESRX)
dropped 4.2% to $80.38.
'Cash Cow'
Robert Garis, a university-based PBM expert, understands that fear.
"I've worked personally with analysts in this sector, and they know that this (generics) is a cash cow," says Garis, an associate professor of pharmacy at Creighton University. "This is one of the last bastions of big spread pricing that is left. If I were sitting in a big office today at Medco or ExpressScripts, I would be circling the wagons and talking to people and asking, 'What do we do now?'"
In the past, Garis says, PBM cardholders may have saved money by paying $20 for a 90-day supply of generic drugs filled by their mail-order pharmacy. But now, he says, those cardholders can pay less -- just $12 -- for three-month-long supplies of certain drugs filled during routine shopping trips at their neighborhood Wal-Mart store.
Still, Medco itself sees no major shift ahead.
"We don't have any reason to believe there will be an impact on our mail business," Medco spokeswoman Jennifer Luddy told
TheStreet.com
on Thursday. Through mail, "you can get a 90-day supply for one co-pay -- and it comes right to your door. So there's a convenience factor there as well."
Banc of America analyst Robert Willoughby chose to look on the bright side, too. Indeed, he portrayed Wal-Mart's move as a "modest positive" for PBMs because it could attract customers who might have otherwise chosen competing drugstores -- operated by
CVS
(CVS) - Get CVS Health Corporation Report
,
Target
(TGT) - Get Target Corporation Report
and
Walgreen
(WAG)
-- that have opted out of certain PBM networks.
Willoughby has a positive stance on the PBM sector. His firm has investment banking relationships with all three major PBM companies.
Drugstore 'Nonevent'
A major drugstore analyst shrugged off the development as well. John Heinbockel of Goldman Sachs insisted that Wal-Mart's new strategy "sounds worse than it really is" and declared it a "nonevent" for the retail drug sector. Notably, Heinbockel said that Wal-Mart's cheap generics should appeal most to cash-paying customers -- who shop very little at either CVS or Walgreen stores.
Heinbockel's firm has provided investment banking services to CVS and Wal-Mart in the past and hopes to do so for both companies, as well as Walgreen, in the future.
"Drug retail stocks should not come under disproportionate pressure today," Heinbockel insisted. "However, if they do, we would be inclined to use this weakness as a buying opportunity considering that operating momentum is poised to accelerate now that we are in the midst of the generic boom."
Investors fled the sector, anyway. Shares of CVS plummeted 8.8% to $32.36 on Thursday. Meanwhile, Walgreen tumbled 7% to $46.47.
Even Wal-Mart itself lost a little ground. The company's stock slipped 1.1% to $48.35 following its big announcement.
Still, Lehman Brothers analyst Robert Drbul expects the shares to rebound. In a research note on Thursday, Drbul applauded Wal-Mart for making healthcare more affordable and attracting more customers to its stores in the process.
Drbul has an overweight recommendation on Wal-Mart's stock. His firm seeks to do business with the companies it covers.
"Pharmacy is one of the five key merchandise categories the company is focused on improving in order to drive traffic and increase cross-shopping throughout the store," Drbul noted on Thursday. So "we believe there is a solid revenue opportunity for Wal-Mart."
'Perceived Savings'
Garis, at least, foresees lost revenue for PBMs.
Indeed -- even before Wal-Mart's big announcement -- Garis felt that employers and health insurance plans could save more money by steering their customers toward retail pharmacies instead of mail-order pharmacies owned by PBMs. Another PBM expert agrees.
"Health plans drive volume to mail-order -- and effectively agree to absorb additional co-pay expenses -- based on perceived savings," Rick Goebel, vice president of sales and marketing at Pharmacy BenefitDirect, wrote in a white paper on the subject. But "in reality, co-pays associated with three-tier benefit designs have increased to the point where health plans are spending more money than they save by incentivizing members to use mail-order."
For example, Goebel says, PBM clients can wind up covering a $20 co-payment in order to secure what turns out to be a smaller discount -- totaling perhaps $10 -- on a generic drug. But for some reason, he says, even major corporations have yet to figure this scheme out. Otherwise, he says, they might soon realize that buying the same drug from a retail pharmacy would make a lot more sense.
With Wal-Mart poised to roll out $4 generics, such a choice could soon make more sense than ever. But Garis still thinks that PBMs will continue to convince their clients otherwise.
"I never cease to be impressed with how the PBM industry can always position itself to deflect crisis and criticism," he says. "Even when faced with the truth, they can come out with a positive spin."