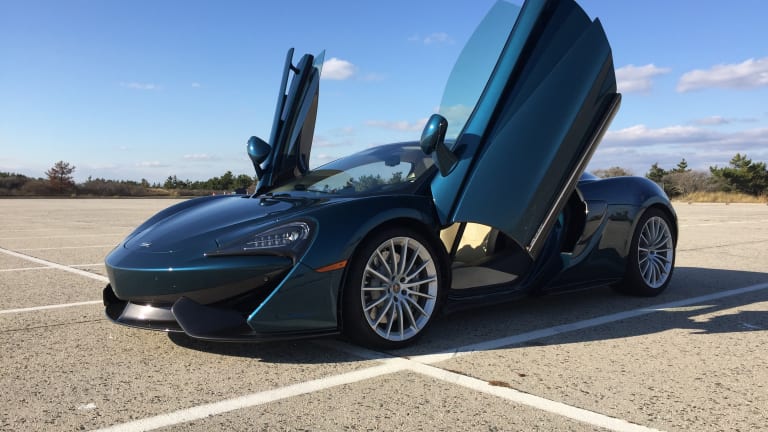 McLaren Has Just Made One of the Most Jaw-Dropping Supercars Ever
The McLaren 570GT is nothing short of stunning.
The stunning McLaren 570GT supercar is not without its minor faults.
Constructed mostly from McLaren's legendary lightweight carbon fiber, the 570GT weighs in at a mere 3,189 pounds that makes the inevitable high-speed driving darn near terrifying. The car sits very low off the ground, triggering a constant fear of scraping the amazing paintwork found on the auto's eye-catching ground effects. As for the interior, it has its quirks such as cup-holders that won't hold most Starbucks (SBUX) - Get Starbucks Corporation Report iced drinks and driver side adjustable seat buttons that are virtually hidden and difficult to master.
A family-friendly Ford (F) - Get Ford Motor Company Report Focus the McLaren 570GT is not.
But at the end of the day, what McLaren has billed as its practical supercar that could be driven with ease to and from work each day is still rather amazing. In short, it may be the ideal supercar for a high-powered corporate executive that still enjoys driving to the office, and making a statement doing so.
The Mclaren 570GT has some insanely stylish doors
The 570GT's exterior styling is head-turning -- one part naturally aggressive supercar, one part approachable elegance. Roll up to a business lunch in this car, which is outfitted with doors that open up, and the valet will have no doubt you are a power broker. Stomp on the gas pedal and a Formula One like whizzing sound blurts out of the rear-situated 3.8 litre twin-turbo V8 engine, and rockets the driver from 0-60mph in 2.9 seconds (it goes 0 to 124mph in 9 seconds).
Despite the aforementioned interior quirks, the 570GTs sporty leather seats are comfy enough for a long drive to the office and the touchscreen infotainment system is easy to maneuver. A push button 8-speed automatic transmission further makes the driving experience a breeze for executives with a ton of stuff on their minds. Other wins are the 570GT's storage space, which is a rarity for a supercar, and impressive gas mileage (another supercar rarity) of 16 city/23 highway. 
Price to roll up in style to a $300 a plate steak dinner on a Saturday night: about $200,000.
The McLaren's 570GT is snug, but we still ate our McDonald's Big Mac inside with ease