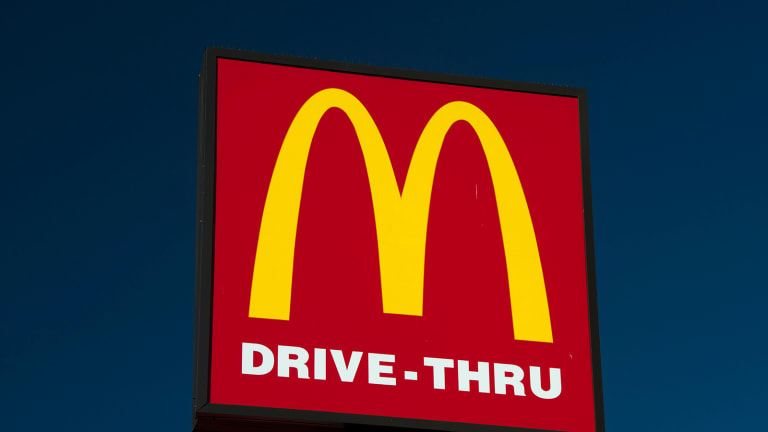 McDonald's Stock to Get Fatter After Arby's Shocking Buffalo Wild Wings Deal
All eyes are on the Arby's/Buffalo Wild Wings deal -- but the bigger upside potential might just be in shares of fast-food giant McDonald's.
Arby's is upgrading itself. The fast food chain announced Tuesday morning that it had reached a deal to buy Buffalo Wild Wings (BWLD) in a move that gives Arby's exposure to full-service casual dining.
Arby's Restaurant Group will pay $2.4 billion in cash for Buffalo Wild Wings. Shares of Buffalo Wild Wings are up 6.4% Tuesday in reaction to the announcement -- but the bigger winners for investors could be other stocks in the restaurant space. Consumers are spending money dining out, and that's benefiting companies all along the restaurant spectrum.
And while Arby's looks upmarket with its B-Dubs buy, the king of the fast food chains is teetering on the edge of a significant breakout.
McDonald's Corp. (MCD) is having a banner year in 2017, up approximately 40% on a price basis since the calendar flipped to January. Tuesday afternoon, shares are up another 50 basis points, boosted slightly by strong sentiment for restaurant stocks. And now, the price action points to even more upside for McDonald's shareholders as this big stock barrels toward the final stretch of 2017.
To figure out how to trade it, we're turning to the chart for a technical look:
McDonald's trend has been hard to miss all year long -- shares have been moving up and to the right since the end of 2016. Now, though, a classic continuation pattern is signaling that it's not too late to be a buyer in this big fast food stock.
McDonald's is currently forming an ascending triangle pattern, a bullish continuation pattern formed by horizontal resistance up above shares at $170.50, and uptrending support to the downside. Basically, as McDonald's has bounced in between those two technically significant price levels, shares have been getting squeezed closer and closer to a breakout above that $170.50 barrier that acted like a ceiling for shares earlier this month.
Once McDonald's pushes through $170.50, we've got a new buy signal in this stock.
What makes that $170.50 level so important for this stock? It all boils down to buyers and sellers.
The $170.50 resistance level is a price where there has been an excess of supply of shares; in other words, it's a spot where sellers have previously been more eager to step in and take gains than buyers have been to buy. That's what makes a breakout above $170.50 so significant -- the move means buyers are finally strong enough to absorb all of the excess supply above that price level.
McDonald's is within grabbing distance of that breakout level in Tuesday's trading session. That's good reason to keep a close eye on McDonald's stock this week.
We spoke to Arby's CEO back when the company was working to reinvent itself: 
More of What's Trending on TheStreet:
This article is commentary by an independent contributor. At the time of publication, portfolios managed by the author were long MCD.