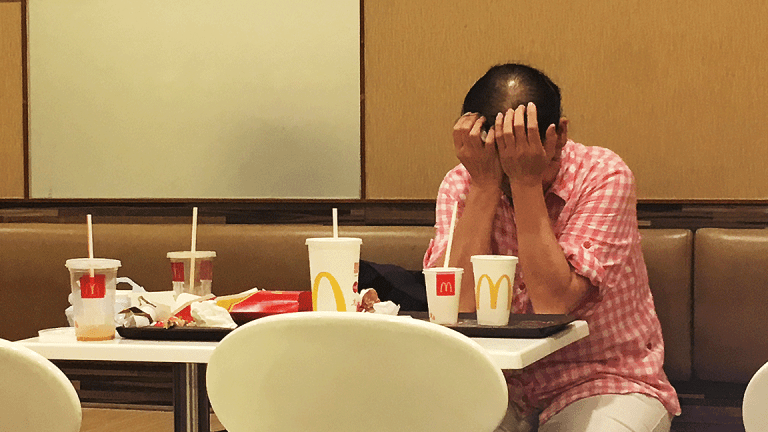 McDonald's Doubles Down on Unpopular Value Menu
The company's CFO called its value menu a 'long-term platform' to drive sales.
Value is arbitrary, after all.
McDonald's Corp. (MCD) - Get Free Report defended its new $1, $2, $3 value menu Wednesday, March 14, as a "long-term platform" to drive sales, despite its negative reception from consumers and investors alike.
"We don't view our $1, $2, $3 menu as a one-month or two-month deal," McDonald's CFO Kevin Ozan said Wednesday at the Bank of America Merrill Lynch consumer tech conference. "It's not a promotion, it's not a deal, it's a long-term value menu platform."
The company, however, may be its only fan when it comes to the new offering. Its stock has fallen more than 8% since the beginning of the year, when it launched the value menu. McDonald's stock was trading down slightly to $158.24 at the market's close. 

Customers have been vocal about their dissatisfaction. One 800-word blog, for instance, is titled "McDonald's Unveiled Their New Dollar Menu And It Kinda Sucks."
McDonald's, for what it's worth, seems to be expecting pushback. On Wednesday, Ozan pointed to an experience 15 years ago when customer traffic slumped for about six months after it launched its former dollar menu.
"It takes a few months ... to embed in customers' minds when you have a new platform because it's not a quick deal," he said. "You're now changing their daily mindset of when they go in."
The new value menu also underscores McDonald's emphasis on breakfast, a fiercely competitive playing field. Taco Bell, owned by Yum! Brands Inc.  (YUM) - Get Free Report , joined the fray when it introduced breakfast items four years ago, but recently revamped its value menu to highlight breakfast offerings around the same time as McDonald's December release. 
Taco Bell was explicit then in its attack on McDonald's. "What sets Taco Bell's $1 menu even further apart from national competitors is that $1 = $1," the company said in the December announcement. 
"Breakfast is still our stronghold. It's about 25% to 30% of our sales," Ozan added. "We're pretty keen on making sure we defend that stronghold."