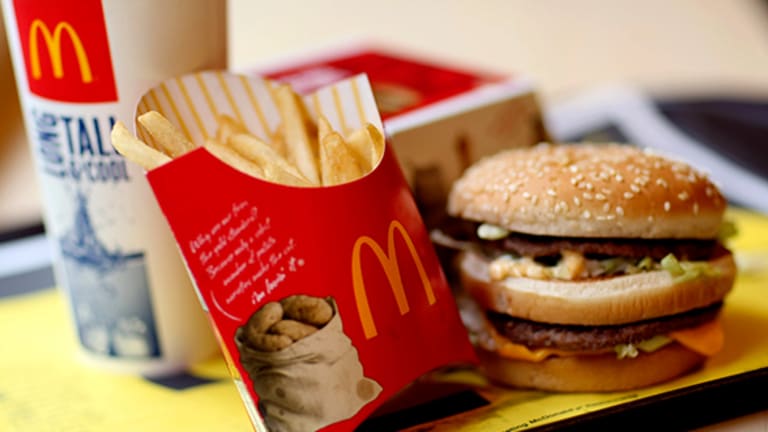 If Wall Street's forecast is on point, McDonald's Corp.  (MCD) - Get McDonald's Corporation (MCD) Report will soon be lovin' 2018.
The world's largest restaurant chain had a stellar past year -- under CEO Steve Easterbrook, its shares rose 42%, now trading at $172.83. It's making strides toward becoming 95% franchised globally and the rollout of its "Experience of the Future" initiative, under which restaurants worldwide will transition toward self-serve kiosks instead of ordering at the counter.
"We expect an extended period of global outperformance," Piper Jaffray's Nicole Miller Regan told TheStreet. "A worldwide footprint, alongside sequenced strategic initiatives [will] drive momentum and result in a relatively standardized brand in terms of appearance, operations, and guest experience."
What can be expected from the Golden Arches this year? Here are four predictions fresh from TheStreet.
1. Higher Margins
As of late 2017, McDonald's operates over 36,000 locations worldwide, about 92% of which are franchised. If the restaurant reaches its final 95% franchising threshold, its operating margin will increase, analysts predict.
The franchise profit margin for McDonald's is four times that of company operated restaurants, according to research firm Trevis, due to differences in employee and operational costs, which are absent for franchised locations. "This is the primary reason why McDonald's and other chains prefer the franchise model despite lower revenues," Trevis analysts wrote in a December note.
Jefferies analyst Andy Barish predicts that higher profit margins from a greater franchise ratio will push the company's net operating margin from about 33% in 2016 to 46% in 2018 and possibly 50% in 2019.
2. New Premium Products and Technology
McDonald's is already off to a prolific new year as it introduced the Archburger Tuesday, Jan. 2 and prepares to launch the $1 $2 $3 Dollar Menu Thursday, Jan. 4. The Archburger features two beef patties with a mayo and mustard "Arch Sauce" aimed at appealing to a more "gourmet" palate at just $2.19, the company announced.
Trevis predicts that in 2018, McDonald's will introduce new items for breakfast, McCafe and additional "gourmet" offerings as customers increasingly demand healthy alternatives.
The dollar menu, on the other hand, will be a main driver of sales, according to BTIG's Peter Saleh. If McDonald's can make the most of its new dollar menu through marketing and advertising, comp sales could increase up to 1.75% from this alone between 2018 and 2020, he wrote in a Jan. 2 note.
Sales will also rise because of mobile ordering and self-serve opportunities, Saleh said. "We expect the technology initiatives McDonald's is implementing (both EOTF and mobile ordering) to drive same-store sales increases for at least 3 years as adoption grows over that time."
3. Same-Store Sales Uptick
So how much can McDonald's expect to see its comp sales rise, thanks to these new initiatives? Between 3% to 5% by 2019, according to Jefferies' Andy Barish, who attributes the increase to delivery rollout in addition to mobile order and the Experience of the Future kiosks.
Saleh is even more optimistic. He estimates that McDonald's will see a 5% lift in comp sales from the kiosks alone in 2018. Meanwhile, digital and mobile ordering will likely increase the capacity of drive-through sales, reduce the order times for customers and improve order accuracy.

4. Returns to Shareholders
Even without the added capital-expenditure benefits of President Trump's freshly enacted tax reform law, Barish predicts free cash flow and more cash return to shareholders in dividends and share buybacks.
McDonald's already expects to return up to $24 billion of cash between 2017 and 2019, and beyond 2019, Barish and his team expect the Big Mac maker to return at least $7 billion to shareholder annually, as well as high single-digit earnings per share growth.
More of What's Trending on TheStreet: