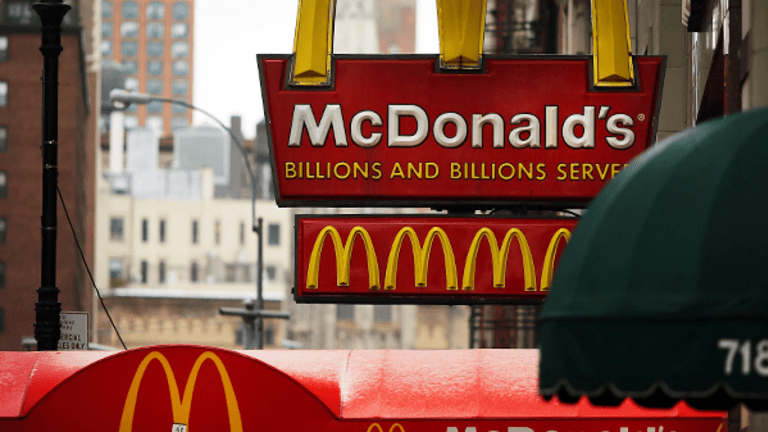 McDonald's Stock Is Rising on Savory Second Quarter
Yum!
Wall Street is lovin' Micky D's.
Before Tuesday, July 25's market open, McDonald's Corp.  (MCD) - Get McDonald's Corporation Report reported second-quarter earnings of $1.70 a share, higher than the earnings of $1.62 a share analysts expected. The fast-food giant posted second-quarter revenue of $6.05 billion, compared to estimates for $5.96 billion.
Shares of McDonald's rose about 4% to $157.94 in pre-market trading.
In the U.S., same-restaurant sales increased 3.9%, versus the 3.1% expectation on Wall Street. Globally, they rose 6.6%.
"We're building a better McDonald's, and more customers are noticing," McDonald's President and CEO Steve Easterbrook said in a statement.
On an earnings call, Easterbrook touted McDonald's recent efforts to begin remodeling its more than 14,000 stores in the U.S. to offer an "experience of the future" (complete with new ways to order including on kiosks), to extend delivery to 8,000 restaurants in 47 countries in the recent quarter and to roll out its quarter pounder burgers with fresh beef.
"Digital, delivery and experience of the future. These platforms accelerate. They bring the biggest benefit to the most people in the shortest amount of time," Easterbrook said on the call.
The Golden Arches added that it returned $1.8 billion to shareholders through share repurchases and dividends.
Ahead of its earnings release, Nomura analyst Mark Kalinowski had high hopes for McDonald's, citing second-quarter drivers, such as new beverage promotions ($1 for any size soft drink) and the national launch of Signature Crafted Recipes (semi-customized burgers and chicken sandwiches).
Read More: