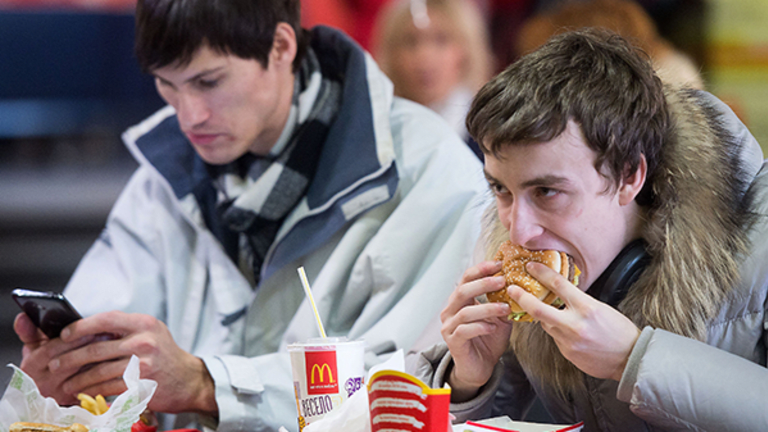 McDonald's Reveals Partying College Kids Are Obsessed With Eating Late Night Big Macs
Some orders are so large, they could feed a frat house.
With McDelivery now offered from 3,500 McDonald's Corp. (MCD) - Get McDonald's Corporation Report  restaurants in the U.S., presumably college kids are rejoicing by chowing down like there's no tomorrow.
McDonald's has found that it's getting an influx of delivery orders around college campuses, at night and in bulk, Lucy Brady, McDonald's senior vice president of corporate strategy and business development, revealed on a second-quarter earnings call on Tuesday, July 25.
"Stores near college locations tend to do much better than others," Brady said. "We are seeing strong demand from our customers. As they become aware of delivery, they're actually trying it, and then they're having a great experience, in many cases better than expected."
Other areas where delivery performs well is in cities, where fewer people have cars, Brady said.
McDonald's CEO Steve Easterbrook said McDelivery customers tend to spend about 1.6% to 2% more on their orders and they typically use the delivery service after 4 p.m.
In May, the ChicagoTribune first reported that, in Florida, where Micky D's started testing McDelivery in January, the most popular items bought for delivery are the 40-piece Chicken McNuggets for $9.99 and the Big Mac & Chicken McNuggets Meal Bundle, complete with two Big Macs, a 20-piece Chicken McNuggets, three medium fries and three medium beverages for $14.99.
McDelivery is offered through the fast-food giant's partnership with UberEats. One potential downside is that customers must pay the $4.99 UberEats U.S. delivery charge, which Brady said on the call that McDonald's will work to lower.
"As we learn and understand the customer's willingness to pay, we will absolutely make sure we're working together to maximize the value for our customers," Brady said.
Before Tuesday's market open, McDonald's reported second-quarter earnings of $1.70 a share on revenue of $6.05 billion, higher than the earnings of $1.62 a share on revenue of $5.96 billion Wall Street expected. The company said same-store sales rose 3.9% in the U.S.
Read More: