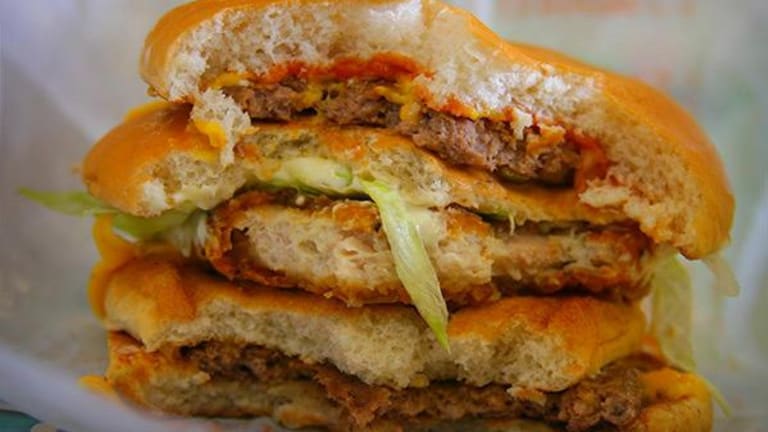 McDonald's Will Make This One Dramatic Change to Its Hamburgers at Even More Stores Soon
This is a juicy one.
No longer will McDonald's (MCD) - Get Free Report burgers taste like they just came from the freezer box, or so the waist-line busting fast-food chain hopes. 
McDonald's said Thursday that it will replace frozen beef patties for fresh ones in its Quarter Pounder burgers by the middle of 2018 at most of its U.S. locations.
Just two weeks ago the Golden Arches expanded its test of fresh beef to 328 restaurants in North Texas. It marked the largest expansion of McDonald's fresh beef pilot yet.
"We view this latest expansion of never-frozen beef for quarter-pound beef patties as another signal as to the direction McDonald's U.S. is likely to head-more test markets/restaurants are likely to introduce never-frozen beef in coming months," Nomura analyst Mark Kalinowski wrote recently. 
McDonald's began testing the use of fresh beef in May last year at 14 restaurants in the Dallas/Fort Worth area. Then in November, 75 outlets in Tulsa, Oklahoma starting grilling up fresh beef. 
Mickey D's moving away from frozen beef is not without its health risks, which is something Kalinowski pointed out in a survey of franchisees last July. 
"An uncaring employee doing something that puts the entire system at risk," was a concern of one franchisee. "We are the lightning rod. Chipotle will be a walk in the park if we have an incident."
Chimed in another franchisee, "If we do not handle the meat perfectly there is the opportunity for bacterial invasion of our product."
For now, it looks like McDonald's is full steam ahead on trying to serve juicier burgers in order to jump-start sagging sales. Health risks be damned. 
Updated from March 19 with new details.