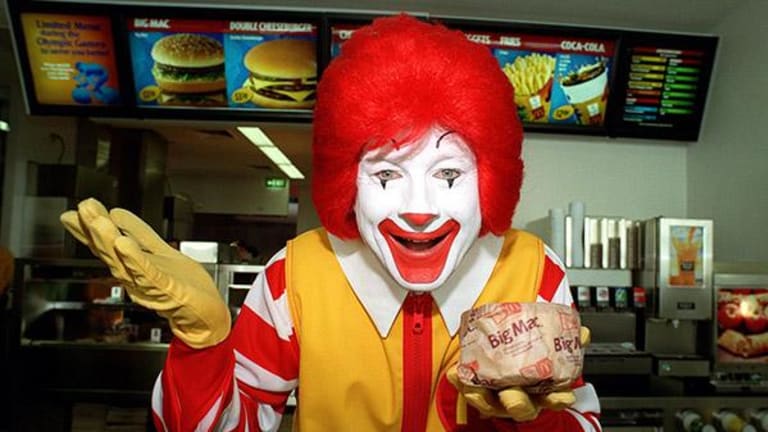 40 Piece Chicken McNuggets Are Only One Hot-Seller for McDonald's New Delivery Service
Now that's convenient.
McDonald's (MCD)  now delivers from more than 1,000 of its 14,000 restaurants nationwide, and customers aren't just ordering quarter pounders for delivery, they're ordering in bulk.
Through a partnership with UberEats, McDonald's said on Wednesday that it expanded its McDelivery service to 270 restaurants in Chicago and more than 700 nationwide, including 300 in Los Angeles, 144 in Phoenix and 59 in Columbus, Ohio. The option will be provided via ride-hailing app company Uber's food delivery service.
"McDonald's restaurant footprint, combined with the cutting-edge innovation of the UberEATS platform, positions us well to meet the consumer demand for fast and reliable delivery - making this an ideal partnership," McDonald's CEO Steve Easterbrook said in a statement. "Whether you are at home or at the park, UberEATS has what you're craving ready to be delivered at the tap of a button."
Last year, McDonald's said it generated nearly $1 billion in delivery sales globally across both its company-owned and franchised restaurants.
But, likely because UberEats carries a $5 delivery charge, pricier than most of McDonald's menu items, customers aren't ordering happy meals for delivery.
The ChicagoTribunereported that, in Florida, where Micky D's started testing McDelivery in January, the most popular items being bought for delivery are the 40-piece Chicken McNuggets for $9.99 and the Big Mac & Chicken McNuggets Meal Bundle, complete with two Big Macs, a 20-piece Chicken McNuggets, three medium fries and three medium beverages for $14.99.
"Through delivery, we'll bring the McDonald's experience to more customers, whether it's in their homes, their dorm rooms, to their workplace and beyond," Easterbrook said on a conference call in April. "We're encouraged by our pilot results in Florida and are expanding to additional cities in the U.S. this quarter."
McDonald's isn't the only company, and certainly not the first, to launch an innovative food delivery method. Here are the biggest fast food companies, delivering via drones, robots and chatbots, leading the charge.
Editors' pick: Originally published May 17.