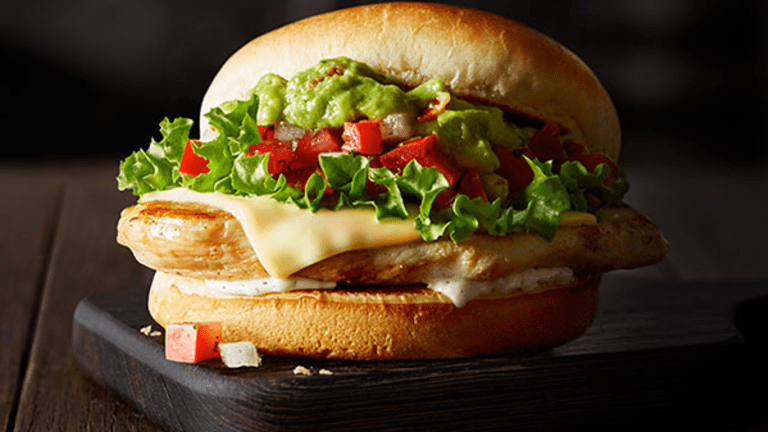 McDonald's Could Shock Wall Street Again -- Jim Cramer Reveals How
McDonald's has been full of surprises of late.
TheStreet's founder and Action Alerts PLUS portfolio manager Jim Cramer awaits quarterly results from Domino's Pizza (DPZ) - Get Domino's Pizza, Inc. Report , McDonald's (MCD) - Get McDonald's Corporation Report and Chipotle (CMG) - Get Chipotle Mexican Grill, Inc. Report  on Tuesday.
Cramer said Domino's is a technology company that sells pizza and weighs in on a recent report of norovirus at a Chipotle restaurant. Meanwhile, McDonald's could surprise everyone on its earnings call. 
Wall Street is particularly bullish on McDonald's.
Based on a proprietary franchisee survey, Nomura analyst Mark Kalinowski raised his second-quarter U.S. same-store sales expectations for the Golden Arches to 3.2%, just above the consensus expectation of 3.1%. In McDonald's foundational markets segment, which make up about 60% of the world's population across 80 markets on four continents, Kalinowski expects same-store sales to increase 10.1%, a 5.1% jump over his prior estimate and well above the consensus estimate of 6.8%.
"We believe that drivers of the U.S. business during Q2 included beverage promotions (such as $1 for any size soft drink) and the national launch of Signature Crafted Recipes (semi-customized burgers and chicken sandwiches)," Kalinowski wrote.
All told, Kalinowski expects second-quarter earnings of $1.63 per share, up 2 cents from his prior estimates and just above the consensus estimate of $1.62. Third-quarter U.S. same-store sales are expected to grow 3.3%, 0.4% above the consensus estimate, driving third-quarter earnings estimate of $1.74 per share. For the 2017 and 2018 fiscal years, Kalinowski expects earnings of $6.43 and $6.88, respectively.
Increasing his target price on McDonald's shares to $172 from $161, Kalinowski predicts McDonald's will continue to be a "relatively 'safe haven' stock during challenging times in the broader consumer landscape."
Those challenges in the restaurant sector are numerous, Barclays analyst Jeffrey Bernstein wrote Wednesday, July 19: "Industry comps are disappointing/volatile, labor cost headwinds are large, commodity cost tailwinds are waning, and menu pricing power is limited." Sales should be "more resilient" in quick-service restaurants, he wrote, with "a franchised business model more insulated from cost headwinds," naming McDonald's his top pick among quick service restaurants.
While the tough retail environment has "led to a reallocation of investment dollars into restaurants," eateries may be collateral damage, he added, with the "accelerating shift from brick & mortar to online shopping across retail" potentially causing "lateral implications for restaurants."
Watch all of Jim Cramer's latest videos, right here:
Weak Dollar Will Be an 'Interesting Story' For Caterpillar, Jim Cramer Says
Watch more feature videos from TheStreet:
From Catalogs to Catastrophe: A Sears Timeline