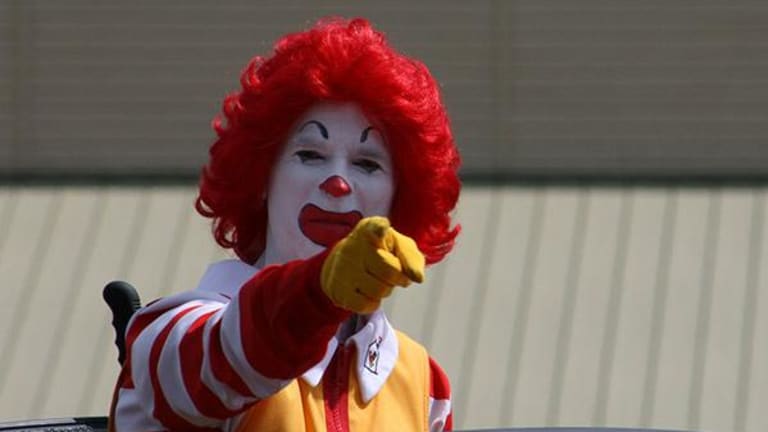 McDonald's CEO Thinks He Could Bring Pain to These 5 Rivals That Sell Sandwiches
Ouch, Micky D!
McDonald's Corp. (MCD) - Get McDonald's Corporation Report came to bring the pain. Sandwich chains, beware.
On a Tuesday, July 25, company earnings call, McDonald's CEO Steve Easterbrook said the fast-food giant is beginning to regain the customers it has lost over a "handful of years" to the growing consumer shift to digital and healthier eating, due in large part to new technology in its stores like self-ordering kiosks and innovative menu items,such as its Signature Crafted sandwiches.
"Our gain will result in pain being felt elsewhere," Easterbrook said in response to an analyst's question on competition.
McDonald's Fans Desperately Want Fresh Hamburger Beef, but There Is One Big Problem
While Easterbrook failed to mention specific companies, he said McDonald's "gain" has "opened up [the competition] gap" among sandwich chains.
McDonald's Signature Crafted menu line includes the Maple Bacon Dijon burger made with 100% fresh beef (640 calories), the Pico Guacamole burger made with 100% fresh beef (580 calories) and the Sweet BBQ Bacon Chicken sandwich, made with Artisan grilled (640 calories) or crispy (810 calories) chicken.
McDonald's reported second-quarter earnings of $1.70 a share on revenue of $6.05 billion, beating Wall Street's estimates for earnings of $1.62 a share on revenue of $5.96 billion. Micky D's same-store sales for the period climbed 3.9%, compared to the 3.1% expectation.
Here are five fast-food companies that could feel the pain Easterbrook warned of.