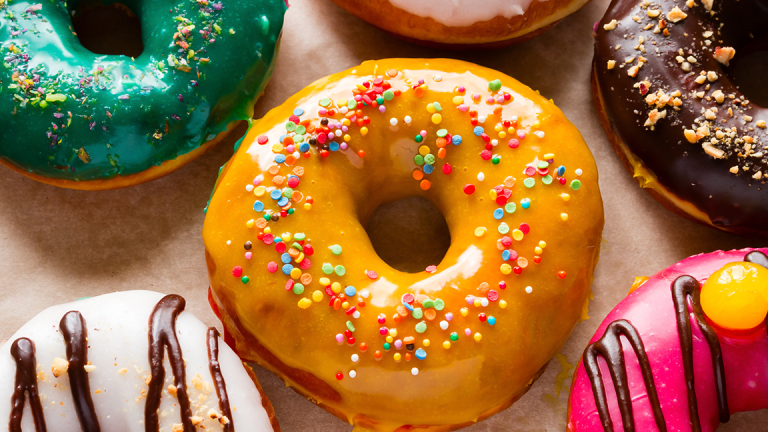 McDonald's, Yum! and Dunkin' Among Fast Food Franchises Rated Buys
Fast food franchises are showing solid upside potential as defensive stocks.
In times of market volatility, fast food stocks tend to outperform. After all, how can a company go wrong selling a product that the customer literally can't live without? You would think that these are no-brainer buys. However, there is a bit more to the picture than that. Fast-food stocks have to deal with issues of restaurant improvement, menu modification, and customer retention in a highly competitive environment. 
Let's take a closer look at why the top-performing analysts on the TipRanks database are cheering these three fast-food picks now:
Dunkin' Brands Group, Inc.
The iconic donuts and coffee shop - which now includes Baskin-Robbins Ice Cream, hence the brand change just to 'Dunkin' - showed positive earnings for the final quarter of 2018. Earnings per share were good. The 68 cents reported beat the estimate of 62 cents by almost 10%, marking the fourth quarter in a row that the company has beaten an EPS forecast. It's an impressive trend.
Revenues were another story, however, as Dunkin' (DNKN) - Get Dunkin' Brands Group, Inc. Reportmissed the forecast by over 3%, reporting $319.62 million for the quarter. This was the second quarter of the last four that DNKN has missed on revenues. The revenue miss could explain why DNKN stock has under performed compared to the market as a whole this year. Where the S&P 500 gained 9% in 2018, DNKN only gained 7.4%.
However Stephen Anderson, a five-star analyst from Maxim Group, gave a definitely upbeat look at the donut seller. His comment acknowledged the shortfalls, while emphasizing the potential in the stock: "Although we lower our price target to $79, from $83, we believe DNKN shares, which are down 15% from their September 2018 high, have become more attractive following yesterday's post-earnings pullback. We regard DNKN as our defensive pick among restaurants in 2019." Indeed, Anderson's $79 target gives a 17% upside to DNKN.
Overall, Dunkin' Brands' shares hold a 'Moderate Buy' rating in the analyst consensus. This is based on four recent 'buy' ratings, along with seven 'holds' and one 'sell.' The average price target, at $71, suggests a modest potential upside of 5.6%.
McDonald's Corporation
Mickey D's has had an interesting few years. The giant franchise company was a ground-breaker in the 1950s, when salesman Ray Kroc turned a single hamburger stand in the Southern California desert into a nation-wide - and world-wide - sensation, and grew to be the largest fast food chain in the world.
The company has had its share of problems. In recent decades, attempts to please a wider audience resulted in a bloated menu, and public perception of the chain declined. Current CEO Stephen Easterbrook took over in 2015 and set about addressing the accumulated problems. His plan has addressed menu streamlining, declining sales, and antiquated physical structure in the restaurants.
Results so far have been impressive. McDonald's (MCD) - Get McDonald's Corporation Report reported Q4 FY2018 results on January 30. The EPS of $1.97 beat the forecast of $1.90, and beat the year-ago Q4 by 15%. That was the good news. On the down side, total revenues of $5.16 billion beat the estimates but were 3% down from a year ago, and the 'cash and cash equivalent' available, at $866 million, was also down significantly from the $2.46 billion one year ago. Those declines are directly related to the company's turnaround plan; McDonald's is spending freely to implement Easterbrook's initiative, especially on remodeling restaurants.
The most immediate sign of success is in the same-store performance metric, which showed solid growth due to improvements in the international numbers. Most notably, the company posted its 14th quarter in a row of positive comparable sales. While same-store growth in the U.S. was spotty - and highly dependent on the progress individual franchise owners had made in the remodel process - world-wide, foot traffic to McDonald's restaurants was strong, and boosted the bottom line on this metric. In the words of the CEO, "Customers rewarded us with more visits again last year, resulting in back-to-back years of global guest count growth for the first time since 2012."
Matthew Difrisco, a five-star rated analyst from Guggenheim, believes the company's improvement plan is showing important results, and sees further progress down the road. So does RBC Capital's David Palmer. He says, "While US SSS growth was a modest disappointment, we continue to believe sales trends have accelerated in December/January with reasons for improvement in 2019."
Ultimately he calls MCD a credible long-term growth and strong free cash flow story."Once the reimaging process is completed (largely by 2020), we believe these initiatives should result in 105%+ free cash flow conversion, high-single-digit EPS growth, and low-double-digit total shareholder return over the long term" he concludes. Palmer gives MCD a $205 price target, suggesting a 17% upside potential to the stock.
Overall, MCD shares hold a 'Strong Buy' analyst consensus, based on 12 'buy' ratings and three 'holds.' The average price target of $198 gives a 13% upside to the current share price of $174.
Yum! Brands, Inc.
Yum (YUM) - Get Yum! Brands, Inc. Report may not be a household name, but you're sure to have heard of the brands that it represents: Pizza Hut, Taco Bell, and KFC. It is the ultimate go-to for quick comfort food.
That may explain the positives in the Q4 earnings report, which showed strong same-store sales across the company brands. Pizza Hut, the most troubled brand, showed the weakest numbers, recording same-store stability - but analysts had expected to see a 0.2% drop. KFC, the largest brand, showed a solid 3% same-store sales growth, against a forecast of 2.8%. And Taco Bell, with a robust 6% growth rate, easy beat its 4.5% estimate.
At the same time, Yum missed on the revenue and earnings side. The $1.56 billion in annual revenues came up short to the $1.59 billion expectation, and the EPS, at 40 cents, was less than half the expected 95 cents. The misses reflect a sluggish time in the industry, as well as refranchising costs within the company.
Overall, the company has an optimistic view going forward. CEO Gregg Creed said in the earnings conference call, "Heading into 2019, we remain confident we are going to deliver on becoming more focused, more franchised, and more efficient, all of which will deliver more growth and further strengthen our powerful and unique business model."
Giving more detail in the review, along with a 'Buy' rating, was Brian Bittner from Oppenheimer. Bittner placed greater weight on YUM's same-store growth metrics and predicted additional growth going forward, saying, "We believe YUM continues to represent a low-risk growth story and gives investors the ability to own a crown jewel asset in Taco Bell. We expect the model to generate outsized earnings growth in '19 before settling into double-digit EPS growth thereafter." He set a $100 price target on the stock.
Currently, YUM has a $98 average price target with a 'Moderate Buy' consensus rating, based on five 'buys,' two 'holds,' and one 'sell.' This is over the last three months.
TipRanks.com offers exclusive insights for investors by focusing on the moves of experts: Analysts, Insiders, Bloggers, Hedge Fund Managers and more. See what the experts are saying about your stocks now at TipRanks.com. Author: Michael Marcus.