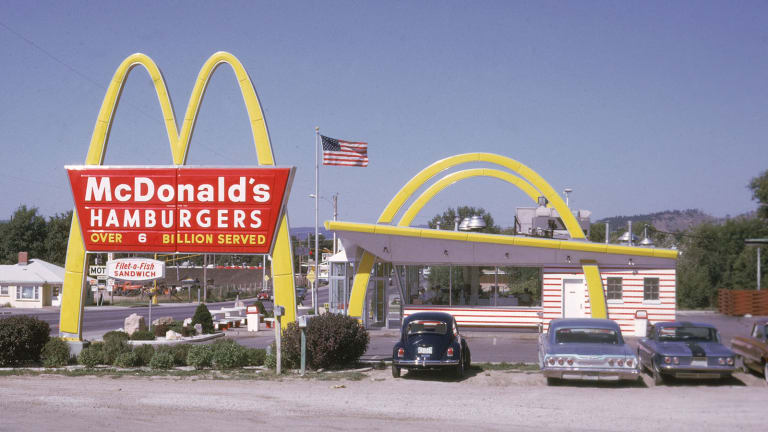 Everything Your Mom Needs to Know About McDonald's $4 Billion Coffee Brand Overhaul
The fast-food giant is starting the New Year with several limited time McCafe deals.
There is good news if your mom loves cheaply-priced McDonald's (MCD) - Get McDonald's Corporation Report coffee in the morning.
The fast-food giant, which is shaking up its coffee brand this year, is offering $1 McCafe signature blend any size coffee and $2 small specialty-hot beverages such as lattes and mochas from January through April.
While the company doesn't share specific coffee sales, it said the McCafe brand generates about $4 billion in annual sales in the U.S.
By overhauling the brand, McDonald's is looking to compete with major coffee players such as Starbucks (SBUX) - Get Starbucks Corporation Report and Dunkin' Donuts (DNKN) - Get Dunkin' Brands Group, Inc. Report .
"We know preferences are changing and people today are looking for great taste, high quality, value, and even more choice and flexibility than ever before. In order to evolve with those changes, we are enhancing the McCafe experience," a McDonald's spokeswoman said in a email to TheStreet.
These efforts will include new seasonal flavors and enhancements to the company's beverage line up, focusing on sustainable sourcing of espresso and coffee beans, highlighting its McCafe rewards program through its mobile app and crew training.
"We believe a focus on coffee can complement McDonald's food offerings and increase the average spend by customers at its stores. This move can also attract more customers to its stores," Trefis analysts wrote in a recent report.
However, due to strong competition from established coffee giants such as Starbucks, McDonald's might not be able to make this segment a key revenue driver in the short term, according to the firm.
"McDonald's is popular among consumers with young kids, and middle and lower income families who are looking for a value meal. While the company is playing the price advantage to attract customers to its McCafes, this can translate into significantly higher revenues only if the company gets a huge volume of consumers for coffee," Trefis noted.
While customers adding coffee to their meals would increase the average spend at a store marginally, it may be tough for the company to attract coffee-only customers to its restaurants.
In its most recent quarterly report, McDonald's same-store sales rose 3.5%. However, U.S. comps continued to slow, increasing 1.3% in the 2016 third quarter compared to 1.8% growth in the second quarter and a 5.4% jump in the first quarter. The U.S. business was hurt as consumers opted for eating at home due to lower grocery store prices and heightened promotions by other fast-food concepts.