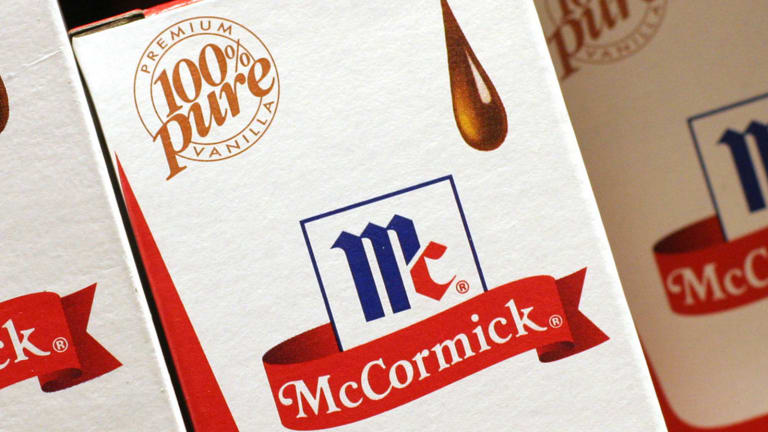 McCormick Reports a Slight Fourth-Quarter Earnings Miss
The spice maker is 'priced to perfection' but missed estimates.
Shares of McCormick (MKC) - Get Free Report were up in early trading Wednesday despite the spice maker's report of full-year earnings that slightly missed expectations.
In the fourth quarter ending Nov. 30, earnings per share rose about 6.9% year-over-year to $1.24, in line with expectations, while for the full fiscal year, earnings per share rose about 18.6% to $3.69. Net sales were $1.227 billion in the fourth quarter, an increase of 2.1% and missing consensus estimates by about 1%. Full-year revenues of $4.441 billion represented a 2.7% increase.
On a constant currency basis, quarterly sales rose 3.9% and annual sales rose 5.5%.
According to FactSet data, analysts expected full-year earnings per share of $3.79 and sales of $4.42 billion.
Shares rose slightly this morning, up 0.67% to $94.68, despite being what Jefferies analyst Akshay Jagdale called "priced for perfection" and missing expectations.
McCormick also reported cash flow from operations of $658 million in 2016, up 12%, its fifth consecutive year of record cash flow from operations.
The Sparks, Maryland-based company spent $461 million on dividends and share repurchases in fiscal 2016. McCormick also announced two acquisitions last year, paying $115.46 million for privately held Botanical Food, the maker of the Gourmet Garden herb brand, in April, followed by its Nov. 29 announcement that it would acquire Italian spice maker Enrico Giotti for $127 million. The deal closed Dec. 15.
CEO Lawrence Kurzius said in a statement that the results "met each of our key financial targets" and that the company exceeded its $100 million cost savings goal for the year and is on track to achieve its four-year cost savings goal of $400 million by 2019.
For fiscal 2017, McCormick expects sales growth of 3% to 5%, with an EPS range of $4.02 to $4.10.